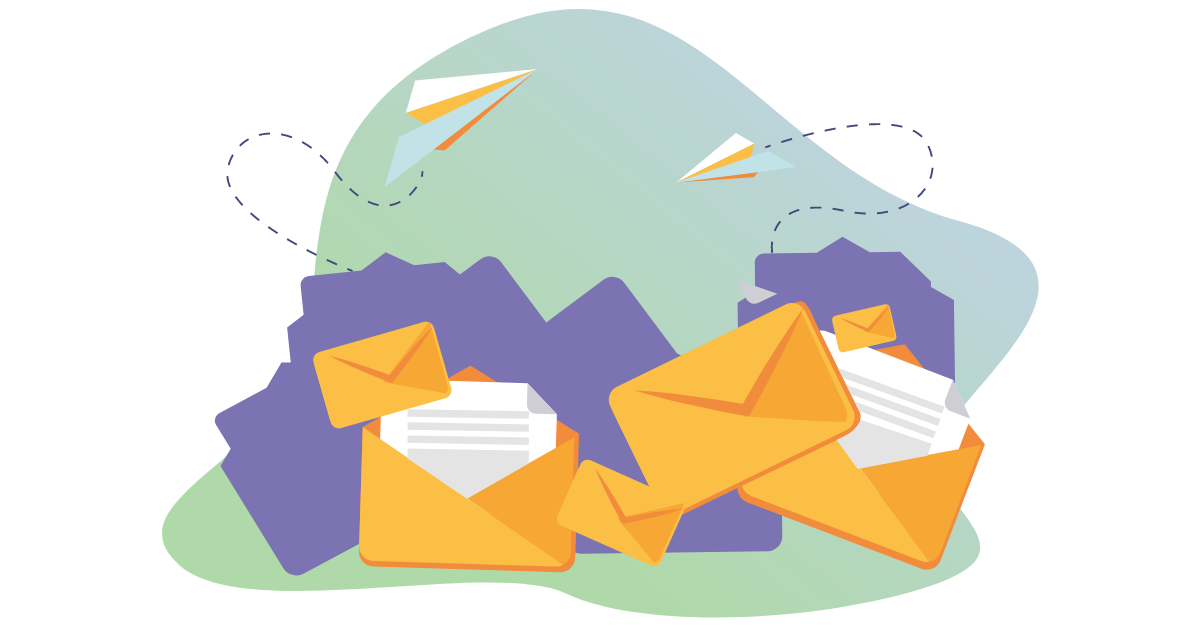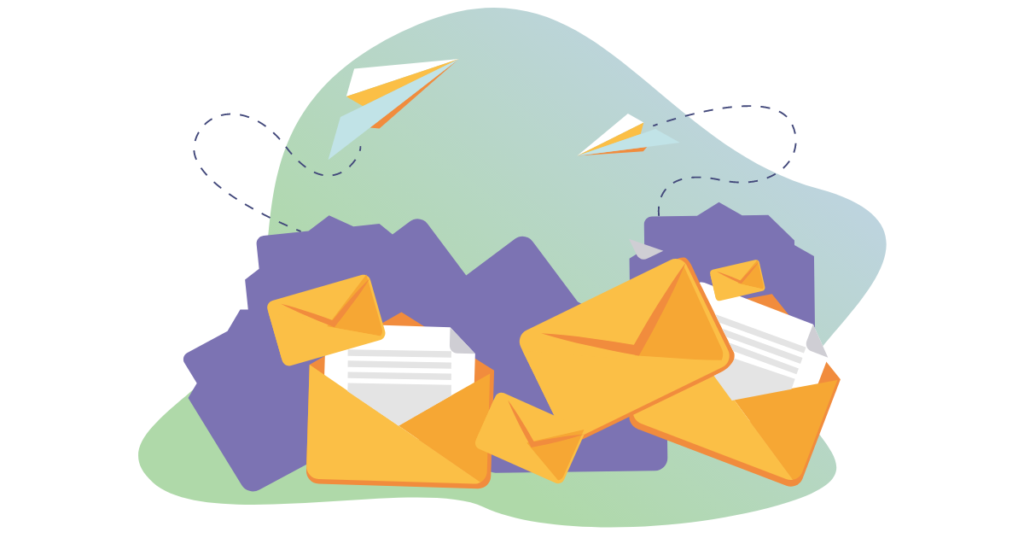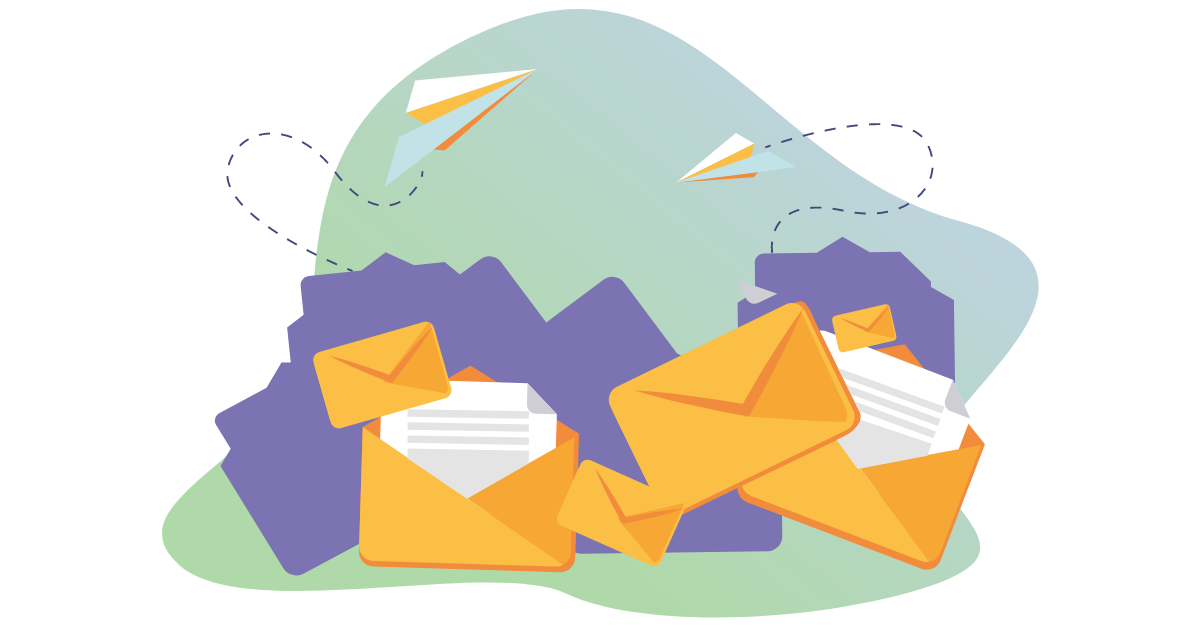 Do you wonder why your subscribers don't open your emails?
Low email open rates are common in the marketing world, especially in the digital era, when businesses fight to get people's attention in the crowded inbox. It can be a bummer to find out that not that many people bother to open your email.
The truth is you can have a great email, but your open rate can be disappointing. Well, some factors can be the reason why your open rates are bad.
How to Calculate Your Email Open Rate?
If you use an email marketing tool like Loopify, the number of opens and open rates for your email campaigns is already calculated. Here's an example: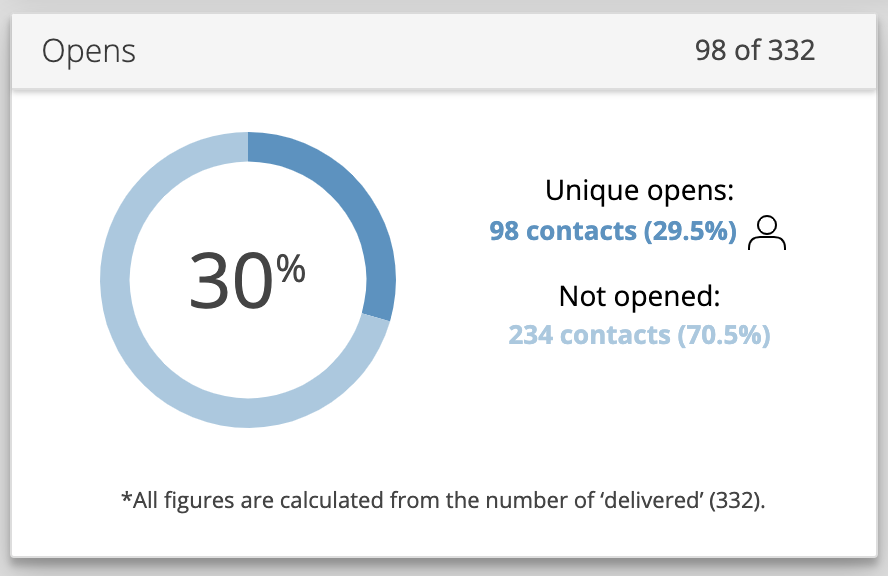 However, it's useful to know how the math goes down. Let's start by stating that the email open rate is NOT the number of people who opened your email.
Email open rate is the ratio of the total number of unique opens and the total number of delivered emails.
Here's what the simple formula looks like:
Email Open Rate = (Unique Opens / Number of Emails Sent – Number of Bounced Emails) x100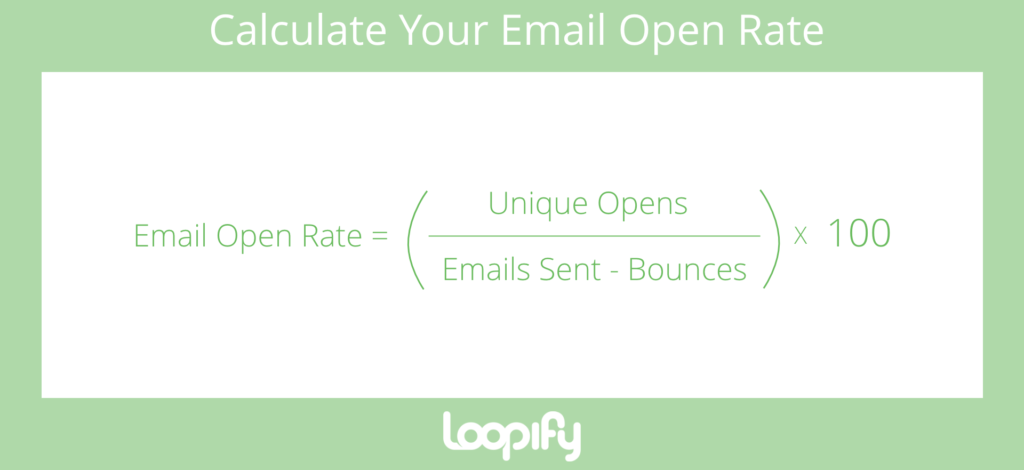 Note that the formula says unique. It doesn't matter how many times one person opens your email; it counts as one unique open. Also, the delivered emails are calculated from the number of sent emails minus bounced emails. Bounced emails are not taken into account because they are not delivered; therefore, they can't be opened.
Let's put the formula into practice: If you send 300 emails, and 20 of those bounced, you will have 280 emails delivered successfully. Let's say that out of those 280 emails, 70 people open the email. Divide 70 by 280, and you get a result of 0.25. Multiply it by 100, and your email open rate is 25%.
This paints a better picture of what really open rates are. Today, most marketers use systems that do all the calculations for them. However, in some cases, opens may not even be counted.
What's a Good Average Email Open Rate?
This largely depends on the industry and region you do business.
According to Constant Contact's research, the overall average open rate for all industries is 16.03% as of November 2020. You can dig deeper to see how you compare to the industry average and then work to improve.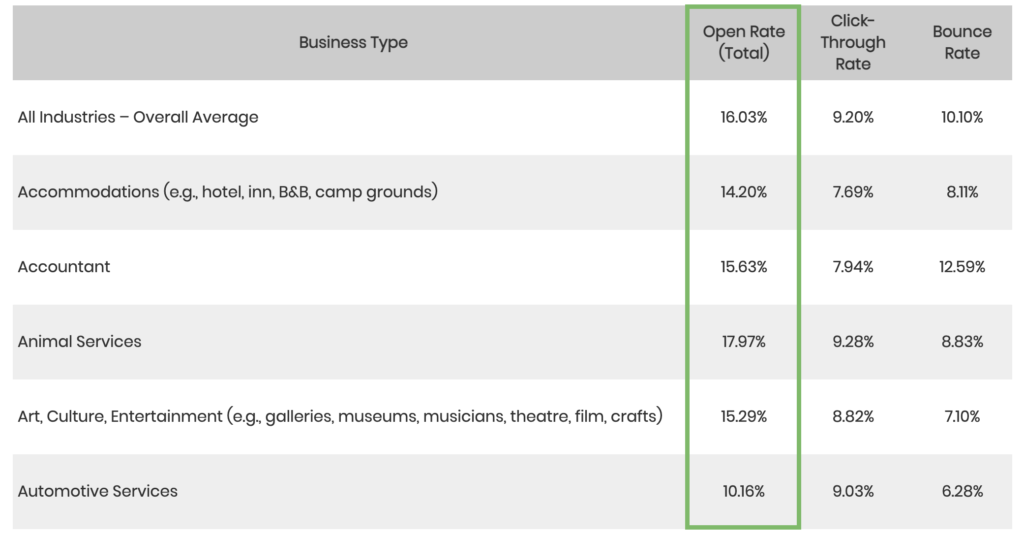 18 Factors Affecting Your Email Open Rates
There can be one or several reasons for low open rates. These are just some common things, even large-scale businesses struggle with, but everything can be fixed!
Here are 18 factors that can impact your email open rates:
1. Boring subject lines
Email subject lines are a crucial part of the email. They will bear most of the responsibility for your email open rates. The subject has to say Stop whatever you are doing and click me.
Here's how to write subject lines like a pro.
Don't trick your readers. The subject line should be telling your readers what they are going to read. Look at it as a movie trailer.
No caps. Do not yell at your customers. This can trigger spam filters.
Keep it short. If it's too long, it will be cut. Keep important words at the beginning.
Use numbers and stats. For example, 12 Mistakes Every Influencer Makes.
Ask questions. This is a great way to intrigue people to open an email to find the answer.
Dodge buzzwords. There are even some words that can trigger spam, which you need to avoid.
Use the 4U model. This model stands for Useful, UItra-specific, Unique, Urgent. So this means that the subject line must contain a valuable message, self-explanatory, different from all the others, and create a need for the reader to open the email now.
Make it personal. Adding the receiver's name to the subject line is not the end. Use variables to add specific contact information and thus create personalized subject lines.
Bonus: Use preheaders. The preheader is a short text and goes after the subject line. It's often overlooked, but it gives you the chance to summarize the email content in a few words and spark curiosity. If you don't have a preheader, a part of the email text will be shown here. So use the free real estate space to make a difference.
2. Lack of personalization
The use of the first name is the bare minimum of personalization. You shouldn't stop there. Think of it this way, you receive an email with your name in the subject line, but the rest of the subject line (or email content, for that matter) has nothing to do with your interest.
For example: Peter, check out this cooking class!
Peter has no interest in cooking classes; he signed up for acting classes. Two different and unrelated things. So the email does not cater to his preferences, and he'll most likely delete it without opening it.
Segment your audience and pay attention to their interests. Add a personal touch by personalizing both the subject line and email content. If you continuously send emails that subscribers like, they'll get a habit of opening your emails and, more importantly, perform the action you intended. Whether that's signing up for an event, reading an article, or giving feedback.
3. Email sending frequency
Bombarding your customers with emails won't increase your email open rate. It will annoy them to the point that they unsubscribe or, even worse, report you as a spammer. Sending scarcely ever is not optimal as well because you can easily slip their mind.
But how often should you send emails?
The short answer is there's no magic number for how many emails to send. It all depends on your business. What is working perfectly for one business might not work for you. There's research showing you should send 1-2 emails per week. However, you should check if this works for you.
Test until you find the frequency that works for your company and your people. Split the subscribers and start let one group receive more emails than the other. Check which group has more open rates. Just don't expect results right away; this can take several months.
4. Time of delivery
The sending time is also important. While this varies across industries and regions, emails sent during office work hours tend to have higher open and CTR rates compared to the weekend. It also depends on whether your audience is more likely to check emails in the morning, around their lunch break, or after hours.
You can settle this by testing and sending emails at different times and on different days to see when you get the most opens and click-throughs.
5. Emails are not mobile-friendly
If your emails are not mobile-friendly, a good percent of your users will not even look at your email, and they will not hesitate to click the delete button. In fact, mobile remains the most popular reading environment, with 41.9% of all emails being opened on smartphones or tablets.
Today customers even buy products from their phones, and it's obvious that mobile has a big impact on email marketing.
Your email should look great on mobile. The text and buttons should not be too small, and images should fit the screen size. If you use ready-made templates, any email template is already optimized for all devices without being too heavy.
6. Inactive subscribers
Over time, some of your subscribers can stop opening your emails. Some may not be interested in your company (for some reason), or some of them may change the email address.
Try re-engaging your inactive subscribers. Something is going on if someone hasn't opened your email or visited your store for more than 6 months.
In case they still don't turn around, you can ask them what is wrong and use the feedback to improve. You should also make it clear that you'll stop sending emails and give them the option to jump back in if they change their mind. You can use subjects like:
Did you forget about us?
Did I do something wrong?
Should I stop with _______
Are we boring you?
Too many emails?
Keep contacts that become active again and let go of the others by removing them from your list, and you will see a difference in your open rates.
7. Emails are marked as spam
If your email is sent to the spam folder instead of the inbox, there is a slim chance that people will open it. There are quite a few reasons why your emails can be marked as spam. We list the most common ones here.
8. Boring content
The content of your email will impact your open rates in the future. If you offer no value email after email, your subscribers won't bother opening them. If the users are satisfied with your content and know you bring value to the table, they won't want to miss out.
Write killer content that will make people want to consume more of it. Subject lines can help you with the open rate, but you haven't won the battle. It's important to write like you are talking to a friend. Subscribers want to know there is a human on the other side.
9. Messed up text-to-image ratio
If your email has little to no text and contains images, it can be marked as spam.
To find the balance between text and images, follow the most common 60/40 rule. This means you should have 60% text and 40% images. However, this is not set in stone, and you can test your emails to see what works for you.
10. No sense of urgency or scarcity
Both of these tactics work like a charm. Limiting your offers with deadlines or showing that some items are low in stock can nudge your subscribers to make the decision and purchase.
11. Stale subscriber list
You need to clean up your contact list from time to time. Your open rate can be affected because some emails are no longer used, or people have switched jobs. Hence, these emails won't be opened.
Remove these contacts from your list, and if you have a lot of them, you'll notice an instant increase in your email open rate.
12. No humor
Humor has this way of connecting with people very fast. However, you need to tread lightly here.
Follow your brand tone and voice and be sensitive to situations. It's okay to have fun, but using jargon or pop culture references may not be understood by a large chunk of your customers. Knowing your audience, you can easily determine the degree of humor you need to bring to the table.
13. No influx of new subscribers
You should constantly work to attract new subscribers. These will be your future potential customers. That's why lead generation is important. But, businesses often overlook the process of nurturing the leads or subscribers. That's how you hook them to stay and even consider you for their purchase decision.
14. You don't share knowledge
People love free information and tips. And email is the perfect way to deliver it.
Let's say that your product is a bit complex, or customers always ask the same questions. This is the right time to come up with some educational emails. Keep it simple. And you can get creative and exploit different formats like fun videos, webinars, or in-app exercises.
15. Non-recognizable sender or a noreply address
In another post, we've mentioned that using a recognizable sender and a real reply address can help keep your emails from the spam folder. It also helps with your open rates. People open emails from people or businesses they recognize. And a reply address lets them contact you if they have any questions or feedback. Stick to your professional or company email address to show your credibility.
16. Seasonal and holiday factors
During the holiday season, festivals, events (Black Friday, Christmas, Easter, Oktoberfest, Mardi Gras, Halloween), businesses tend to send more emails. The sheer volume and competition for the inbox may cause your open rates to decline. People tend to be picky about what they open, or your email simply got lost in the crowd.
Moreover, slow periods like vacations or summer/winter breaks can also cause a drop in the open rate because people don't bother to check their emails.
17. Emails end up in Gmail's promotional tab
There are 1.5 billion Gmail users, and Gmail is sorting out social and promotional emails. This is just clearly showing the user that you are sending promotional emails. However, people might not click on the promotions tab.
It's not that bad. Customers nowadays are comfortable with promotional emails. After all, they did sign up to receive emails from you. And there are people (myself included) that don't use the tabs/category setting in Gmail but stick to the good old-fashioned inbox.
18. Purchased email lists
Purchasing emails will result in unqualified subscribers. Stay away from buying emails. This will not only decrease your open rates, but you'll also be marked as a spammer and may face legal consequences as well.
---
Email open rates are important, and you should keep a close look at them. There's always room for improvement. Give yourself some time for experimenting and testing to find what works for you and your business.