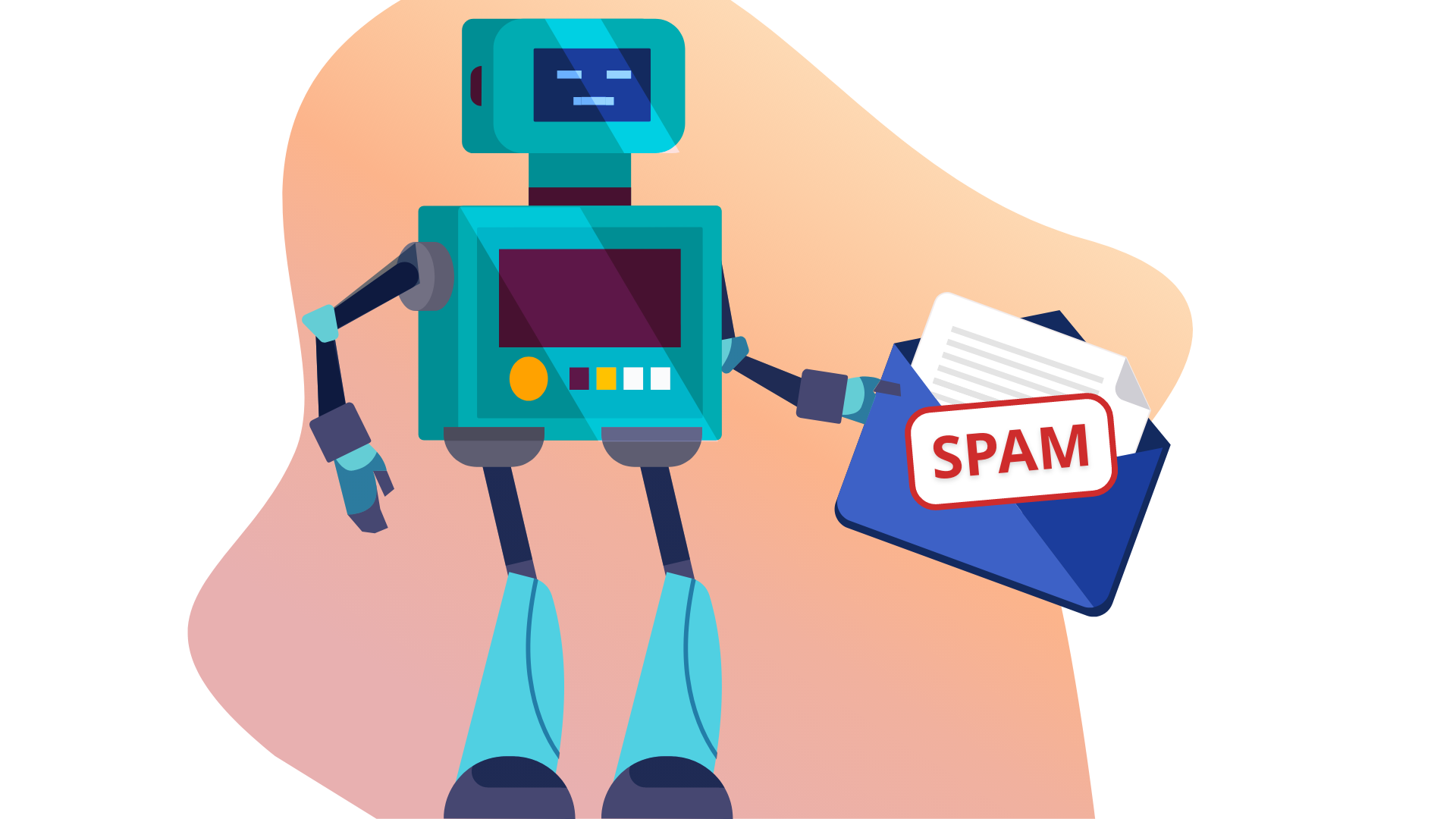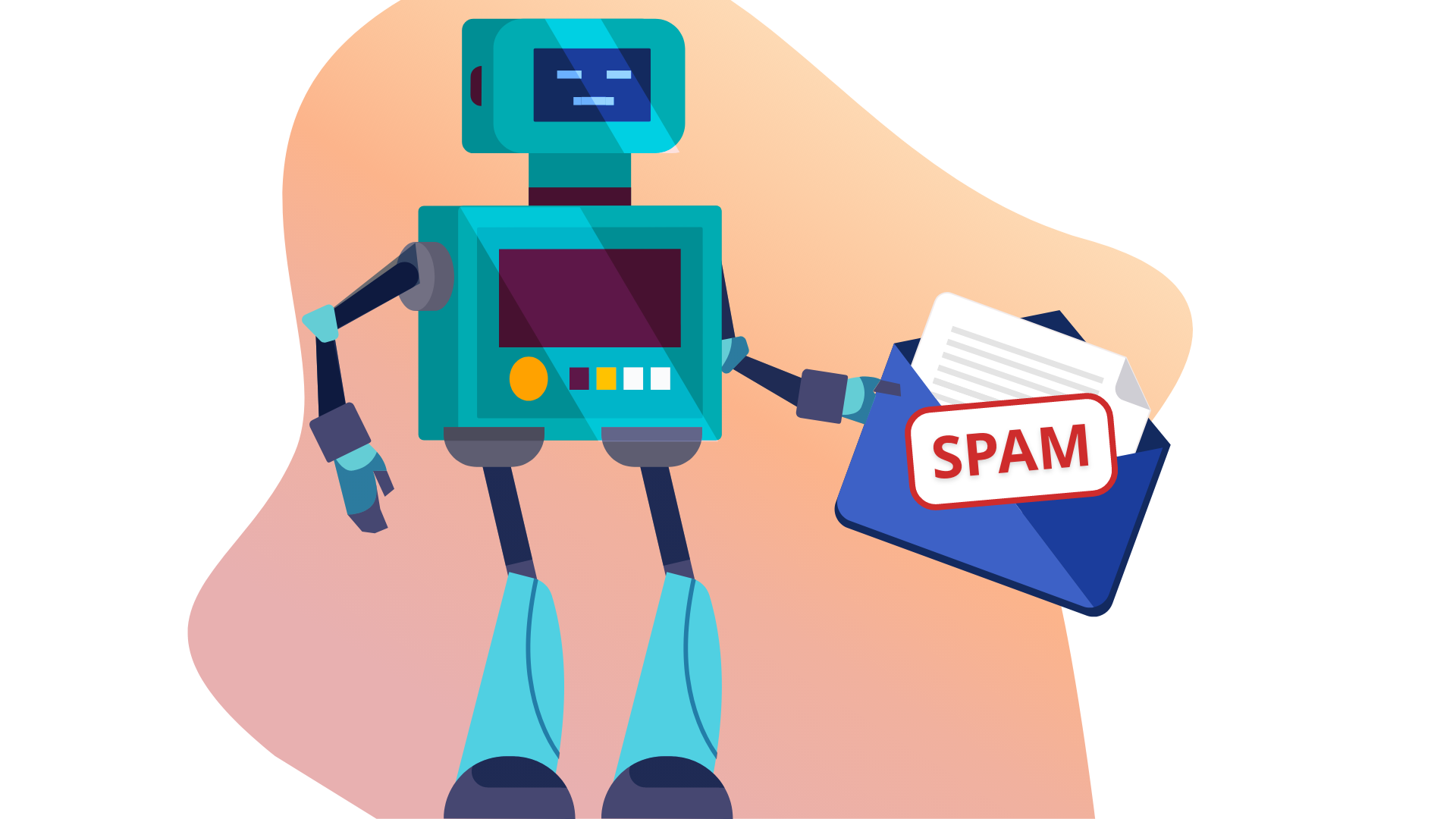 You've spent so much time planning your email strategy about using email to communicate with customers successfully. But have you thought about spam? Or, more precisely, how to avoid email spam filters?
There's no secret approach guaranteeing 100% that your emails won't go to the spam folder. However, combining and implementing the tips below can help you improve your email deliverability and reduce the chances of being seen as a spammy sender.
What Is Spam?
Spam is defined as unsolicited, usually commercial messages such as emails, text messages, or Internet postings, sent to a large number of recipients or posted in a large number of places.

Merriam-Webster
Spam email is also known as Unsolicited Bulk Email (UBE), i.e., email that is unwanted or not requested by the recipient and sent in large quantities (in bulk).
According to Statista, spam messages accounted for 53.95 percent of email traffic in March 2020. Their research shows that the global email spam rate has actually been decreasing: the global annual spam email rate in 2018 was 55 percent, down from 69 percent in 2012.
Still, that number is quite high. According to Google, Gmail blocks more than 100 million phishing emails every day, in addition to more than 240 million COVID-related daily spam messages (yikes!).
So how are these spam emails discovered?
Spam Filters and Email Firewalls
Stopping and filtering unwanted and unsolicited emails is the job of spam filters. Each email is put up against a long list of criteria to determine its spamminess. If an email is marked as spam, it will end up in the Spam or Junk folder. However, not all spam filters work in the same way, and they constantly evolve and learn from each other.
Email firewalls regulate all incoming email based on a set of rules imposed by the email server. Firewalls learn from email recipients whether an email is spam or not. Suppose you get marked and reported as spam several times. In that case, your domain name will be shared with other firewalls to inform them that you are sending spam emails and to block all emails coming from that domain.
24 Tips to Help You Stay Away from the Spam Folder
Now, what if you play by the rules but still fear the spam folder? Here are 24 best practices that can help you be a reliable email sender and avoid spam filters.
1. Have permission to send emails
Send to people who have given you explicit consent (GDPR!) to contact them by email. This has a huge benefit for your business because you'll know that people that have chosen to do so really want to hear what you have to say. So you are no longer shooting in the dark, sending to a mass of people who don't know you hoping that someone is interested in what you have to offer.
2. Introduce a double opt-in
Double opt-in means that when a person subscribes to your newsletter or email communication, you send them an email where they'll have to confirm their subscription. Using double opt-in makes sure your list consists of people who really want to communicate and engage with you and your brand.
Here's the double opt-in in action. This is the confirmation email people receive when they subscribe to Loopify's newsletter. Short and to the point.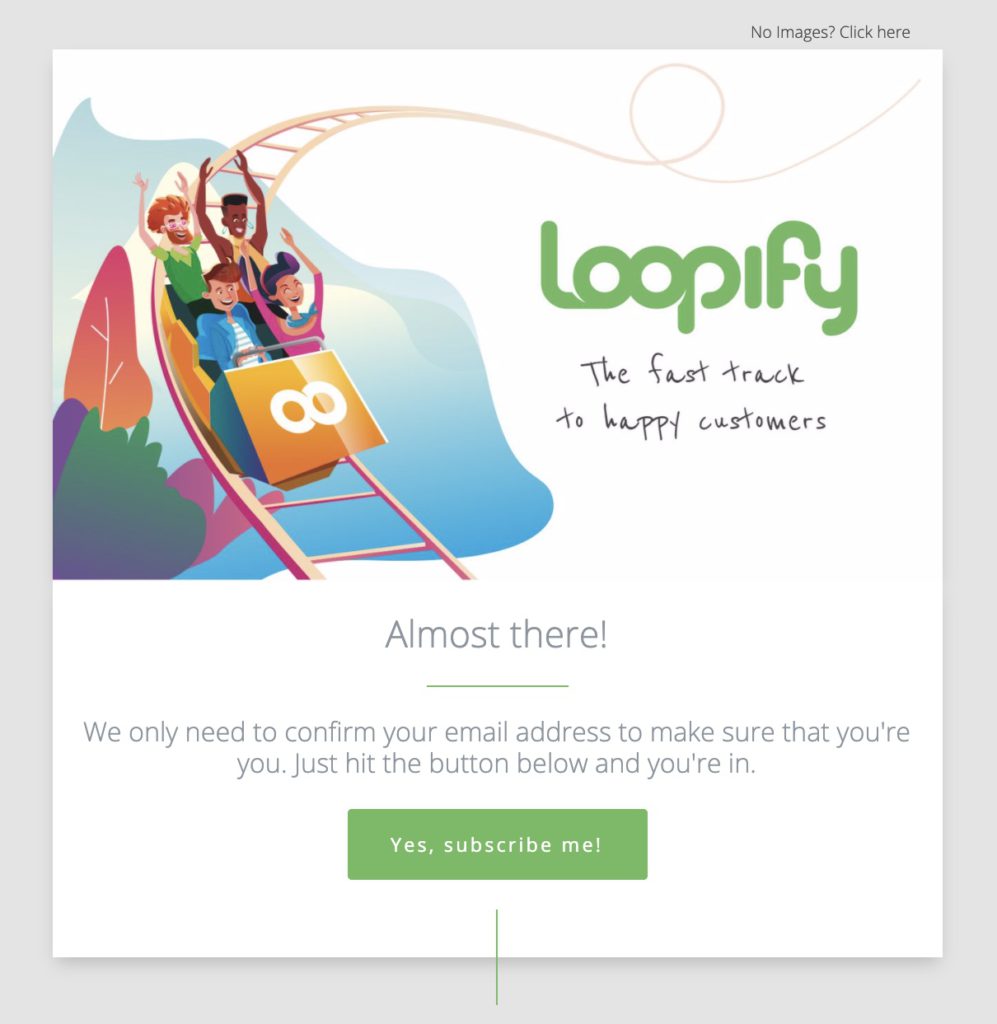 3. Include an unsubscribe link and your physical address
The email you send must include an unsubscribe link. If you offer several subscription categories or communication via different channels, use a link to a page where people can choose which subscriptions they want to keep and which ones they want to unsubscribe from.
This usually goes in the email footer. Your footer should include your company information like address, website, and contact information in addition to the unsubscribe link. For example, this is what the footer in our emails looks like.
4. Use your own domain
It's important to use your own business domain to send emails because spammers go through this process and often use a free email address. Using your business domain shows that you are a legitimate business that will send legitimate email campaigns. Loopify also gives you the option to register your own sending domain. Until you set up your domain in Loopify, your emails will be sent with our lpy.io domain.
5. Use recognizable senders and a real reply-to address
The first thing you see when you receive an email is the sender's name. If the sender is not recognizable, the recipients report the email as spam or delete it. Use your professional or company email address, and for the sender's name, it's a good idea to use your name and company like, for example, Joey at Loopify.

It would be best if you stuck to verified and recognizable from field names like support@, contact@, newsletter@. Which email are you going to trust and open, support@yourcompany.com or 12ab_34cd0e@gmail.com? Exactly.
When creating your email sender, you should also avoid using a noreply address as the reply-to address (when possible). Using a real reply address like support@yourcompany.com or yourname@yourcompany.com shows that you are interested in people's responses, which is a positive signal for email providers.
6. Watch your sending frequency and quantity
You don't want to send too often or too infrequently. Why? Because sending too often can be considered as you bugging people, especially if you have nothing new or important to say and send just for the sake of sending emails. Sending infrequently can be risky as well because people can easily forget about you. It's all about finding the middle ground. This depends on your business and the industry you are in.
If you have a new domain, you'll want to gradually increase the sending volume than send to all contacts at once. New domains that send a large number of emails are seen as spammy. You should do a domain warm-up campaign and carefully choose your sending frequency to achieve your best performance.
7. Follow best practices for HTML emails
Sure, you want to spice up your emails with images and make your brand stand out and be memorable. However, keep in mind that there are some best practices you need to implement to make sure your HTML emails are not marked as spam. Loopify's templates are made with all of these things in mind, so there's no need to stress about it.
Keep your code simple and clean. Your templates should not be heavy and have messy code.
Optimize emails for mobile. People open emails on a mobile device. They should load quickly, and the elements should not be too small or illegible. Buttons and links should be large enough to be tapped with a finger without zooming in.
Balance your content between images and text. You can include images in your emails. Make sure their file size is not too large and heavy to load. Also, stuff to many images and don't send image-only emails without any text.
Stick with good fonts and colors. Use fonts that will work across email clients. Irregular font sizes, different font colors, and invisible text will alert the spam filters.
8. Don't send to previously bounced emails
Hard bouncers appear when the email is non-existent or invalid. If your hard bounce number is high, your email can appear on the blacklist. If you use Loopify, it automatically stops sending to previously hard bounced emails the next time an email campaign goes out.
9. Regularly clean up your email list
It's smart to set time aside and clean up your email list and keep it fresh. Remove people that have unsubscribed, hard bounced, or are inactive subscribers. You get no value from them and can't communicate with them, but they can negatively affect your reputation.
Be careful here. Maybe some have unsubscribed from email but not from SMS; you'll want to keep those since they prefer another channel. In Loopify, you can easily use segments to clean your list from contacts that have not set declined consent.
10. Check if you are a blacklisted sender
Your deliverability also depends on the reputation of your IP address. If your IP address has a poor reputation, your emails are more likely to end up in the spam folder. So, check if you are a blacklisted sender to maintain your reputation.
11. Ask people to add you as a whitelisted sender
This is s huge step to keep you out of the spam folder. Whitelisting your email means that people will add your email address to their approved senders' list. You will improve your deliverability because your email will land in the recipient's inbox.
As soon as people subscribe, you can ask them to add you to their list of trusted senders. This usually goes at the end of the email, and you can include simple instructions on how subscribers can do it. Different email clients have different ways of whitelisting senders.
12. Have an option to display the email in a web browser
Even if you do everything right, some email clients may display the email badly or not show the images. That's why it's a nice option to view the email as a webpage.
13. Set up expectations
When people subscribe, tell them what type of content you'll send and now often. If they expect a monthly newsletter, but you send it weekly, people will hit that unsubscribe or mark you as spam in an instant. If you have several categories, it's a good idea to divide them into subscription categories so that people can choose which one they want to subscribe to.
14. Pay attention to your subject line
Avoid spam trigger words. A huge no-no is to create misleading subject lines as well. The subject line should reflect your message. If people feel deceived by your subject lines, they'll mark you as spam.
15. Don't use caps
DON'T SHOUT AT PEOPLE! Sure, it draws attention (not in a good way), but it just feels like you are yelling at people. Caps in subject lines are seen as rude, unprofessional, and very spammy. Use lowercase letters instead.
16. Don't include exclamation points
If you use multiple exclamation points in your subject line, in general, it will look spammy. In fact, subject lines that use question marks instead of exclamation points have 44% higher open rates. So try formulating your subject line as an intriguing question.
17. Add alt text to your images
Sometimes an email client can block or not display your images. Having an alt text will give the subscriber an option to understand the message. You are also helping people who are using screen readers to understand your content better.

18. Don't use embedded forms
Forms in emails are not supported because they are a security risk. The best thing you can do is to link to a landing page or your form.
19. Don't add attachments to your email
Attachment files like Excel, Word, or PDF alert spam filters right away. They also make your email heavy to load. Instead, keep the file on your website or cloud storage and simply link to it, and people can go and download it.
20. Use segmentation to target the right people
Instead of sending the same email to everyone, try segmenting both your subscribers and the email content to send them relevant emails based on their interests or preferences.
Because you'll send emails that are catered to the recipient's taste, you'll increase your open and engagement rates. This is another positive signal for the email providers, proving the validity of your emails.
21. Remember to check email deliverability
There are tools that let you check the deliverability of your emails. For example, MxToolBox will let you test the deliverability by sending a test email, or Spamchek will examine your plain text message to find trigger words for spam filtering.
22. Never buy or rent email lists
It's quite obvious why this is a bad idea. There is a high chance that people won't actually know you and mark your email as spam, and buying lists is also illegal in some countries. You risk the reputation of your brand and or in some cases, even legal consequences. It's best to grow your email list gradually and organically.
23. Test your emails before sending them
It's smart to test the spamminess of your emails and see if there are any issues. The results of your test might also guide you on what to do to improve deliverability.
24. Use a reliable Email Service Provider (ESP)
Free email providers, like Gmail, Yahoo, Hotmail, are not optimized for commercial use. They have a daily email send limit, which creates problems when using these email accounts for marketing and transactional email campaigns. That's why any emails sent via Loopify use Mailgun, a GDPR compliant business email service provider.
Can't remember all of this? Me neither. Here's a checklist you can download and use.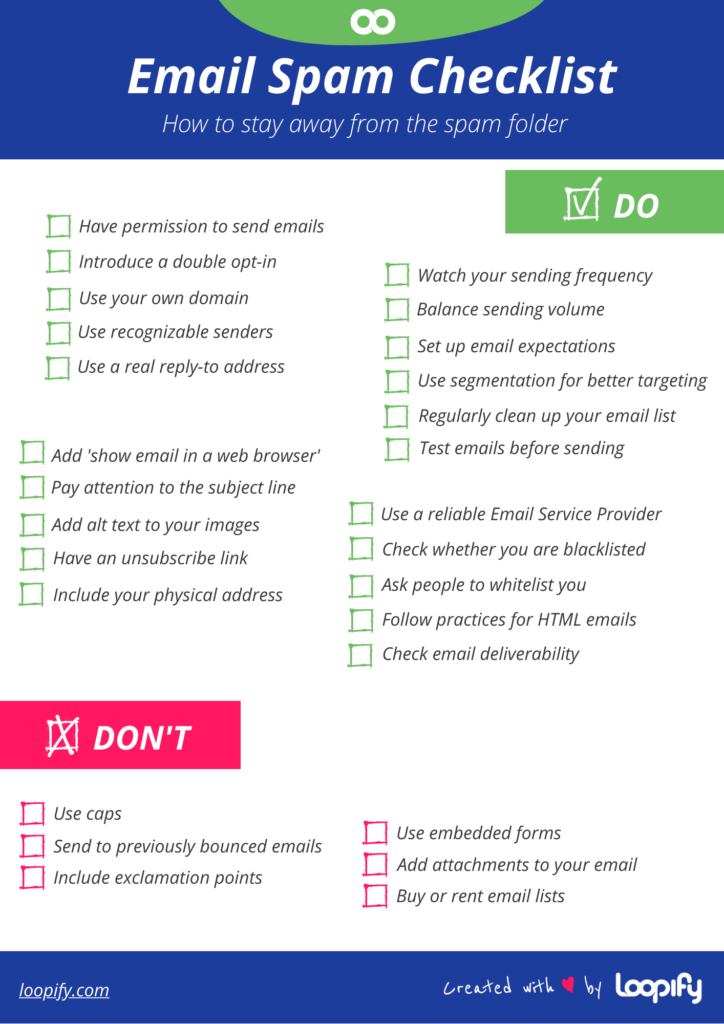 ---
In the end, the reality is that every marketer faces the possibility of their emails ending up in the spam folder. By paying attention to what can trigger spam filters and implementing the best practices, you can improve your credibility, reputation, email deliverability, and therefore, avoid spam filters.