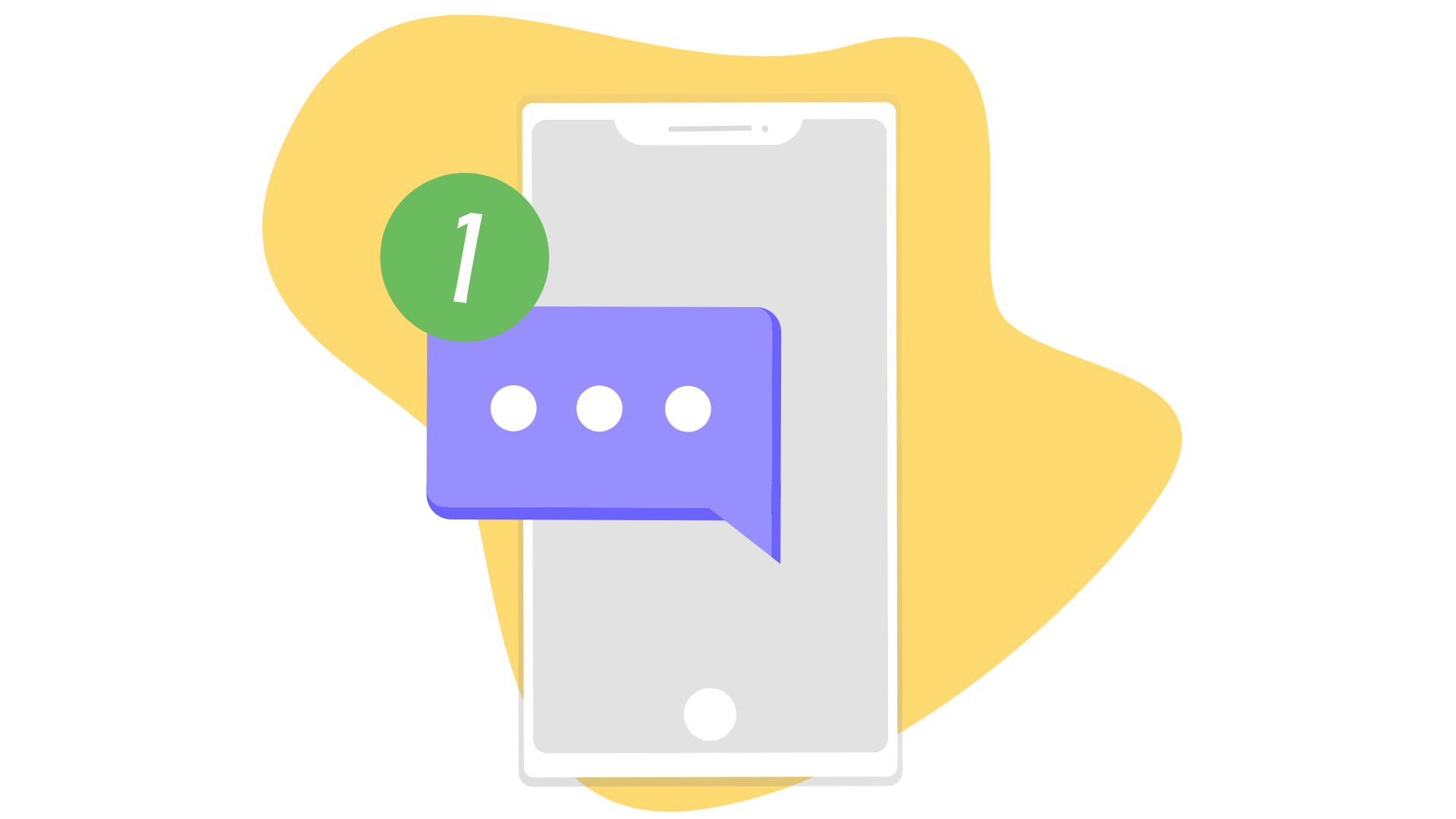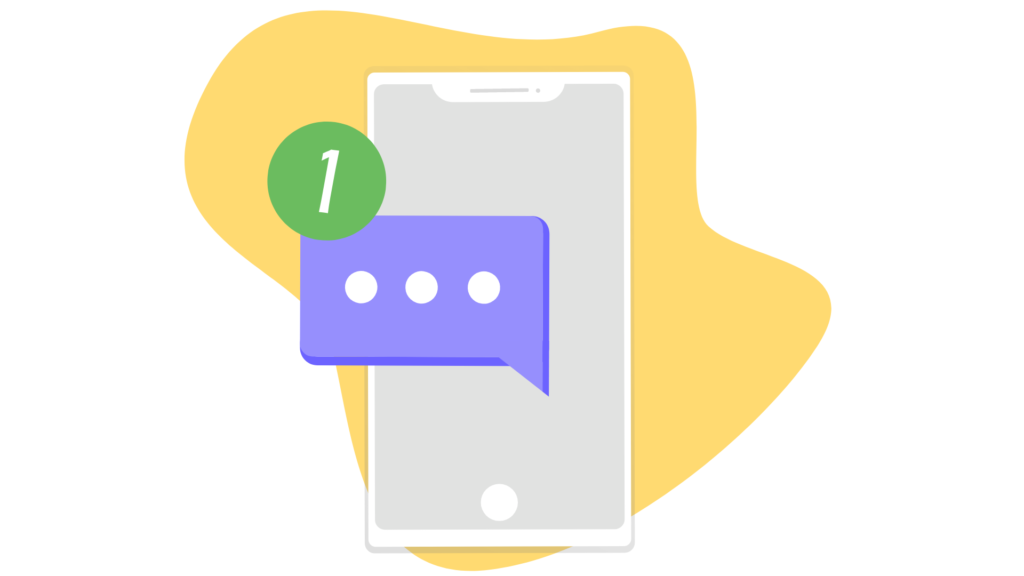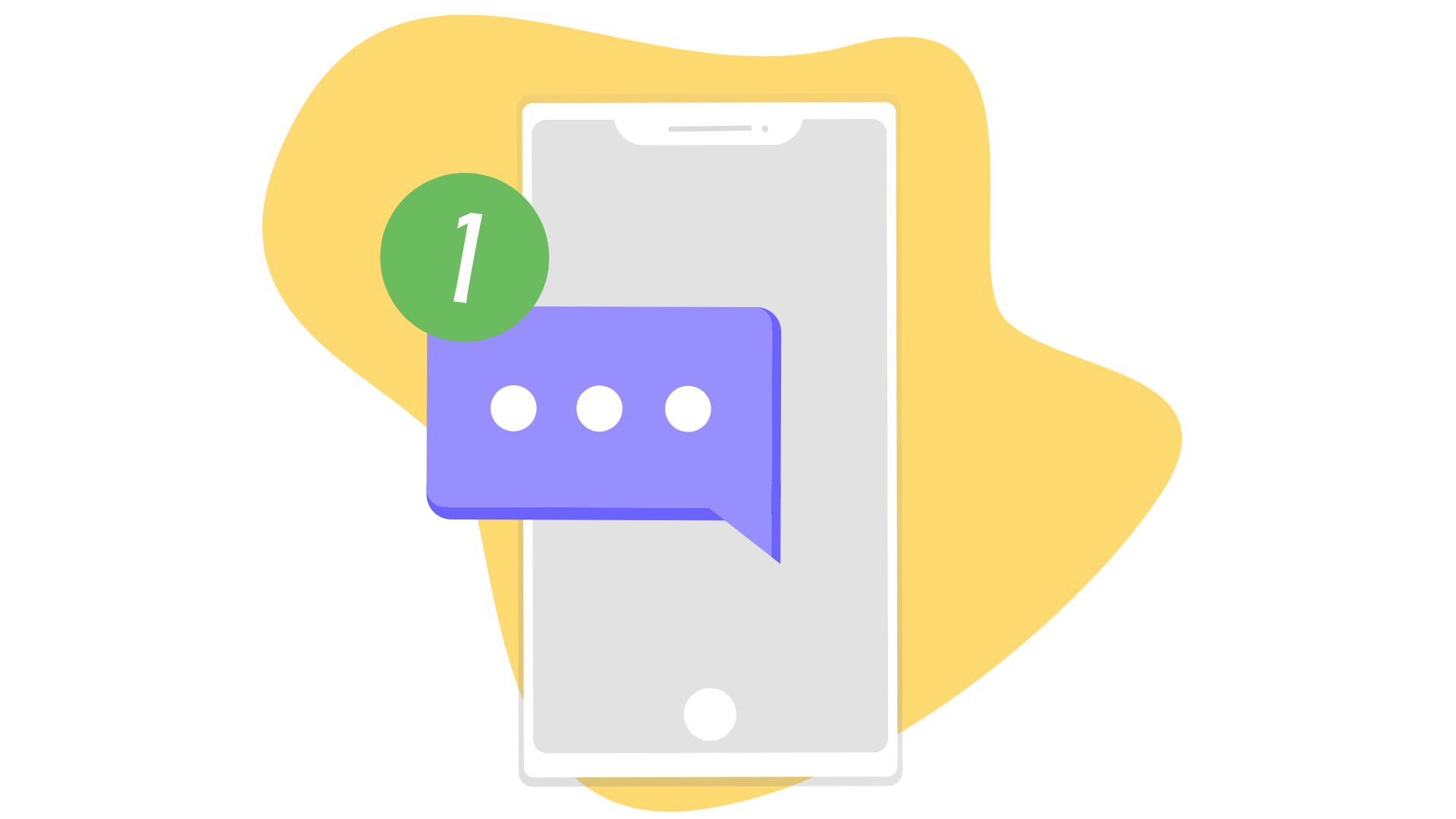 Trying to get the customers attention can be a struggle since many channels are becoming oversaturated with businesses fighting for attention.
Every marketing channel out there has its merits, but SMS marketing seems to get overlooked/underestimated. As we live in a mobile-first world, you need to realize that text message marketing is one of the best investments you can make to improve your reach and customer communication.
If you need an overview of how SMS marketing works and what you need to do, we've made this guide to help you out.
What Is SMS Marketing?
SMS marketing refers to the use of text messages to connect and communicate with potential and existing customers.
What separates SMS from email is that the messages are concise, up to 160 characters per message. You can send longer texts, but they'll count as several texts as the character number increases, though.
SMS is also more immediate than email. It pop's up in your customers phones in a few seconds after it sends pushing a notification on their screen. And it feels more private and personal channel than email.
What is bulk SMS?
Bulk SMS marketing is simply sending text messages in bulk to your consumers. It's an automated process, but that doesn't mean that the messages are always generic. With segmentation and contact data variables, you can make each message that goes out tailored to the recipient's interest.
Is SMS marketing effective?
You don't have to take anyone's word for it; the data speaks for itself.
Here are some statistics for SMS marketing:
Text messages are 134% more likely to be read than emails. (EZTexting)
50% of consumers respond to texts in less than 3 minutes of receiving them. (EZTexting)
39% of businesses use SMS marketing to communicate with customers. (Postscript)
58% of people say texting is the most effective way for businesses to reach them. (ZipWhip)
41% of marketers have seen increasing SMS opt-in rates in 2020. (SimpleTexting)
98% of SMS messages get opened. (Gartner)
46.3% of consumers are open to receiving texts about scheduling reminders from brands. (SimpleTexting)
Message volume will increase by 40% in 2021. (CNBC)
48.7 million customers opted in to receive SMS in 2020. (Learning Hub)
SMS subscribers could reach 8.998+ billion by 2023. (SMS Eagle)
How SMS Marketing Can Help Businesses: 5 Benefits of Texting Customers
1. Boost sales
You can send promotions, coupons, discounts, and limited-time offers to increase sales and grow your revenue.
2. Build relationships
SMS can be used for 2-way conversations. You can provide a number your customer can contact for customer service and support.
3. Strengthen customer engagement
You can share any important news, updates, or new content like articles via a text message and keep your customers up-to-date.
4. Collect leads
You can let people choose to sign-up for text message communication and receive everything for you via this channel. Some prefer SMS via email, just so you know.
5. Nurture leads
Follow-up with leads and keep them engaged. You can build entire nurture campaigns for SMS only. It can be anything from onboarding and intro to your business, helpful tips, special news, etc.
Plus, here are 9 more reasons you should consider throwing SMS in your marketing bag.
8 Ways to Build Your SMS Contact List
There are several ways you can try to collect mobile numbers from your audience. Let me stress that you need people's consent. They should willingly give you their number. Buying lists is a no-no.
1. SMS keywords
SMS keywords can contain both numbers and letters. Surely, you've seen ads like text SUMMER20 to number XXX-XXX to either win a prize or get any other perk. SUMMER20 is the keyword. You can choose whatever keyword you like, depending on your campaign. It should be short and memorable.
You can advertise your keywords on:
Your website
Social media profiles (like a Facebook ad)
Billboard
Direct mail
In-store
TV or radio
Email newsletter
Once a customer texts the designated keyword that they saw, the solution you are using will save their contact data into your account. You can use it down the road to communicate with them via text messages.
Here's how to add an SMS keyword in Loopify.
2. Email
Your email subscribers may want the option to receive your promo codes, limited offers, and special discount straight away. With email, it's very easy for the promotional email to get lost or be neglected since inboxes can become chaotic.
Create an email campaign where you ask people to either use a keyword to sign up for SMS notifications or link to a form they can fill out and leave you their number.
3. Sign-up forms
It's pretty standard for businesses to have create an account or sign-up on their page. If your business is one, this is another opportunity to ask people to leave their phone numbers.
Ensure that they understand that you'll send them promotional marketing materials via SMS if they leave you their number.
4. Online purchases
If your business sells products or services online, this is an excellent opportunity to opt-in to receive order updates, delivery information, and marketing material through SMS.
5. Instore purchases
If you have ever shopped in a store (which you have), you must have been asked one of these questions (or some variation of them) by a salesperson:
Would you like to become a member of our club and receive special promotions and discounts?
If you sign up for our member's club, you'll receive 10% off your purchase.
This is just as effective an approach as is the online one mentioned above. It's more personal since it's face-to-face, and your employees have the chance to mention additional benefits to get people to sign up.
Your customers will fill out the form on paper, and you can give them the option to leave you their phone number in addition to or instead of their email.
The employee will enter them into your system, which you can synchronize with the SMS marketing solution you use, and that's it. You can now use your customers' contact info to reach out via SMS.
6. Social media
You can promote SMS as another way your customers can reach you on your social media profile or via ads. Include your opt-in keyword and number they can text to receive the SMS subscriber updates.
You can create separate social media campaigns that link to a form where they can leave their number. The designated page can go into a bit of detail about what you'll communicate via SMS and how many text messages can they expect to receive. Knowing what to expect can increase the chances for people to opt-in and not just bounce.
7. Direct mail
The letters, postcards, brochures, etc., are the perfect place to promote the fact that your business offers SMS communication. Plus, it's easier and faster for people to receive promotions via SMS than snail mail.
8. Website pop-ups
Non-invasive pop-ups (stress on the non-invasive part!) can help you gather more phone numbers for text messaging. Use different incentives or benefits like discounts or promotion updates to gather SMS subscribers.
Tip: Never buy lists of mobile numbers. You didn't get permission to use and contact people, which is a violation of privacy laws. Plus, you're spamming people.
How to Create an SMS Campaign: 9 Best Practices
1. Choose the SMS encoding type
SMS encoding determines the type of characters and letters that are allowed in a text message. SMS encoding is important so that the message is shown properly.
If you don't use the proper encoding type for your text messages, your content will be illegible to the recipients.
Decide on the SMS encoding type before you create your text message. SMS encoding depends on whether you will use special characters and emojis in your texts or not.
There are two different SMS encodings:
GSM7 encoding is the default, simpler one that contains regular, most commonly used letters and symbols of many languages. Here's a list of GSM7 supported characters.
UCS-2 encoding is the more advanced encoding that contains all kinds of special characters, including simple and complex emojis.
So if you use emojis in your texts, choose the UCS-2 encoding type to display your emojis properly.
The type of encoding also affects the number of characters per text message and, by default, its cost. With GSM7 encoding, one SMS can contain up to 160 characters. In comparison, a text message with UCS-2 encoding can contain up to 70 characters. So you basically get a shorter message for the same price.
Here's a breakdown of the math about SMS encoding cost.
2. Segment your audience
As with any communication channel, don't just send the same message to everyone on your list. You want to deliver relevant texts to reach the right people. Here's where audience segmentation comes in.
Divide or group your audience based on different criteria. The criteria you'll use depend on your business. It can be anything from demographics to products and services they are interested in. This way, you'll know to cater to people's interests and decrease the number of unsubscribes.
3. Tailor your text message
Keep in mind that text messages are short. So get to the point right away and include only necessary info.
Sure, you'll send out generic messages for updates or news. But, when it comes to special offers or product recommendations, use the data you have on personal interests and preferences to offer customers what they need and want.
Use variables, a.k.a. dynamic contact data, and segment your text for that personal touch. Tailoring the message will make it more personal, and it increases the chances that people will buy or do what you are offering.
4. Use an opt-out
Include a short unsubscribe link at the end. Or you can use a keyword like STOP. Opt-outs are a must under GDPR laws and policies, and not including them can lead to fines and legal repercussions. Plus, you want to text people who want to hear from you, right?
5. Have SMS credits
There is a cost to sending texts. You need to have credits in your account before you start sending your SMS campaigns. Credits are the pre-paid cash balance in your selected currency.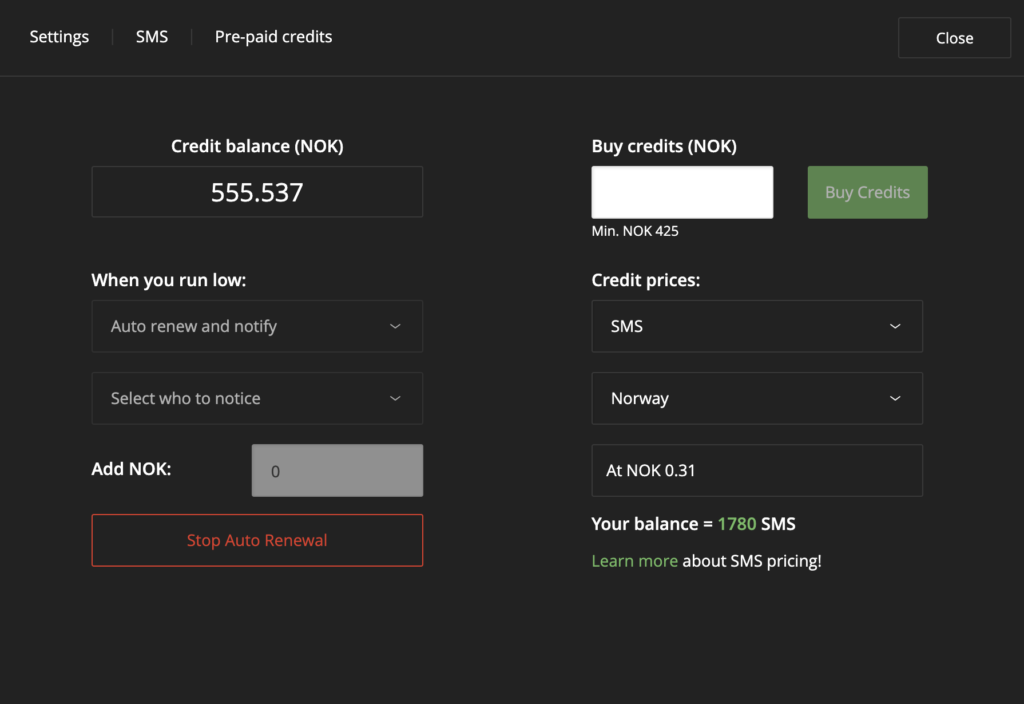 When adding credits, make sure you have enough, especially if you set your campaign on a loop. It's best to renew your credit balance automatically so that you don't have to worry about running out and stopping your campaign.
Here's how to add pre-paid credits in Loopify.
6. Test by sending a preview
To check that your text will look good and that links lead to the right place, send a test SMS to yourself or anyone on your team. Check for typos as well. Remember that this will cost you a small number of credits.
7. Automate and combine your SMS campaigns
Text messaging doesn't need to be an isolated channel. If you market across different channels, SMS will fit in perfectly in your cross-channel communication.
Here's an example of how you can automate a simple sign-up campaign using an SMS keyword.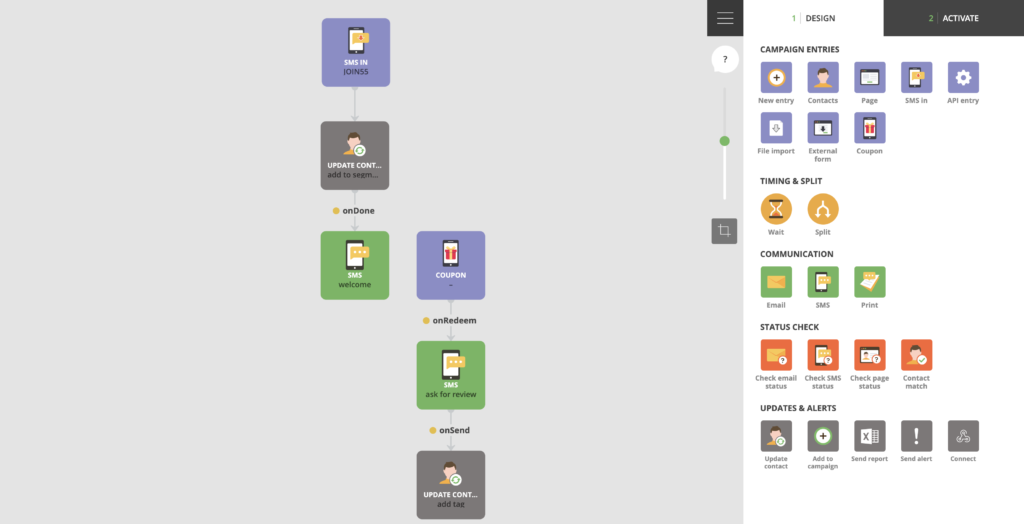 8. Test your SMS automations beforehand
You've created your campaign with communication, conditions, and it looks good. Don't make the mistake of going live without seeing how everything will behave in real-time. Set your SMS campaign flows to test mode before going live with your campaign to catch any mistakes that can cost you your money and reputation.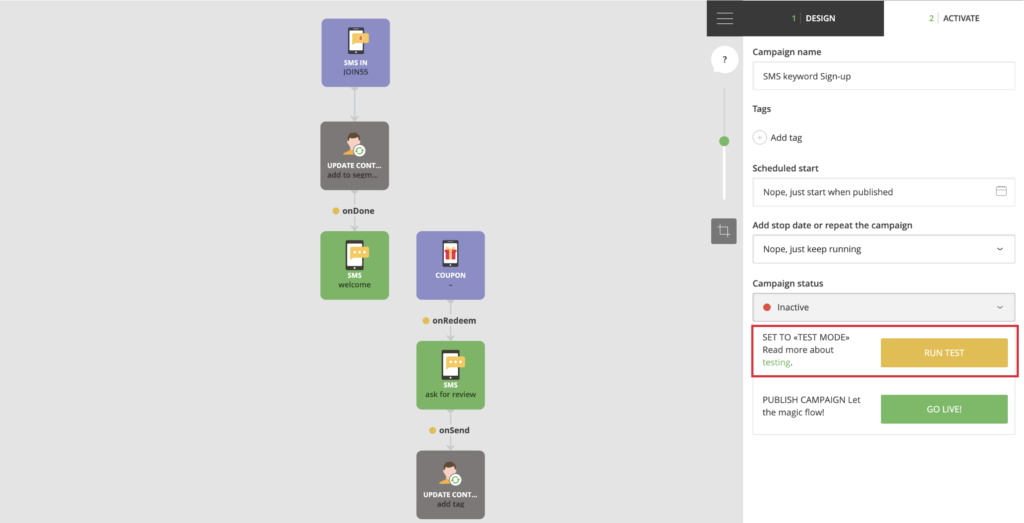 9. A/B test your SMS campaigns
Split testing allows you to create two or more versions of a text and test which one will get more clicks. The winning text will get you more engagement, so you'll know what works.
With Loopify, you specify the minimum and maximum test sends per message, timeframe, and set the winning percentage based on the deviance. After the testing is done, the communication with the highest click rate will be used further in the campaign.
11 Ideas for SMS Marketing Campaigns [+ Templates]
It's not difficult to type in a text message. However, you need to have a plan on what type of messages you are going to send.
If you need some inspiration, here are 11 examples + templates for the most common SMS campaigns. Feel free to expand on each and make it more creative and in tune with your brand tone and voice.
1. Reminder
You can use text messages to remind people of their doctor appointments, yearly car service check-ups, event reminders, and more. Include important information like time, date, location.

Reminder template:
Hi [first name], just to remind you that you have [service type] appointment tomorrow from [time slot] at [address].
2. Promotion or offer
Sending texts whenever you have a special promotion or a new offer can increase your conversion rates and revenue. Clearly state what they get and what they need to do.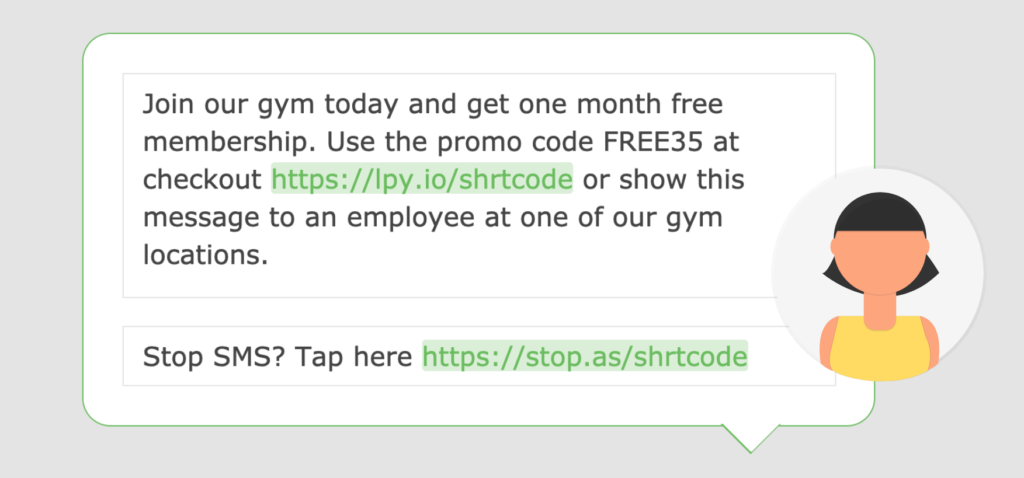 Promotion template:
Join our [club] today and get [free perk]. Use the promo code [code] at checkout ​[site link]​ or show this message to an employee at one of our locations.

Stop SMS? Tap here ​[manage subscription link]
3. Events and holidays
Any event can be a reason to send a text, from simple but thoughtful messages like birthdays and first-purchase anniversaries to webinars, cocktail events, and more. Holidays are a great opportunity for SMS campaigns and even the small, fun ones like Ice cream day.

Birthday template:
🎉 Happy birthday, ​​​[first name]! 🎉 Get [discount] OFF everything in our store with this coupon [​coupon link​]. Claim it before it expires!
4. News and updates
Inform customers about anything important related to your business. This can include changes to official legal documents, new product arrivals, monthly newsletters or other marketing materials, special holiday working hours, and more.

News/updates template:
We've updated our return policy. Read all the details here [policy page link].
5. Seasonal sales
Got a big seasonal sale or clearance coming up? Email shouldn't be the only channel to announce it. Increase your reach by using SMS to notify potential customers when to visit your store for the best prices.

Mobile coupon promotion template:
Have a sizzling fun-in-the-sun! Shop this weekend [date] and get [discount] off for orders above [spending amount] with this coupon [coupon link]. Hurry up before it expires!​
6. Loyalty program
If you have a reward program planned for your loyal customers, it doesn't have to include email only. You can easily use SMS as a part of your loyalty program or even combine email and SMS channels to create a successful campaign. Plus, you have the chance to use mobile coupons as a reward for your brand ambassadors.

Loyalty program template:
Hey, ​[first name]​! Thanks for being a loyal customer. You now have access to exclusive deals, promotions, new products, and [discount] off every next purchase.
7. Welcome message
These are standard with any type of subscription. Welcome your newly joined subscribers, paying customers, quiz participants and let them know what they can expect in terms of communication.

Welcome template:
​[first name]​, thanks for joining. Here's a coupon for [discount] off your first order [coupon link]. Enjoy shopping!
8. Order confirmation, shipping, and delivery
If your customer has left you their number, you can send their order confirmation, shipping, and delivery details via text. Use follow-ups to inform about tracking.

Order confirmation template:
​[first name]​, thanks for your order. View your order details here [link].


Shipping information template:
​Hey, [first name]​. Your order [order id] has been shipped. Track your shipment and see its delivery status here: [link]
9. Abandoned cart
If your business requires phone instead of email for account creation, anytime people leave their cart full without purchasing, you can send an SMS to remind and guide them to finish their purchase. Include a link so that they can access their cart straight away.

Abandoned cart template:
Hi ​[first name]​, you left some items in your cart!

Complete your purchase and get [discount] off your order with the code: [code]. Shop now: [link]
10. Feedback and review
Your customers' opinion is very valuable. Most people won't bother to go to your site and find where they can leave a review. You need to make it easy for them. So use a short text to nudge them to give feedback on your product, service, support, etc. The simpler you make the review process, the better.

Feedback template:
Hi ​[first name]​, we would love to hear about your recent experience with [brand name]. You can leave us a review here: [review page link]. Thank you.
11. Win-back program
It's a lot harder to acquire a new customer than to retain the existing one. Work on re-engaging old customers that have been inactive for a certain period of time. Include relevant links and incentives to get people to keep buying from you.

Reengagement template:
Hi ​[first name]​, we haven't seen you in a while! Check our new selection of just in time for summer at
and use the code [code] for a special [discount] discount!
How to Measure and Track Your SMS Campaigns
Seeing what results you get from your SMS campaigns is vital. You need to know what works and what not for your audience.
Use SMS marketing solution
The software you use to send SMS messages in bulk will offer tracking and analytics for your campaigns. In Loopify, you can see reports on your individual campaigns and general reports giving you an overview of your SMS marketing efforts.
You can track:
Sent details (how many were successfully sent and how many bounced or were suppressed)
Link open rate
Unsubscribes
Top links opened
Performance data by the hour for the first 24 hours
Use Google Analytics
This is the beauty of using UTM tracking codes. You add them to any link in your text messages, and you can track the source of its traffic. You need a clear naming structure when using UTM codes to distinguish exactly from where this link comes easily. The most important UTM codes you need are:
utm_medium
utm_source
utm_campaign
You can see here how Google explains what each parameter is used for.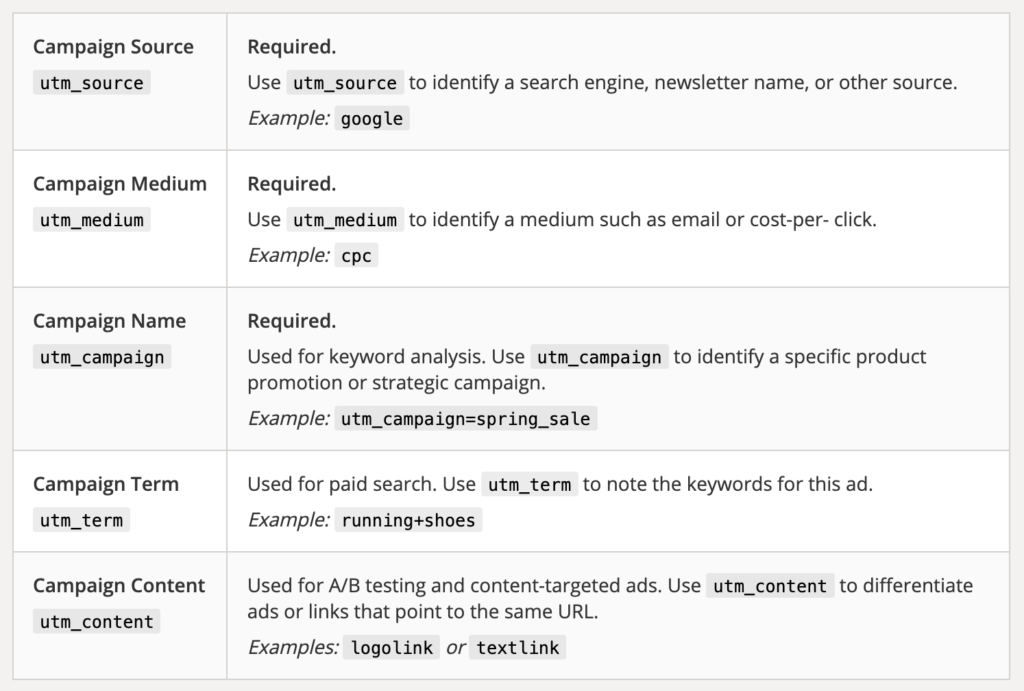 To find the UTM data for the links in GA, go to your Google analytics account > Acquisition tab > Campaigns > All campaigns. You can see campaigns by campaign name (utm_campaign). Add a secondary dimension source/medium for more data.
How to add UTM tracking codes to links?
You can add tracking codes to your link:
Manually. This is time-consuming and prone to errors if you are new to tracking codes.
By using a UTM builder that will automatically generate your link once you specify the values for your codes.
By setting them in the SMS marketing platform you use, like Loopify.
In Loopify, you can choose whether or not to add tracking codes you your SMS campaign links.
If you do, you can set your UTM values for all campaigns or write your values once you insert a link in an SMS. Another neat thing is that you can use variables as your UTM values, so they'll dynamically change for each link. The best part is that there's no need to use a URL shortener; Loopify automatically shortens your link in your text message.
If your solution doesn't offer UTM codes, you can use a UTM builder to generate each link and a URL shortener like bitly to create a short link.
How much does SMS cost?
Overall, SMS marketing is not a costly channel. The money you spend on SMS marketing can vary depending on several factors:
The size of your audience
The countries you are sending to
The number of text messages you are sending
How often you send
All of these will affect your budget. Sending a text to 10 000 people across 2 different countries 3 times a month will, of course, cost more than sending locally to 1500 people once a month.
You can use our real-time calculator to see the price per SMS per country. Just click on the What is the price per SMS for each country? question in our FAQ section on the pricing page. Select the currency and the country where you wish to send your messages, and you'll get the price per SMS.

---
All in all, SMS marketing is a great opportunity to grow your business, especially if your competitors haven't still caught up to using text messages to communicate with customers.
As long as you follow best practices and have a strategy in place, you can use SMS to your advantage, engage with customers, and improve your ROI.