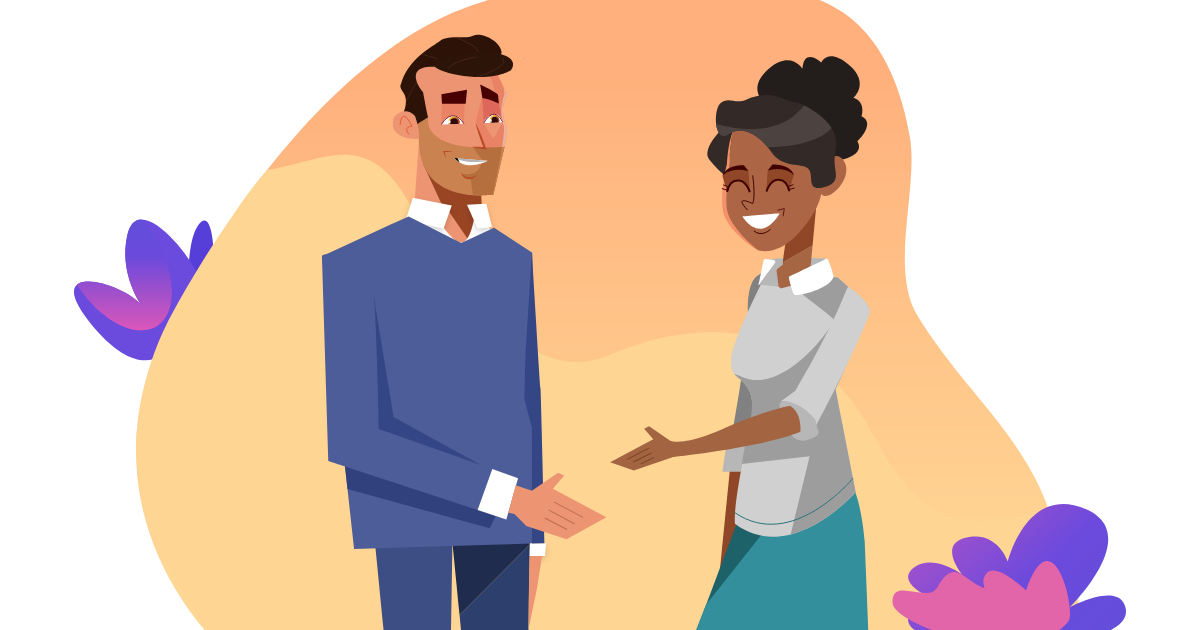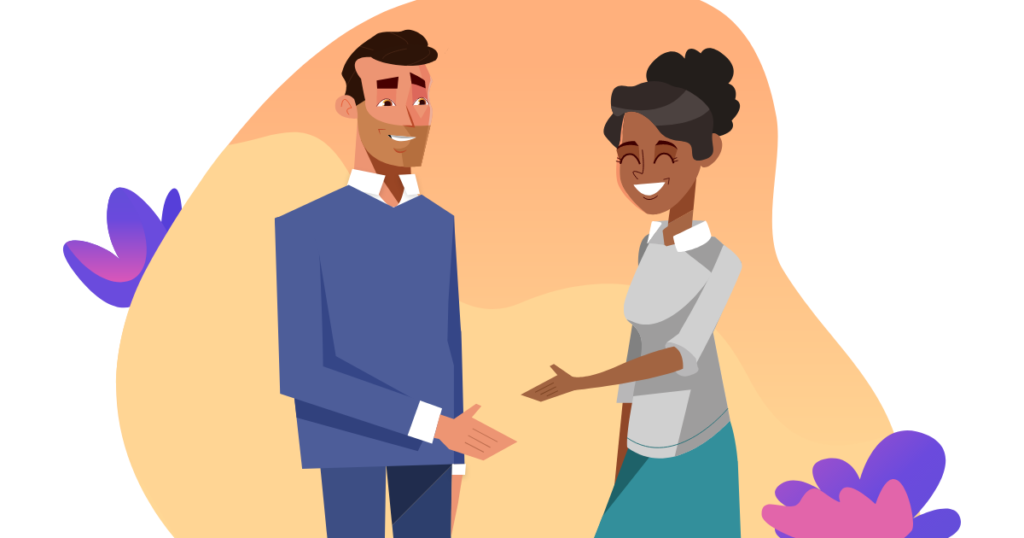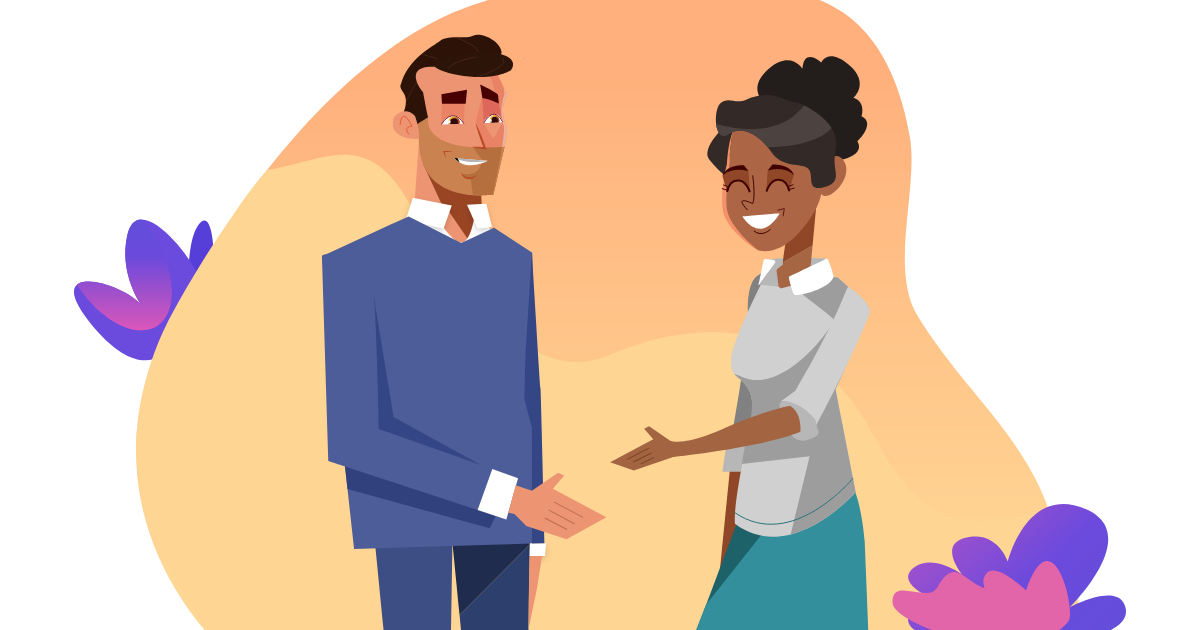 Choosing to automate your employee onboarding process can save you a lot of headaches. Many businesses think about marketing automation software in terms of automating the process of marketing communication with customers or clients.
However, you are sleeping on unused potential when it comes to internal processes and communication.
Marketing automation makes communication with customers a breeze and improves their experience with your business. So why not do the same for your employees?
If you run a small business and don't have the means to invest in a separate HR automation software, your existing marketing automation solution can solve the problem. Even large companies with resources can benefit from using marketing automation to streamline communication.
Let's break down how marketing automation can help you onboard your new employees and improve internal communication.
Employee Onboarding Tasks You Can Automate
Traditional onboarding is a time-consuming task involving many people across departments, like IT, human resources, legal, and the new employee's department.
Since it requires the involvement of multiple people from different departments and positions, it can be an intense process.  
Reports say that new hires will have to complete 54 activities during their onboarding period.

techjury
That's a lot of stuff that needs to be done, huh?
Make it easy both for you and your new hire and use marketing automation to take the burden off your shoulders by automating the following tasks: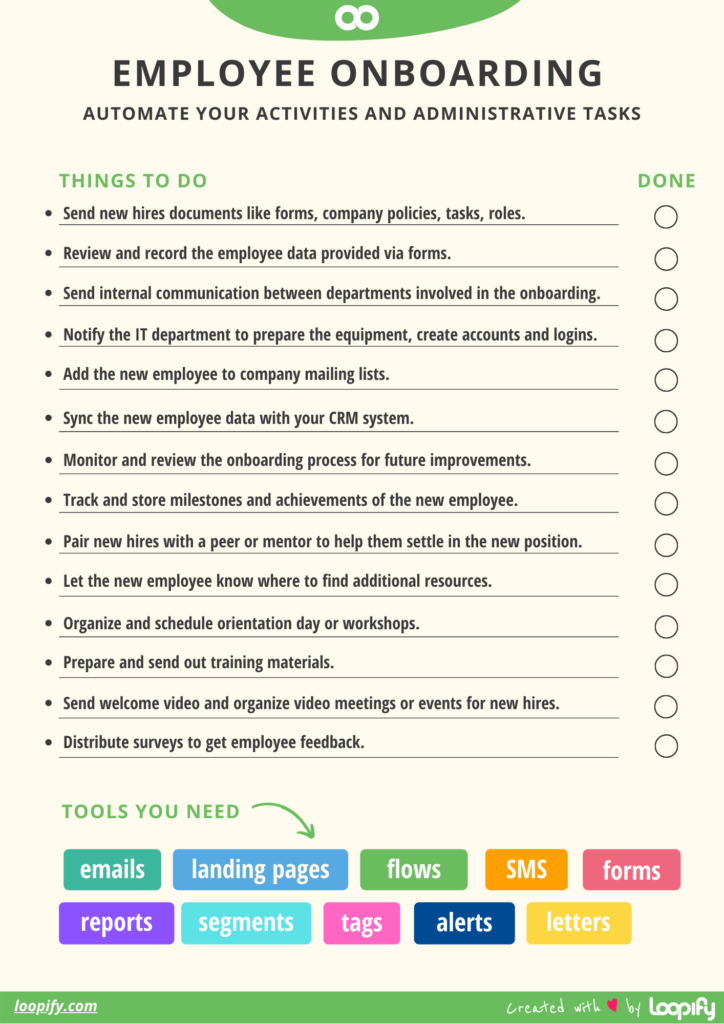 Send new employees all necessary information like forms, objectives, tasks, timelines, roles, responsibilities, link to company policies, or send important documents via mail.
Review and record the data provided via forms.
Send internal communication between departments involved in the onboarding process. This includes HR (which does most of the heavy lifting), IT, and the department where the new employee will work.
Notify the IT department to prepare the equipment, create accounts and logins.
Add the new employee to company mailing lists.
Sync the new employee data with your CRM system.
Monitor the onboarding process and review the data you gather to avoid mistakes when onboarding new employees.
Track and store milestones and achievements of the new employee.
Pair new hires with a peer or a mentor. Their job is to introduce the new hire to other team members, explain tasks, responsibilities, and timelines, go over the work process, and anything else they need to settle in their new position.
Let the new employee know where to find additional resources.
Organize and schedule orientation day or workshops.
Prepare and send out training materials.
Send welcome video and organize video meetings or events for new hires.
Distribute surveys to get employee feedback.
Here's how both you and your employees can benefit from automating the entire process.
11 Benefits from Automating Employee Onboarding
1. Improve employee retention
If your employees feel like they have had an effective onboarding experience and are engaged properly, they are more likely to stay at your company.
In fact, businesses with a strong onboarding process improve their new employee retention by 82% and productivity by over 70%. Companies with weak onboarding programs lose their candidates' confidence and are more likely to lose these individuals in the first year, shows Glassdoor's research.
2. Save resources and reduce costs
Automating your onboarding process can significantly reduce your costs. It makes sense that the more employees you can keep for a longer period, the more time and resources you'll save than looking for new candidates and onboarding them.
By removing paperwork when possible, automatically triggering information that needs to be sent out, sending online forms, you save time and money for the people involved in the administrative process.
Think of it this way. A bad onboarding experience can skyrocket your cost per hire. According to HR statistics for 2023, companies on average spend $4,683 to hire a new worker.
If your employee walks out looking for new job opportunities shortly after the onboarding process, both your hiring and onboarding costs will increase and maybe even double. You will lose valuable time, and other good candidates you had in the previous hiring process will probably be lost to you.
3. Remove manual and time-consuming processes
Old-school onboarding involves a lot of manual work (especially paperwork), which bites a huge chunk of time, especially for HR. They also have to coordinate with other departments.
Scheduling and automating processes like emails with company policies, online forms and storing of submitted data, setting up reminders and alerts for people that need to take over, scheduling reports with important milestones, gives you a complete overview of the onboarding process. You don't have to worry that someone will miss something.
4. Collect and store employee data more efficiently
Creating forms that can be filled out online will make your life easier and save you both time and money. Reduce both the paper waste, store the information as soon as the form is submitted, transfer and sync it with your CRM solution.
The info you gather will also help you down the road. Use it to segment the information you need to send each employee, like achievements, milestones, departmental announcements, greetings, and more.
5. Avoid errors and miscommunication
Going back and forth with different departments and manual transcription of data will mean more human errors or slip-ups during the onboarding process. Setting up automation processes correctly will help you reduce or minimize the number of mistakes.
You can schedule different emails ahead of time, trigger actions, send notifications, and automatically store the correct data without worrying about missing information due to manual typing.
That way, any delays or miscommunication are removed from the onboarding process. Plus, the whole thing will go faster and without any frustrations.
6. Delegate tasks easily
Going back and forward with phone calls and emails to ensure that every aspect of the onboarding is covered can be overwhelming. It's much easier to trigger notifications, reminders, and emails as soon as they are needed. Collaboration at its finest.
7. Optimize the transition from training to working
The sooner the onboarding and training are done, the faster your new employee can focus on its work-related tasks and contribute to the team. By using automation, you shorten the time it takes to successfully complete the onboarding process.
You avoid stressing out the employee with a process that may seem to drag on longer. They feel fulfilled and ready to contribute to their team.
8. Increase productivity
Successful onboarding focuses on training, motivating the employees, celebrating their achievements from the start. Positive experience increases the employees' productivity and engagement. It makes them feel like they are welcomed and part of the team.
9. Apply consistency in onboarding program implementation
The old-school onboarding may sometimes be inconsistent because some hires may get through the program at a great pace, while others might feel like they were rushed through it. No wonder a survey showed that one out of five employees were confused about how to proceed during the new hire onboarding process.
This is where you can take advantage of automation. Once you plan and set up your onboarding flow, content and decide how to organize your employee data, you know that the process will be the same for each new hire.
10. Improve employee word-of-mouth
A positive onboarding experience will leave a great impact on your hires. It shows that you are organized, focus on people instead of paperwork, and care to provide the best experience. In turn, they'll be more likely to recommend or praise your company to their friends, family, or peers.
11. Optimize the work-from-home experience
With the world adapting to working from home, many businesses have employees from around the world. This obviously makes in-person onboarding difficult and sending paperwork both costly and time-consuming (plus the risk of the mail getting lost or delayed).
This is where online and digital onboarding comes into play. You can organize virtual orientation meetings, schedule fun events and activities for the new hires, welcome video calls, send training videos, and more.
It's both easier and fun. Plus, the employee on the other side of the world won't feel left out.
How to Successfully Automate Employee Onboarding with Loopify
No matter the business or industry, employees want a personalized, engaging, and organized onboarding experience, away from the paperwork and manual tasks. Digital onboarding and automation offer you the chance to do right by your new hires.
Here are 12 ways to squeeze every bit out of Loopify and give your employees an awesome onboarding experience.
1. Set up informational emails
One of the best things you can do is use email marketing tools to create and schedule all necessary emails that need to go to your new employees. These include:
Pre-boarding emails. These can include any paperwork stuff you can do beforehand. Include links to company policies, address common questions, links to any forms that need to be filled out. You'll take care of the administrative work, and the employee can start the first day getting to know everyone.
Company culture email. Introduce your company, how you communicate, what you do for fun, teambuilding activities, and more.
Prepare-for-the-first-day email. Send this email to let people know when to arrive, how to dress, how to find the office, who to look for.
Introduction emails. You can send emails to let hires get to know the people they'll work with. These can be super fun and include short videos from managers or peers, interesting facts about each person, a summary of their responsibilities. This will loosen up newcomers and make striking a conversation easier and more comfortable.
Training emails. These emails can include tips, advice, tools, links to resources, webinars and videos to watch, exercises to practice, or beginning tasks to do.
2. Create digital forms and surveys
Why waste paper on something that can be done online? Use external forms or landing pages to create forms that your employees need to fill out. The best part, everything is directly stored in your account. You can even choose to automatically sync it with your systems.
Another useful thing you can do with landing pages is to create feedback forms. Ask new hires about the experience, what they liked the best, and give them an option to rate different stages of the process.
Don't worry; you can make these forms personal or password-protected so only the new employees can access them.
3. Personalize the experience
Here's where segmentation helps. Start by using the information you have gathered from forms, surveys, and feedback to curate the new employee's interests and preferences. Different departments and positions will require different materials, training, tools, etc.
Dave from Sales doesn't need the same training materials as Jane from IT, nor does Jane use the tools Sarah from Finance uses.
You can also use dynamic contact data (a.k.a. variables) to praise individual accomplishments and milestones. There is no need to waste time to go through your employees manually and create dozens of emails when you can do it with one.
4. Filter and organize employees via segments
You can use segments to filter out employees based on different criteria like departments, job positions, teams, responsibilities, interests, location. Then consider this information when creating emails and other content that needs to be personalized.
If you have offices in different locations, you can send out invitations for local teambuilding events.
How about celebrating birthdays, work anniversaries, or milestones? Send email postcards or text messages that will be sent depending on the birthday date. The system will automatically send out communication without forgetting anyone.
5. Use tags to add more info
Tags can be of great help have versatile uses. You can assign tags to employees instead of creating segments, use tags to identify employees when they joined the company, which campaigns were they a part of, or update them with new info.
6. Organize welcome events
You can organize welcome events for your employees (go online for safety reasons 😷) to get to know the rest of the team. Invite everyone from different departments and plan fun activities that will break the ice, which can be done via video. It's a great opportunity for both the new and existing employees to get to know each other, especially if everyone works from home.
7. Store, update, and sync employee data with your CRM system
Every information you store in your Loopify account, you can sync with your CRM system so that you see real-time data. You can choose different ways to update your employee data. Or automatically send data from Loopify to your systems and vice versa to save a ton of manual effort.
8. Inform different departments with alerts
It's a neat thing that you can trigger alerts to go out to the right people as soon as they are needed. This way, you inform peers, managers, mentors what is the next step and what they should do. You can include any info in your alerts message and specify which employee does the task at hand refer to.
Plus, with the Alerts app, you can add as many people as you need for free. These can only receive alerts and reports and don't affect the number of your account users.
It's the perfect way to keep your account clean. Adding people from different departments that have a single task.
For example, you can add the IT technician to send him a reminder to create the email address, set up accounts, logins. Or alert the finance people that they need to order office equipment for the new employee.
9. Store employee profiles with custom fields
Each employee will be a separate contact in your account. You can see the basic info like name, email, phone, job position, location, etc. However, you can create your own fields to store any other information you need, like birthdays, interests, main responsibilities, and more.
10. Download any employee data
Do you need to see a report with specific employee data? Select any employees and choose which information you wish to export as a CSV file.
11. Create onboarding workflows with flow
Plan and create entire campaigns that can help you streamline and automate the employee onboarding process.
From importing and updating employee data, creating online forms and surveys to scheduling personalized emails for any stage of the onboarding process, and facilitating internal communication.
Automated campaigns are the way to go.
12. Set up to receive custom reports
You can create your own customized reports to see the data you need. Maybe you need to inform HR of specific details about the onboarding program. Or a summary to the mentors on the progress of the employee training. Whatever you feel is important.
---
In the end, successful onboarding is what will keep your employees happy to be a part of your team. It's not a question of whether you should have it or not. It's about creating a positive experience by utilizing the power of marketing automation. MA will help you automate the employee onboarding process and make the experience as smooth as possible.