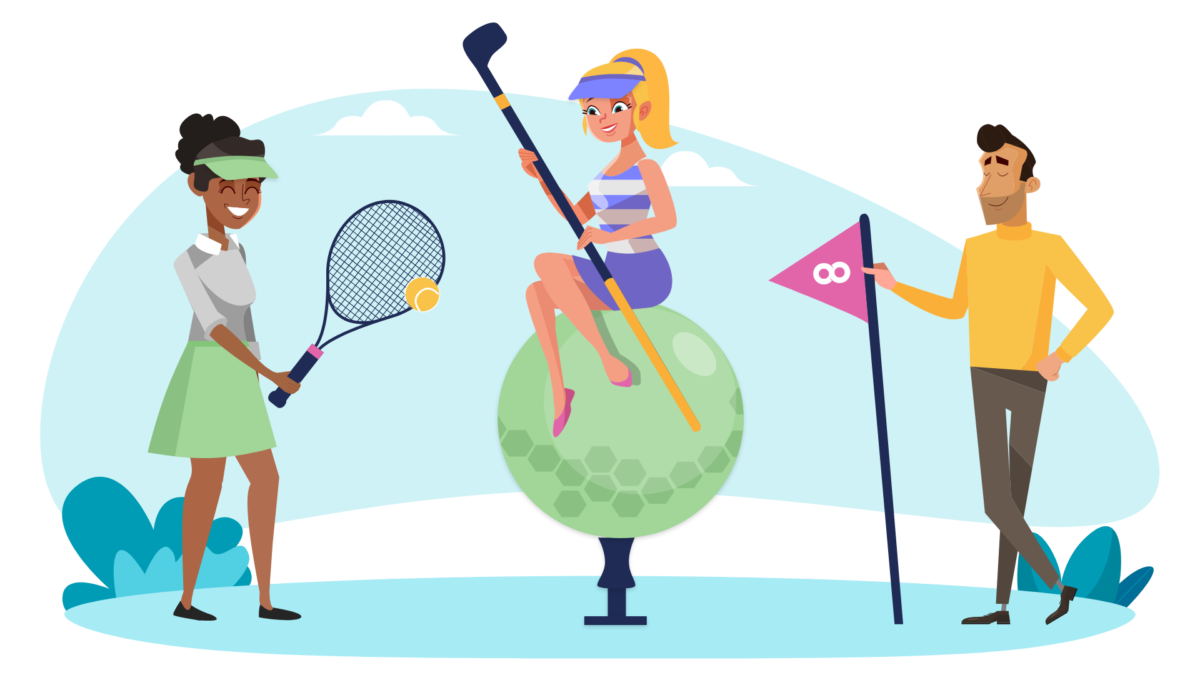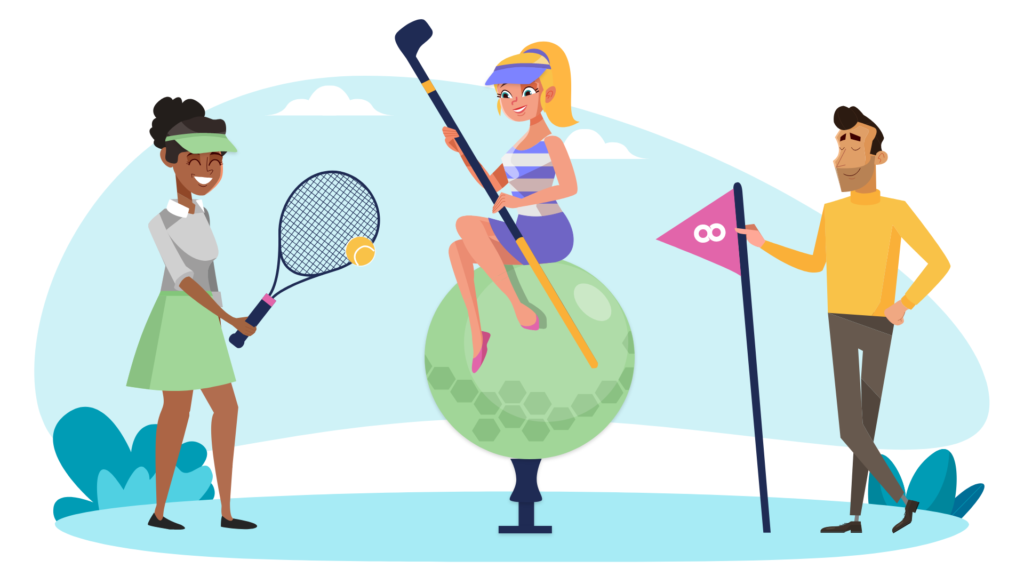 Sports clubs and associations would not exist without their members. This means you need to motivate people to join your club and show how and why they should join. Here's where a marketing automation solution can help you communicate all of your offers, news, and promotions to the right people and at the right time. 
Not convinced? I can show you that marketing automation is the right choice for your club if you keep reading.
Why Should You Use Marketing Automation? 4 Benefits
Is it hard for you to keep your new club members to stay? How long do they stick with you?
If there's a high dropout rate, you need to help people get to know you and what you offer. Here's how marketing automation can help various sports clubs succeed (including yours):
1. Gain and nurture new members
One way to get new members is to spread the word about your club.
Create landing pages with forms and promote your club on social or map your existing form from your webpage with the marketing solution.
This way, you can set up campaigns to start communicating with any new lead or member straight away. The worst mistake you can make is to let people forget you.
Sending emails (or text messages) to new members is a great way to let them know what they can expect, how the club operates, and some essential things they should know, and introduce employees.
It is crucial to educate and inform your new members about your club's perks, employees, and everything they need to know about training.
Nurturing new and existing members will improve member retention, which means your members will stay longer with you instead of dropping out in the first three or six months.
2. Engage existing club members to strengthen the relationship
It's not just about having people join your club. You want to keep them coming and be active members. If you have members who have stuck with you for quite some time, you must keep them engaged.
Inform members about new deals, seasonal programs, and tournaments, events, and send personalized offers.
They'll want to know what is going on with the club, are there any promotional packages for long-time members, any offers for pro players, or events they could attend and upcoming tournaments. This is all information you can communicate.
Also, consider running seasonal campaigns that can increase engagement. Share the summer vs. winter activities, how to train in different weather, seasonal opening and closing times, etc.
3. Inspire brand ambassadors for your club
Loyal customers have the best potential to become your brand advocates and spread the word about your club.
Plus, word-of-mouth is the best marketing for your club. Develop a referral program and keep your loyal customers happy and reward them for any contribution they make.
Don't hesitate to ask loyal members for testimonials. Display them on your website, share them on social and include them in lead generation campaigns as proof for potential leads.
4. Follow the entire customer journey
Marketing automation allows you to create campaigns for any stage of the customer's (member's) journey.
Lead capture and email nurture programs are just the beginning. You can create any campaign you want.
Start re-engagement campaigns to incentivize your inactive members to get back and engage.
Create win-back campaigns to change the mind of customers that have decided to leave the club.
Reward campaigns with coupons are a great way to thank brand advocates and motivate them to continue standing behind your club. Create cocktail event invites and anything else that celebrates your members. The possibilities are endless.
How to Improve Your Sports Club Marketing with Loopify?
Marketing automation can help you improve customer communication and promote your sports club to raise its profile.
Here's how you can use Loopify to achieve that.
1. Create a database and segment members
The best thing you can do for your marketing is to start on the right foot and group members. For example, you can group your members by experience, like beginners, advanced, and professionals. Whatever works for your club.
Marketing automation allows you to handle your customer base so that you can communicate with the right member at the right time. The main way to organize your contacts, a.k.a. members, is to create segments to divide and group your audience based on shared interests, buyer persona, location, experience, etc.
Proper organization of your members will help you communicate better.

Your club has various types of members, visitors, and potential clients. So, remember to separate your leads or potential members from your existing customers, as you'll usually communicate with them differently.
Tip: Use smart segments to divide your members even further. This will allow you to send even more personalized information.

For example, group [members] that [have kids] to pitch them kids lessons, or [beginners] who [don't have equipment] to offer them a discount at your store.
2. Add brand styles to use them in campaigns
Consistency is key in marketing across all channels. You want people to take one look and think of your sports club straight away, whether they are on your website, scroll through social media, see an ad, or come across a billboard.
Your logo, colors, fonts, tone of voice, and photos of your club and employees contribute to creating a certain image that people will associate with your club as soon as they come across it.
This means that your emails, pages, and any other communication should also represent your brand.
Here's an example of our email template using our signature green color, logo, and the font we use across all channels.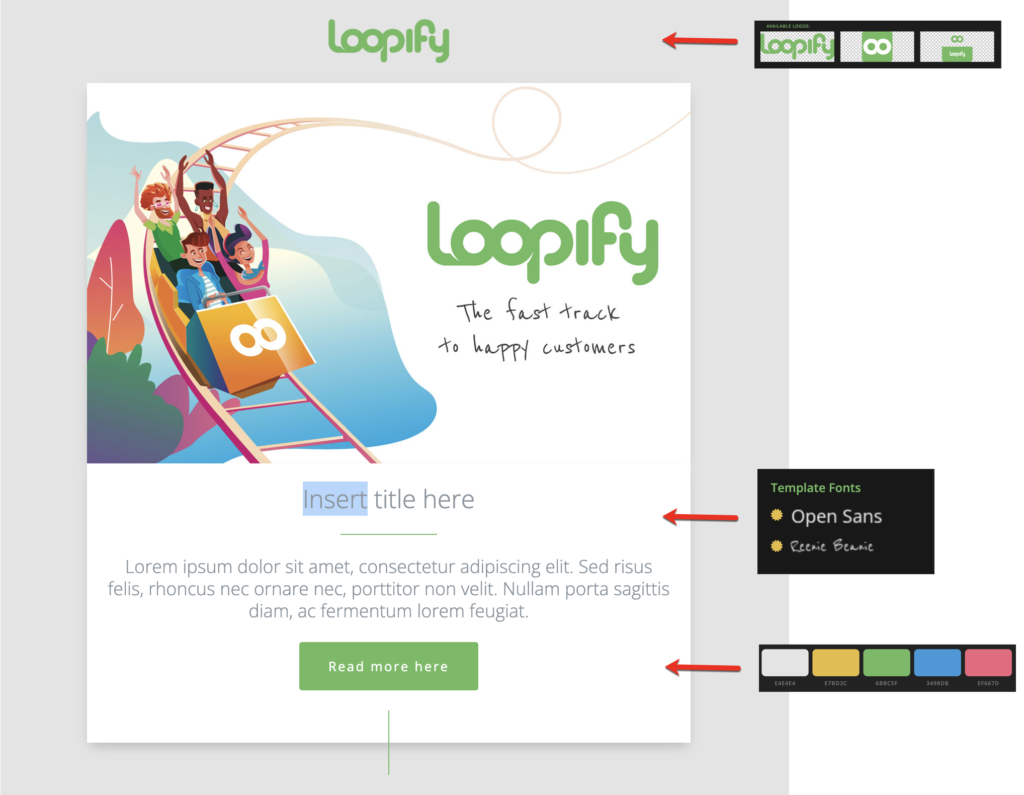 Marketing automation solutions come with ready-to-use standard templates. But you should customize them to fit your brand image, by adding the brand styles I mentioned above.
Tip: If you have a special request or want a template that you can't find for free, you can ask for custom templates to match your expectations. However, the marketing automation solution you use should be flexible to allow you to get the desired look just by customizing the existing templates.

If you want a custom template in Loopify, contact success@loopify.com.
3. Create a newsletter
Keep members and subscribers in the loop about your club or what's new in the sport, or share tips on how to improve their game. With a newsletter, you can also promote any events, tournaments, ask people to follow you on social or ask for feedback.
Here are two examples of newsletters. You need to find what design works for your club, the type of information you'll share, and how you'll share it. Choose a fun design or a simple text email. Whatever works for you.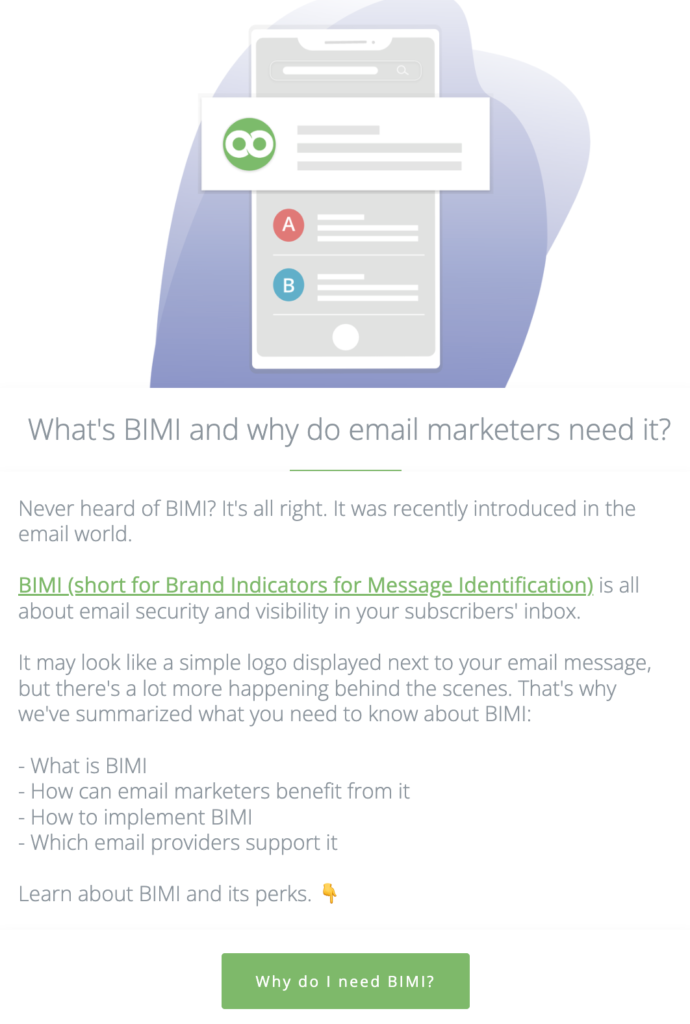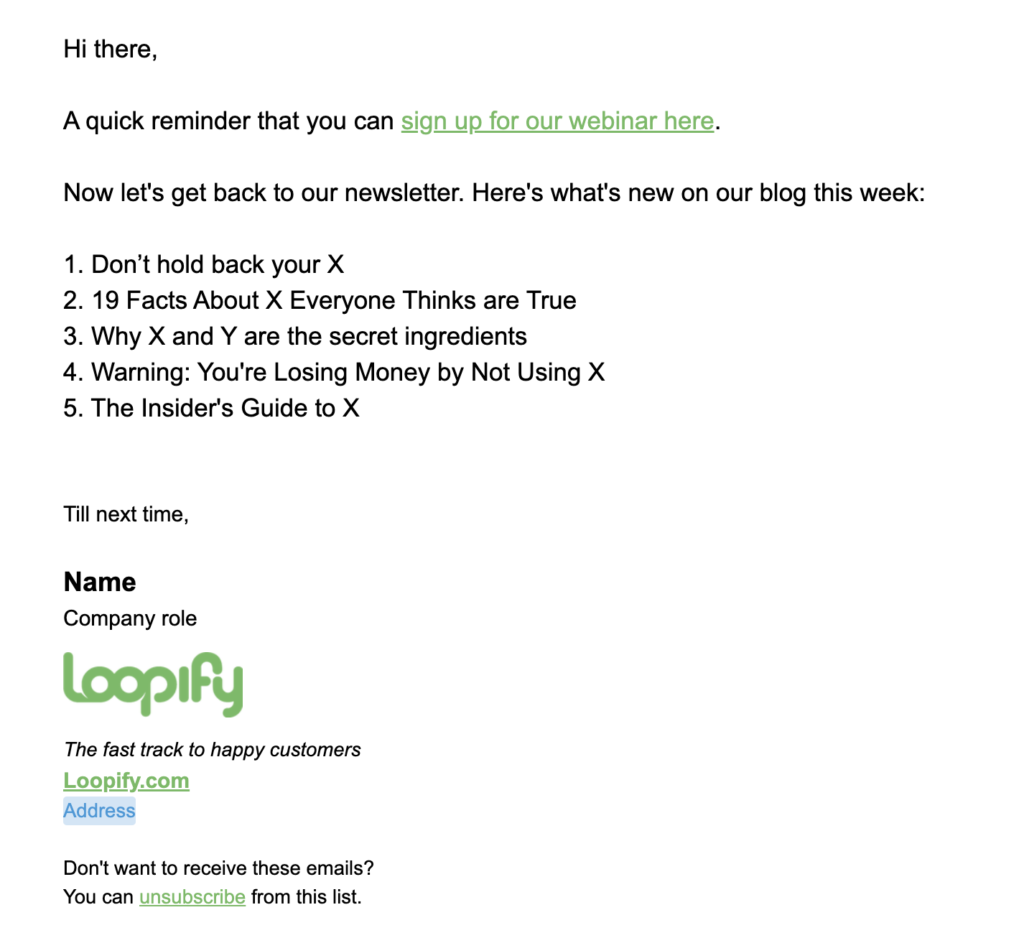 Depending on what information you have to share, you should decide how often the newsletter will go out. Weekly? Bi-weekly? Monthly?
Choose a sending frequency and keep it consistent, for example, every other Monday. That way, people will know what to expect from your newsletter and when they can expect to receive it.
4. Create pages with subscription forms
If you want to get new members, you need a campaign to capture leads.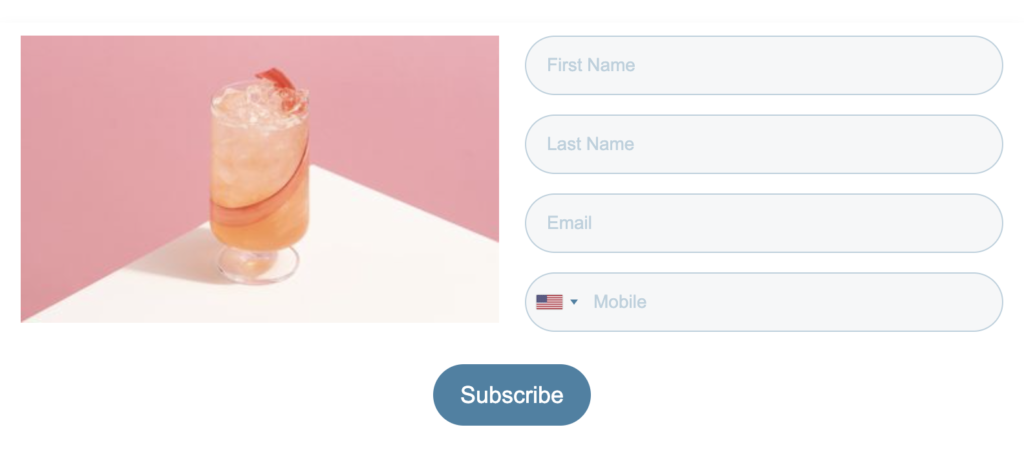 This can be a landing page with a sign-up form or a button that leads to your webpage form. Make sure you share and promote this campaign. Use paid ads, and social media, send emails to leads, and post on social profiles.
Tip: Exclude existing members if you want to promote this campaign via email/SMS. They have already signed up, so you'll want to include only subscribers that aren't already members.
5. Communicate with personalized information
This is what wins over your members. Offering them what they are interested in. Tailored communication leads to better engagement.
a. Use dynamic text, images, and contact data
You'll have info on your clients that you have gathered over time (legally and with permission), so use it.
The main way to personalize how you talk to each member is to use variables. Variables are dynamic data that change based on contact information.
Use your audience's main and smart segments to personalize the communication with personal contact data.

Send training offers to amateurs and advanced tips to pros. Send offers for individual and group training classes to beginners, send coupons for birthdays, and share any events where the pros might want to play and attend.
Generic emails are totally fine when let's say, you have an announcement for all customers, but tailored info is crucial when you have something different to share with pros vs. newbies. The one or the other is not interested in receiving each other's news.
b. Use account collections and dynamic email senders
If you manage several clubs in different locations, you can communicate in the name of different trainers, locations, and sales reps by adding each club as an account collection.
Here's an illustration of how account collection variables work in Loopify.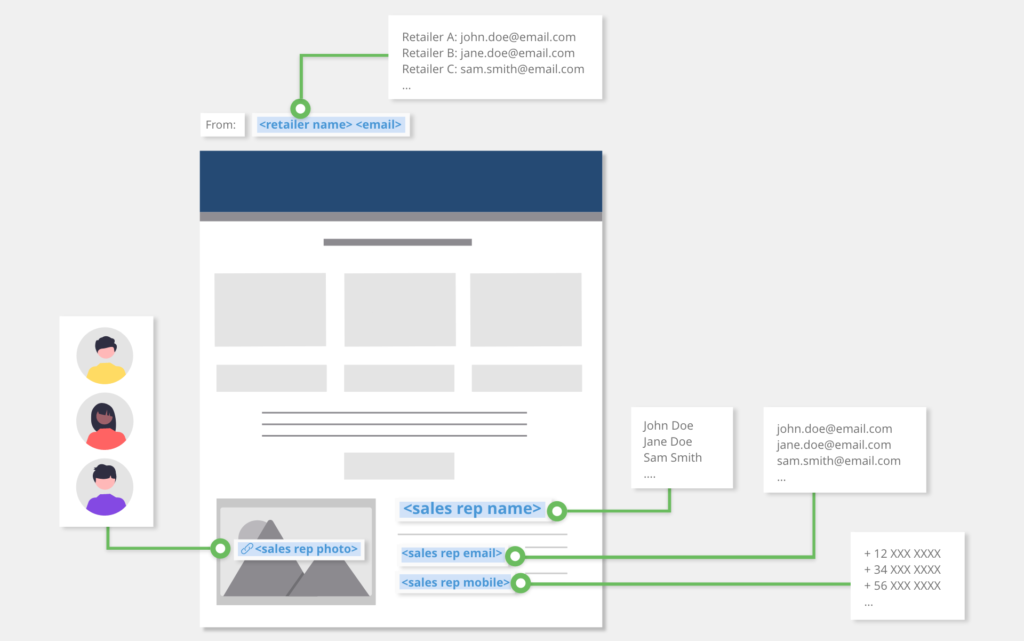 This allows you to work on a single email, and with the help of dynamic data, you create multiple versions of the email, each personalized to the member based on the sports club they belong to.
Tip: Test all your emails (and all campaigns) to ensure that your content is segmented correctly and all variables are correctly replaced. Otherwise, members will receive irrelevant details from a club that's kilometers away from them. 
6. Build campaigns that cover every step of the journey
For the best customer experience, you need to cover every step of your members' journey with your club. From leads to new members to loyal customers.
That's why it's important to create campaigns that will engage members at every step. You can cover each scenario and even find new opportunities to engage members as you go along the way.
a. Talk across channels
One of the main perks of marketing automation is that you can communicate using multiple channels and cover various touchpoints from one place. This depends on which channels you have chosen to communicate.
A common mistake is using every communication channel out there when you haven't covered the basics first.
Start with email and landing pages, and in time you can add another channel to the mix like SMS and coupons, or direct mail. 
The same goes for social media channels. Pick a few where your members are active, and if you wish, you can test new ones down the road.
b. Create a welcome program for new members
You must win over your new members if you want them to stay.
Welcome or onboarding programs are usually a series of scheduled emails where you introduce your club and employees, everything people need to know about how it operates, like working hours, grounds, who they can ask for help, any classes or training you offer, the trainers, etc.
Here's an example of an onboarding campaign in Loopify. Every new member will receive four introductory emails that share various club information over three weeks. Once they receive all emails, you can mark them by adding a tag or adding them to a segment so that you know that these members have completed the onboarding and can continue with the nurture program.

The goal of onboarding programs is to educate new customers, including relevant information they need to know.
c. Nurture existing members
Once new members are done with the onboarding, you can include them in your nurture program. Here's where you can share news, playing tips, equipment maintenance advice, how to get the most of what the club offers, and more.
Below is an example of a summer nurture campaign. Starting from May 15th until August 31st, existing members will receive news about summer events, seasonal offers, or tips relevant to the summer season.
Along the way, you can set up to receive alerts when someone registers for an event or simply track the progress of your campaign.

d. Feedback and re-engagement campaigns
Feedback campaigns are a goldmine of helpful information, whether good or bad. Any type of feedback is a learning opportunity. You can create a survey or ask for a rating by linking to a landing page in your communication, let's say after you know a new visitor has spent a day in your club or after an event.
A very common question on these surveys is the one below, which will help you calculate your Net Promore Score (NPS) and show which of your members are the perfect fit for brand ambassadors and which ones you need to work on to win over.

On the other hand, re-engagement campaigns help you activate passive members. Gaining a new member is more costly than working on keeping the existing ones.
So you want to bring inactive members back to your club and not lose them. Use an incentive like a membership discount, bring a friend for free, one-hour free training lesson, etc. The goal is to engage passive members by motivating them to take the desired action.
7. Get insights about members
Analyze the results from your campaigns to learn how your members interact and engage and learn what they like or don't like.
Track all important metrics to see what works and where you can improve. See the bigger picture with general reports or dive into details for each campaign with campaign reports.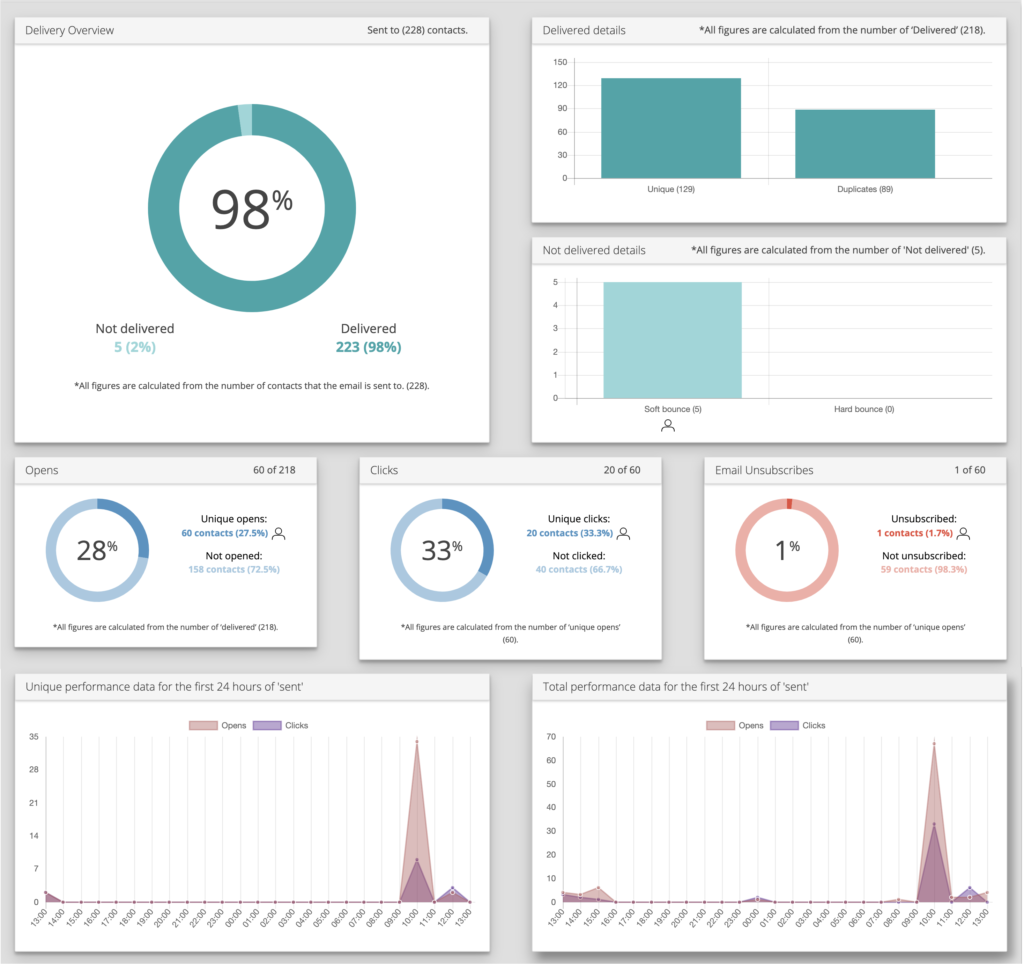 A great way to see what works best is to A/B test your campaigns. You may be surprised with the results and learn that something that you think will work only to find out that the opposite does. Test images vs. videos, subject lines, CTAs and placement, colors, length of text, etc.
8. Integrate with all your clubs and share resources
Integrating with your clubs has several perks for you and the clubs you manage.
Reduce costs by sharing resources like images, templates, and campaigns.
Be consistent with messaging across channels and centralize your marketing approach.
Bring campaign distribution under control. Everyone will be on the same page on what to promote.
Launch marketing campaigns on a large scale without any miscommunication.
Save time by not recreating what was already done once.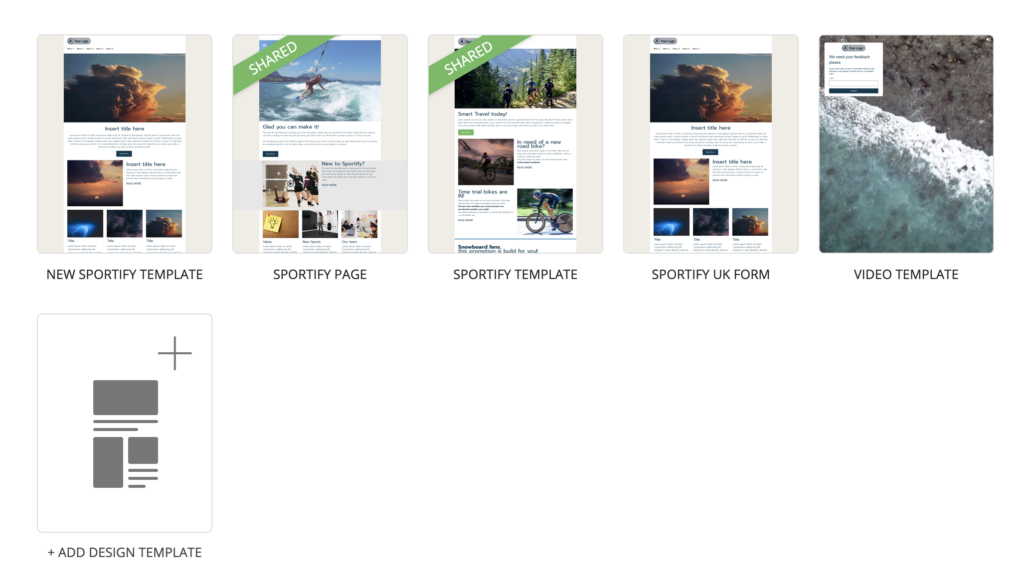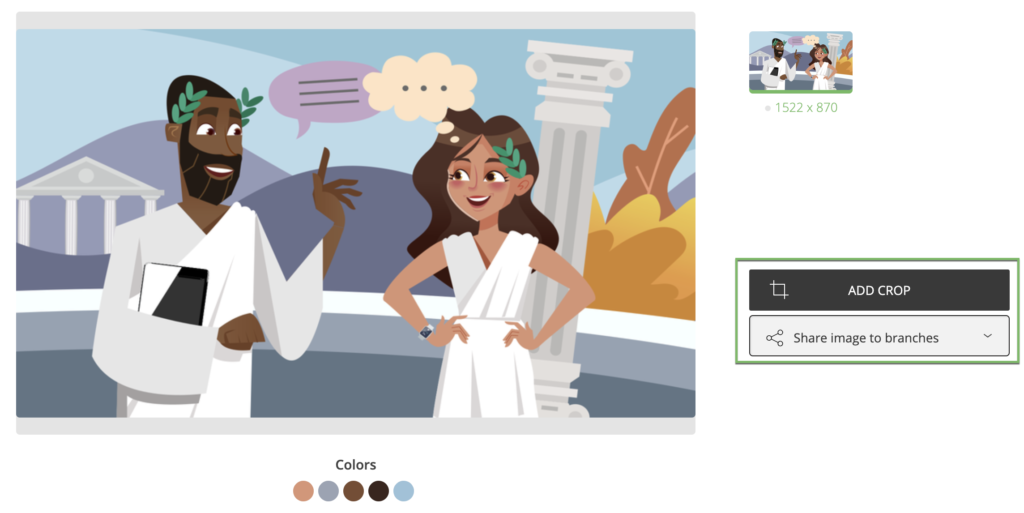 You can choose what you want to share with your clubs, and they can easily copy it. Let your clubs copy the entire welcome program for new members, so they don't have to recreate it. They can easily adjust the information to be relevant for their members, like location, employees, or any specific details.
Tip: You can 'lock' the content you don't want for the clubs to be able to change, like logo, footer, unsubscribe link, or social media. Locking makes that content not editable, which means that it will be fixed in the template/campaign.
9. Get expert advice and training
You have the help center at your disposal for free, where you can access articles and videos that will help you work around Loopify. Our support team is also available to help you via chat or email.
If you are not sure how to approach your marketing or need help with your strategy and execution, we can help. Our success reps can tailor the training and workshops to your business and marketing needs and goals.
Tip: See what type of training we offer by contacting success@loopify.com. Our reps will be happy to explain what you can get out of different kinds of training.
What tools would you need?
Depending on your marketing goals, you may need more or fewer tools than the marketing automation solution has to offer.
Marketing automation tools for beginners
If you are a beginner in the marketing automation world, start with the basics, and as you learn and grow, you can try out more tools. Here are the basics most people begin with.
Marketing automation tools for experienced users
If you have mastered the basics of automation solutions, you can explore more advanced tools. Here are some that can add more value to your efforts.
*Tools meant for companies with several clubs, branches, retailers, franchises, or locations.
---
There you have it. Marketing automation is a solution that any business, big or small, can use to get more out of their marketing efforts. This makes it a practical solution for your sports club that helps you educate members and nurture your relationship to gain loyal life-long customers.
If you want to see how Loopify can help you achieve all of this, you can sign up for free or book a free demo.