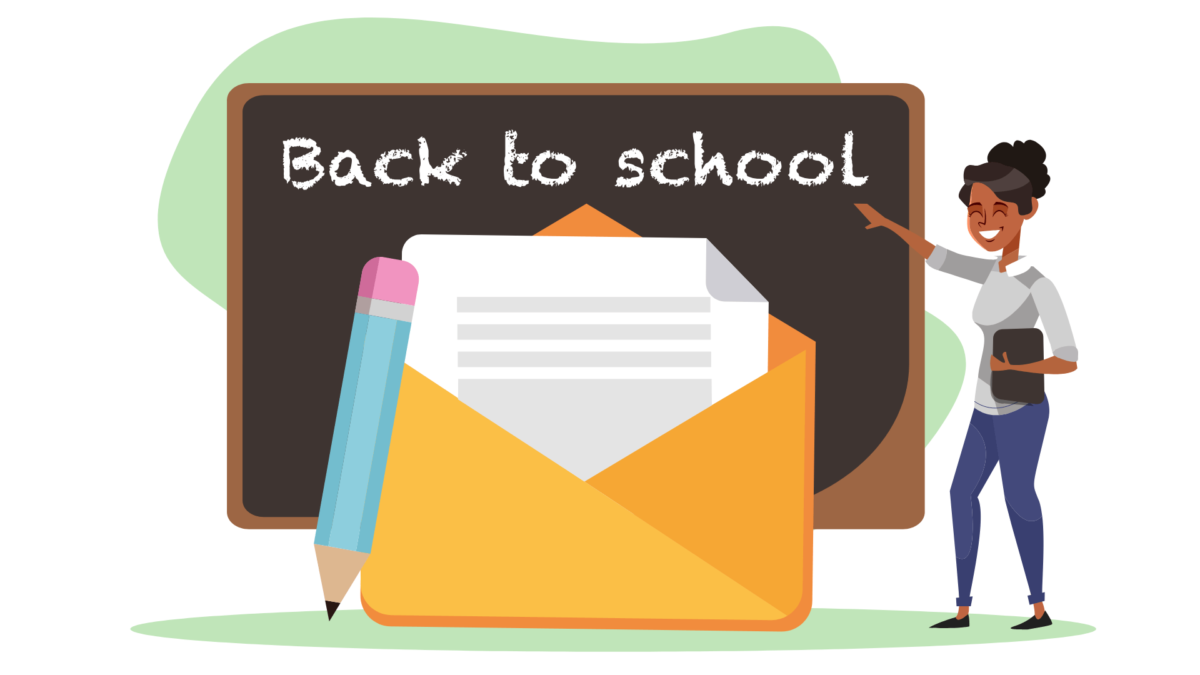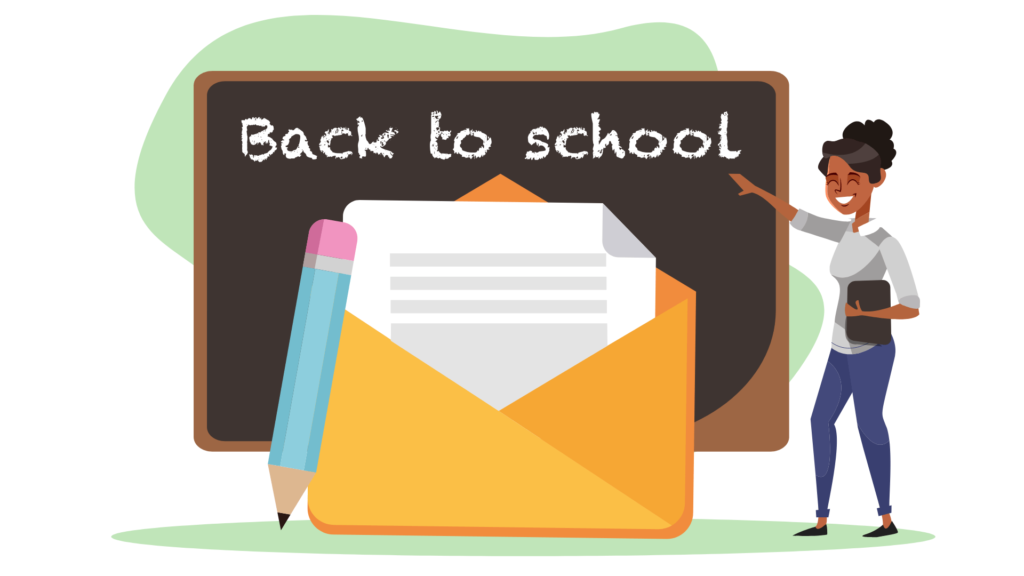 Back-to-school is an exciting season for all businesses and email marketers since it brings a wave of sales and an increase in revenue. So it's only normal to design your newsletters and landing pages to make sure you capitalize on this event.
You'll need a fun design that you'll go with your email marketing campaign. Here's where back-to-school email templates come in.
Read on for design tips and newsletter templates for your back-to-school campaigns.
5 Back-to-School Templates for Your Emails
Back-to-school season can start as early as July and last all through September. It's important to start planning and creating your campaigns early.
Design templates help you save time by letting you focus on the content of your newsletter, knowing that your emails will look great on any device and across email clients.
To access Loopify's back-to-school email templates, you need to:
Either log in or sign up for free.
Open the Email app on your dashboard.
Click +Add design template to open the email template library.
Type school in the search bar to see all back-to-school templates.
Below you can see the 5 back-to-school email templates for your 2023 campaigns.
1. Template name: Welcome back to school
Here's how the Welcome back to school template will look on mobile, tablet, and desktop.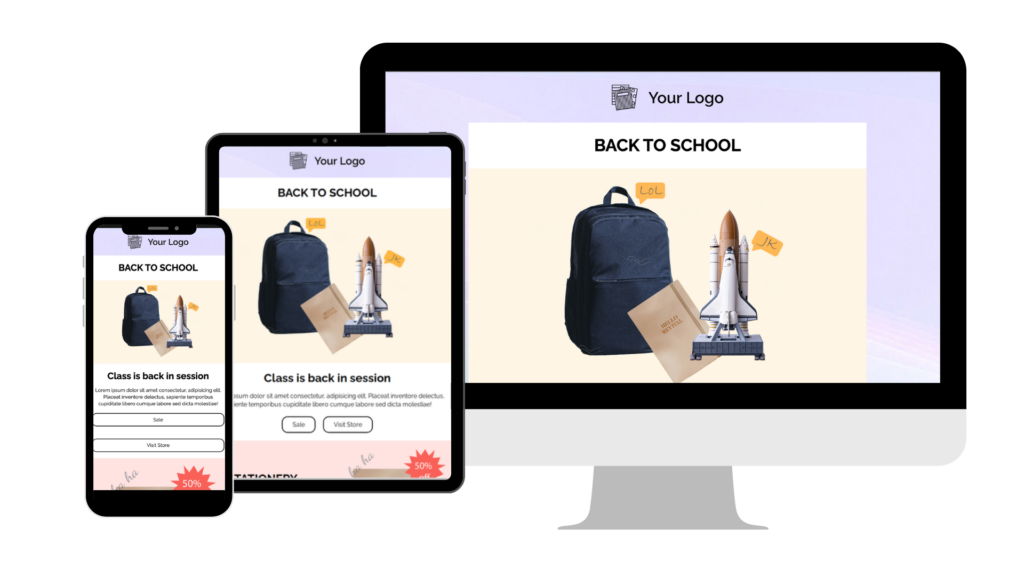 2. Template name: Back to school deals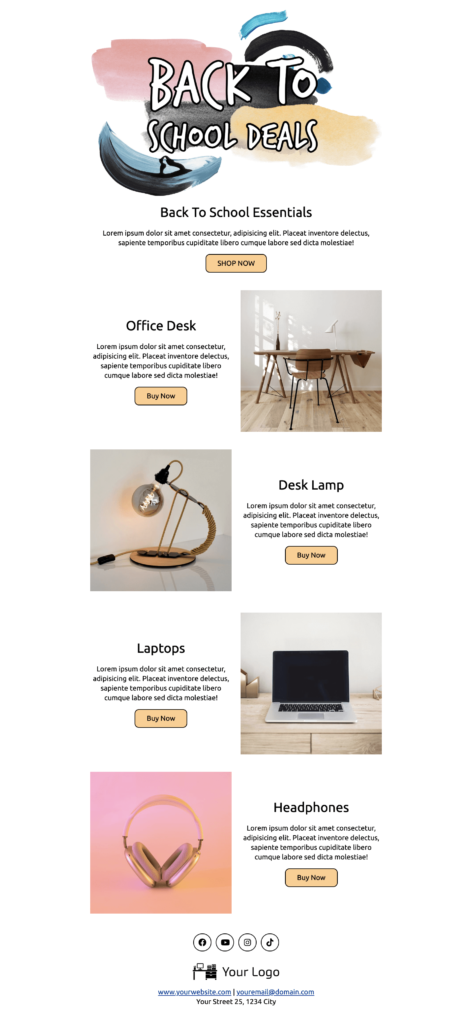 Here's how the Back to school deals template will look on mobile, tablet, and desktop.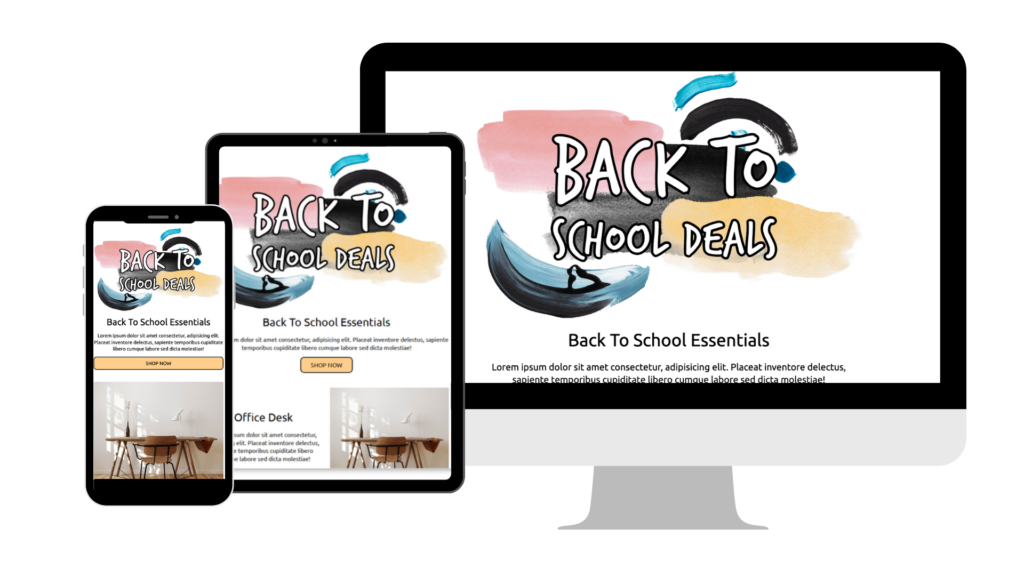 3. Template name: Back to school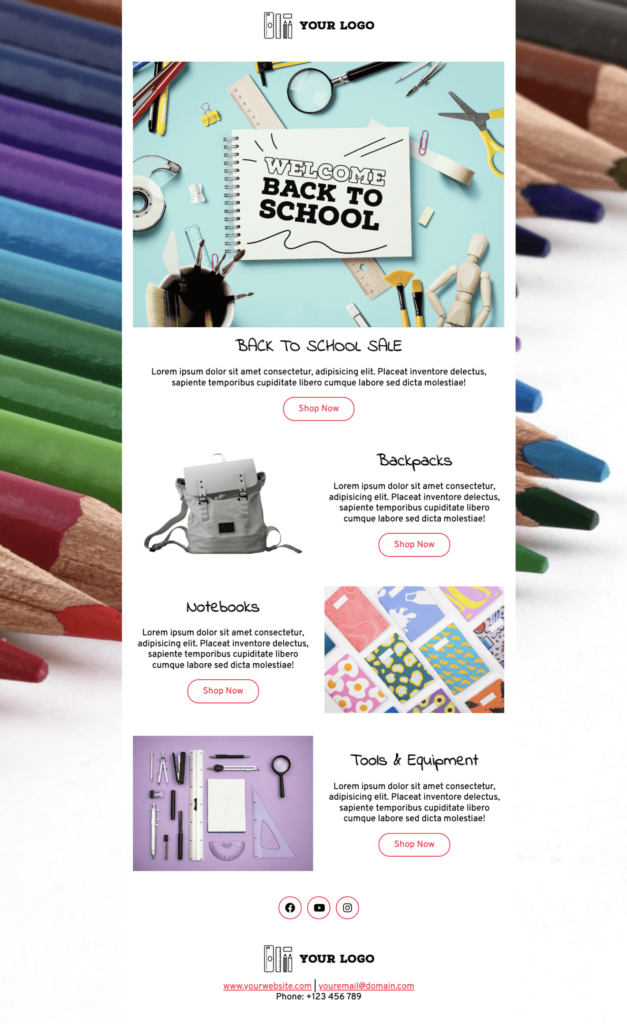 Here's how the Back to school template will look on mobile, tablet, and desktop.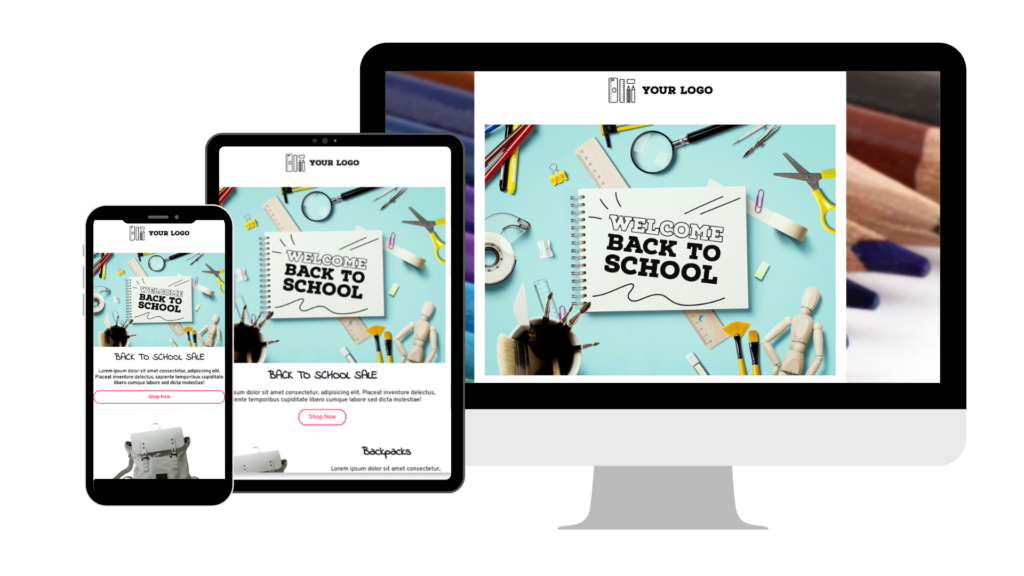 4. Template name: Back to school sale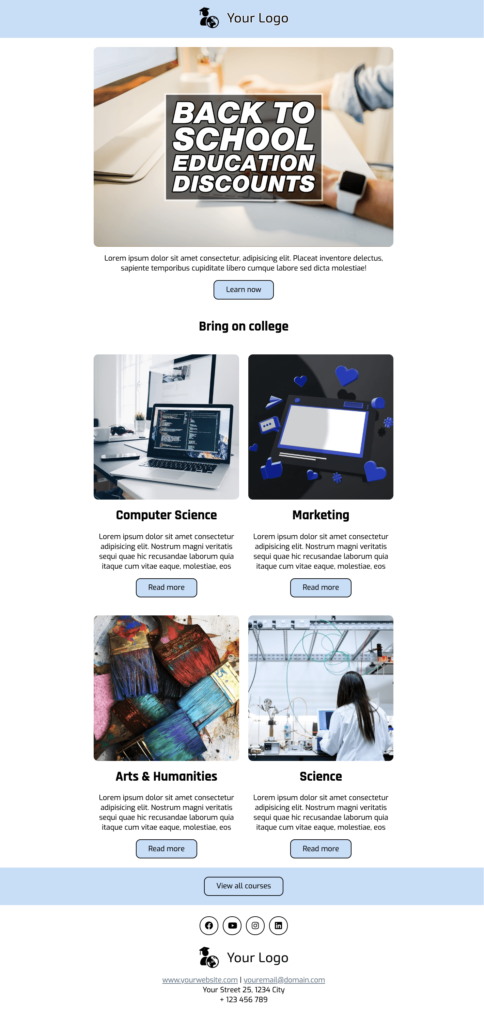 Here's how the Back to school sale template will look on mobile, tablet, and desktop.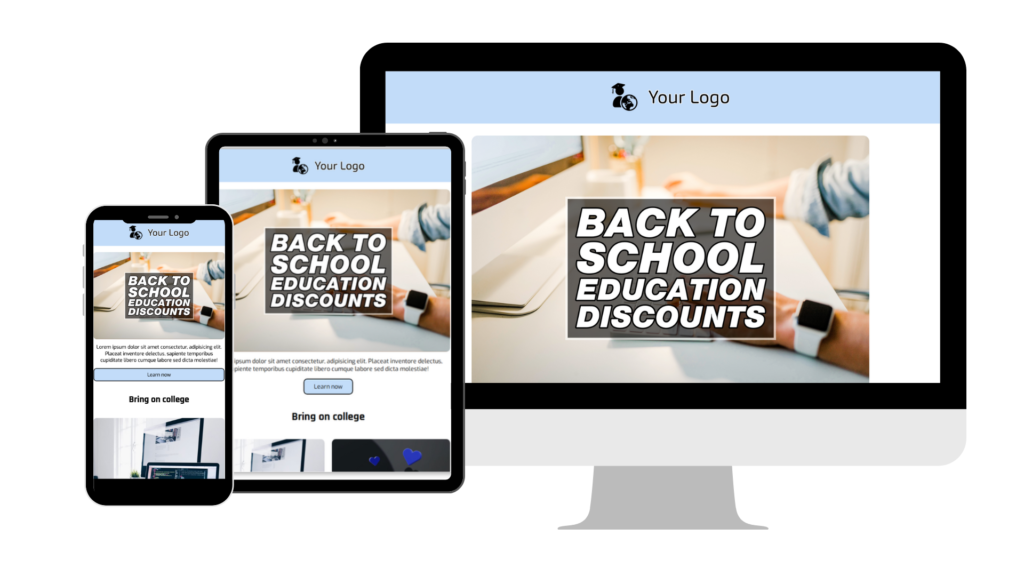 5. Template name: New school year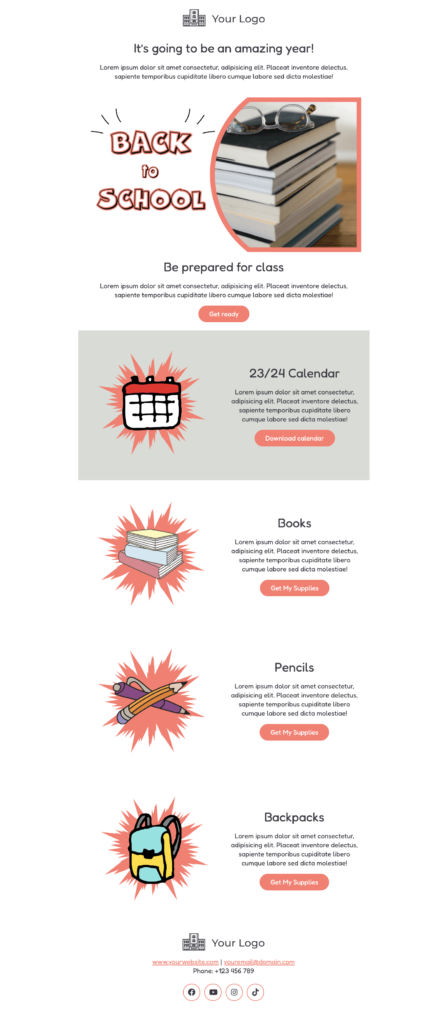 Here's how the New school year template will look on mobile, tablet, and desktop.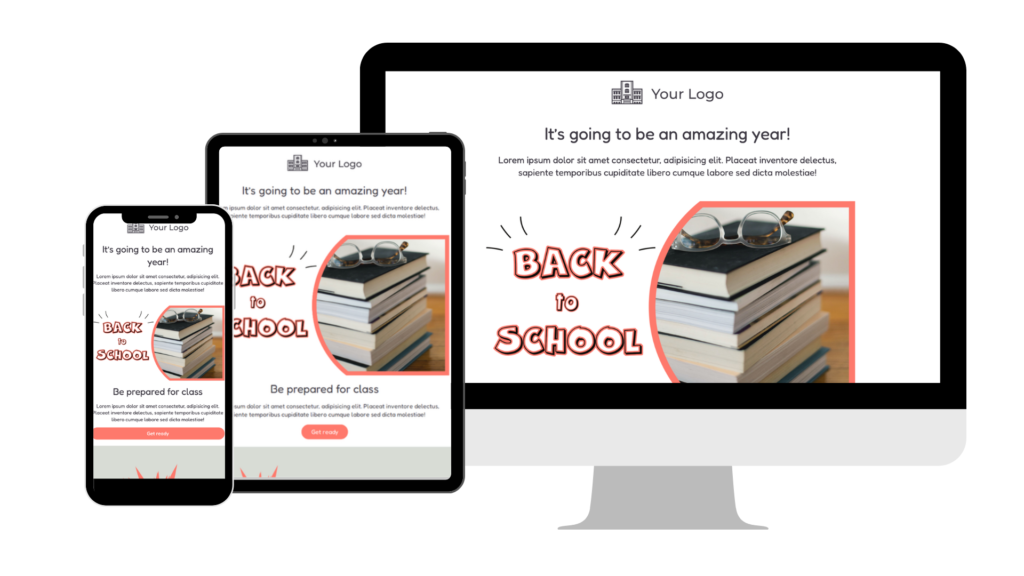 It's up to you to come up with the message and campaign for your subscribers. And for that, you can use any design template.
Tip: We keep adding new email and landing page templates to our library. You can use any of them at no extra charge, so stay tuned.
Note: Only Loopify Admins can add and customize templates. If you have a User role, ask an account Admin to add any of these templates to the account so you can use them to create back-to-school campaigns.
Design Tips for Your Back-to-School Email Template
You should keep the back-to-school theme throughout your email template. Be creative and make your template unique. Use your brand images, colors, or fonts.
To catch the attention of your subscribers, ​​the design should be eye-catching.
Here's how to achieve that.
Use school-themed photos
You can use your brand and product images or user-generated content. If you need free stock images, Unsplash has an enormous gallery you can choose from.
To change the images in your template, use the free Unsplash integration.
Click to change the image.
Select Loopify Free Content from the drop-down menu.
Type in any keyword in the search bar to find specific images, like school supplies.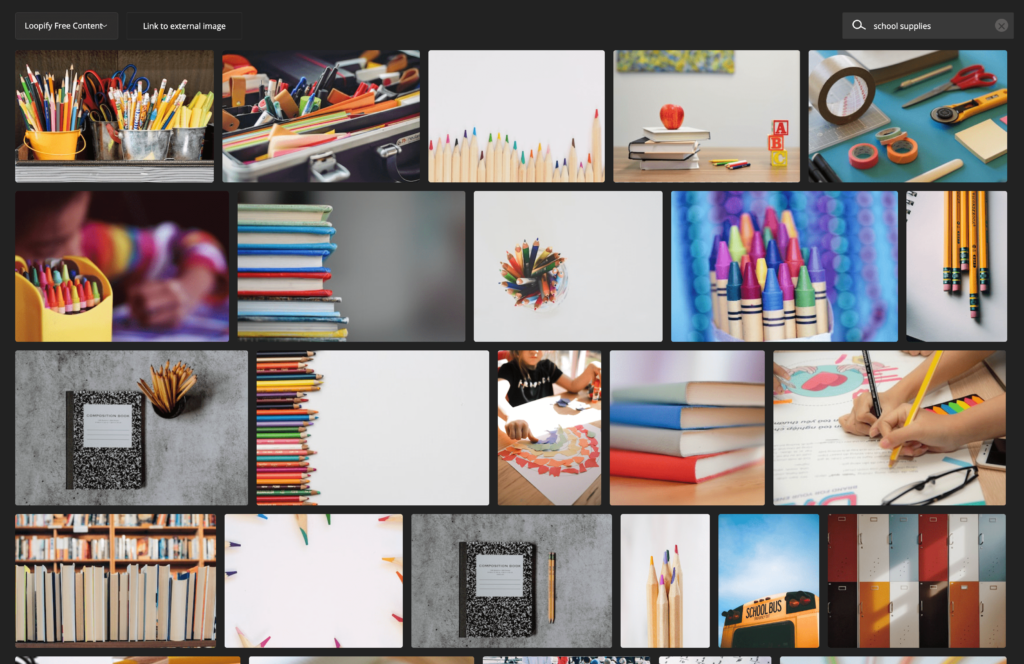 You can use other keywords here, like school, books, back-to-school, etc.
Add an appealing color palette
You can make your template more fun or neutral, depending on what you want to achieve. Feel free to change the colors of your template to match your style.
A helpful tip is to use a color palette generator so that you know that your colors complement each other.
Take any image you'll use for your campaign and extract its colors. This will make your design consistent throughout the entire campaign.
Below I took some images from Unsplash and uploaded them to Canva's color palette generator, and voilà!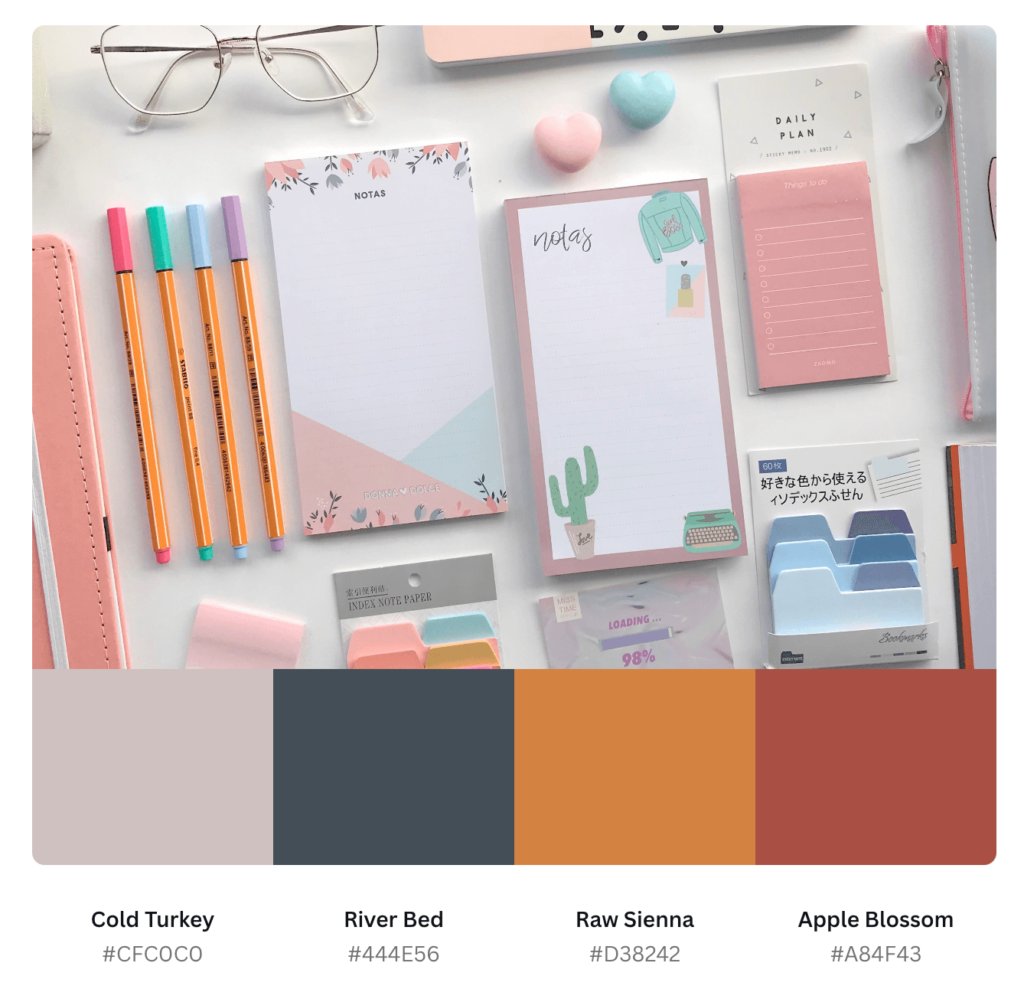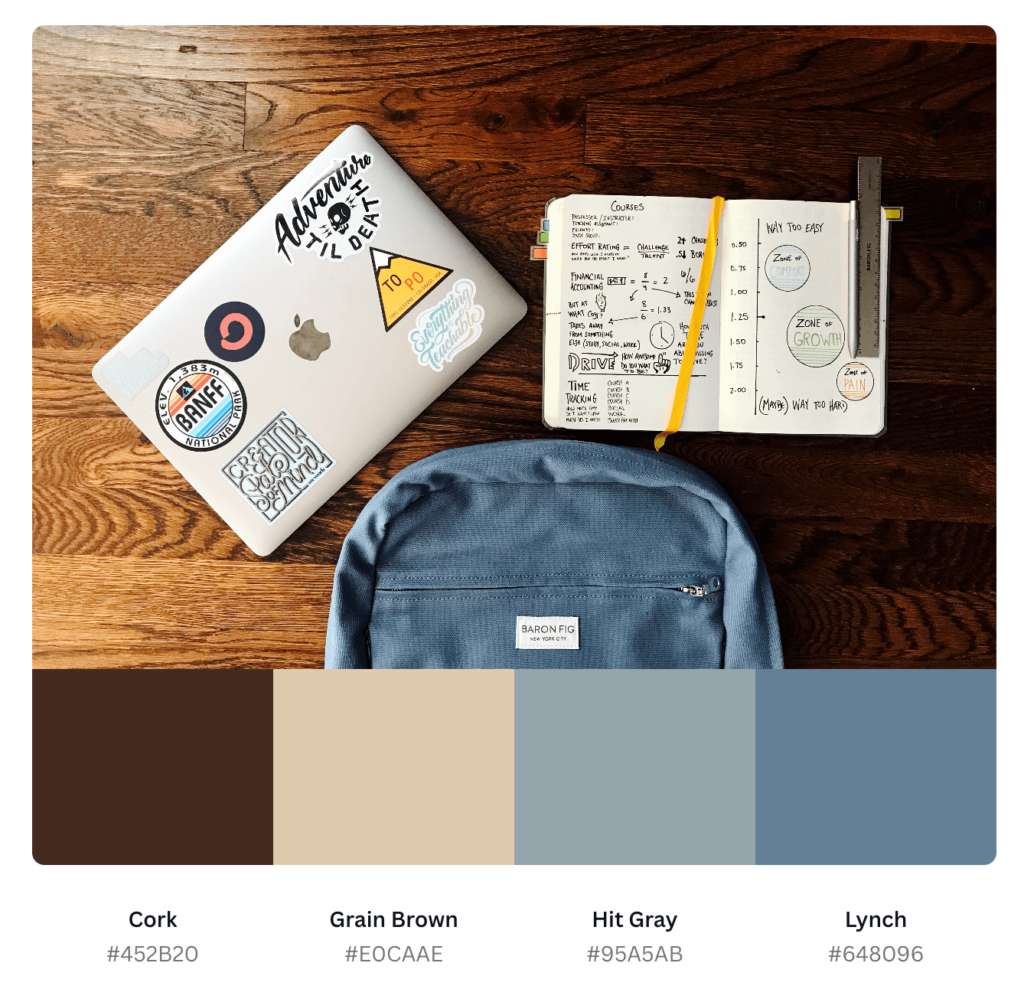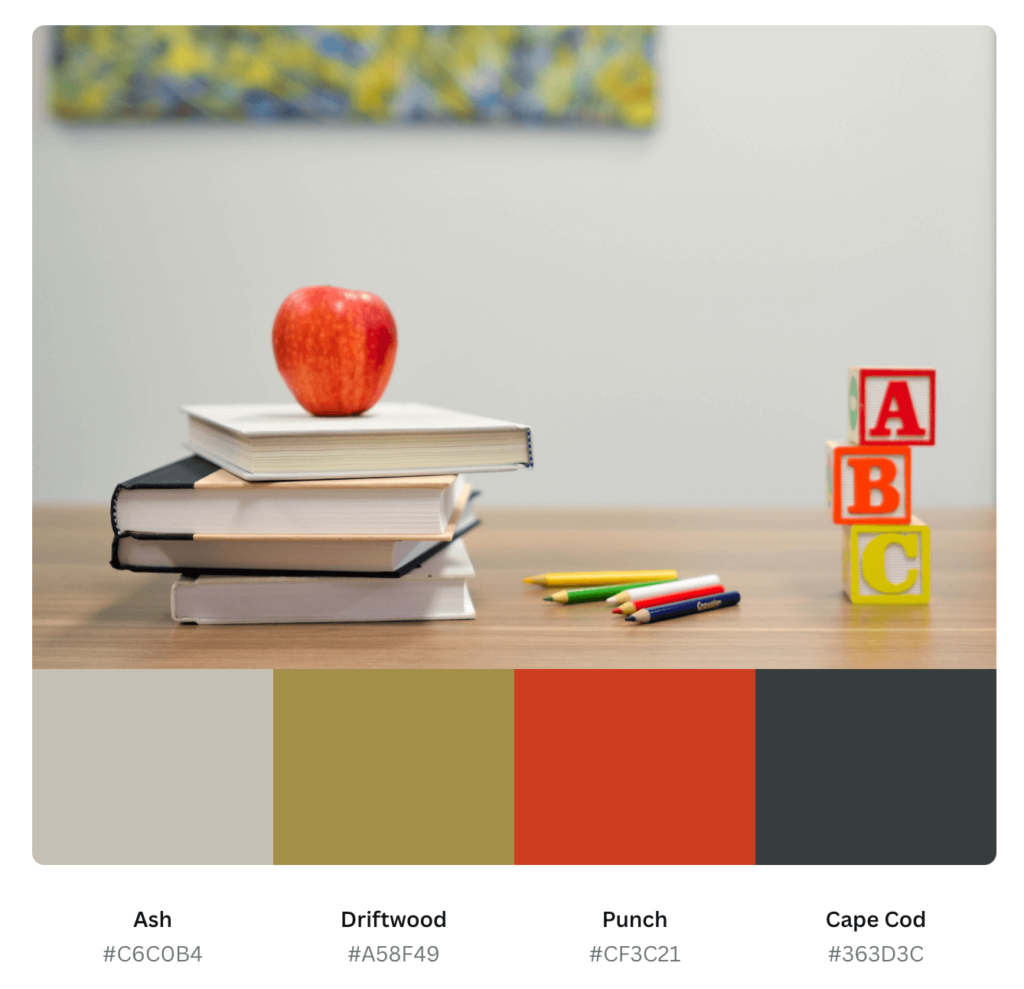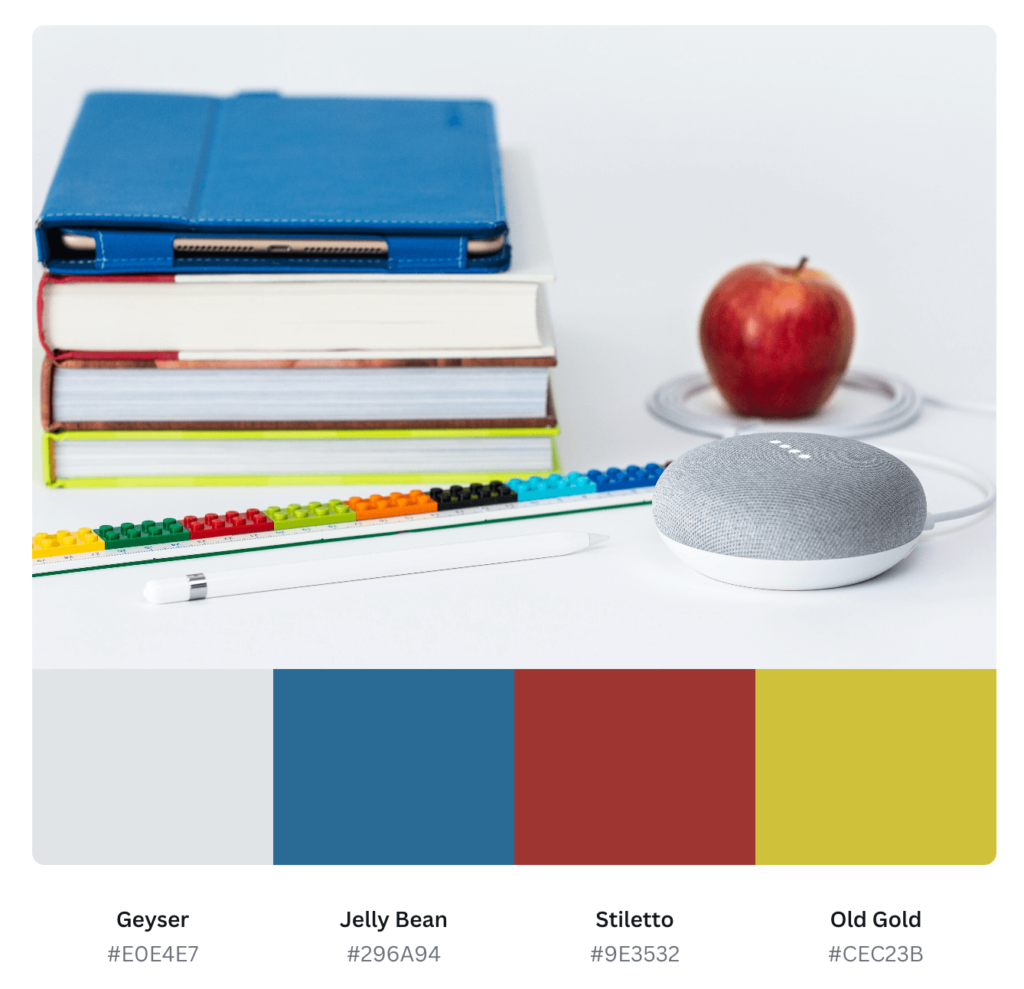 Once you create the palette you love, you can copy the hex code for each color and add it under your brand styles in Loopify.
Then you can easily access those colors from your template or campaign and change the color of text, buttons, links, and borders.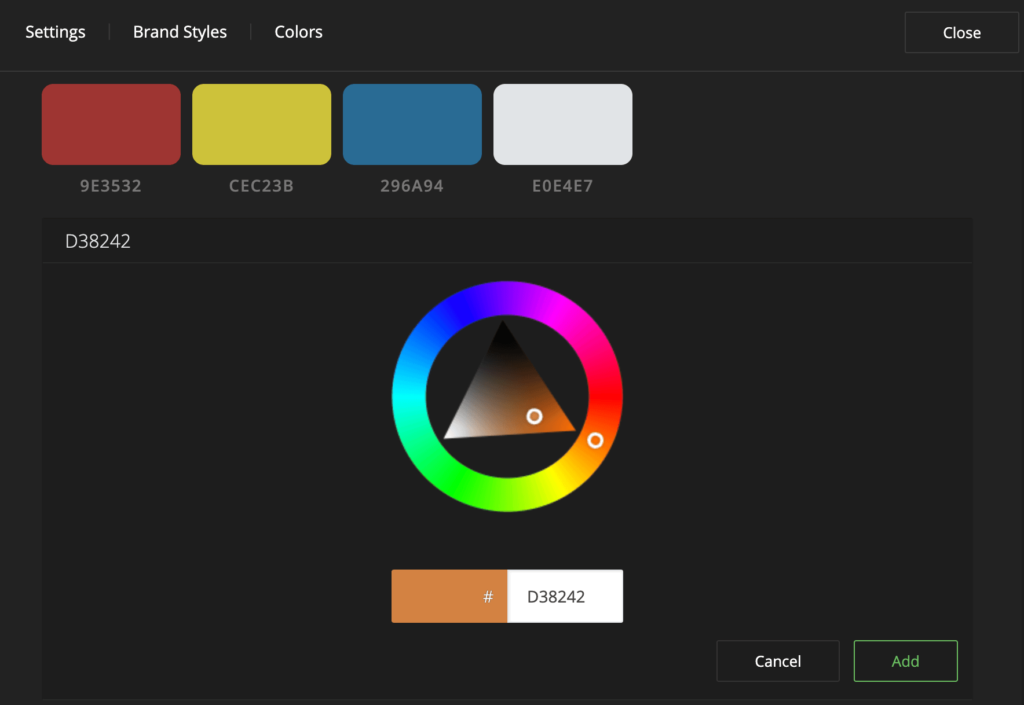 Use emojis that evoke the school spirit
Emojis can make your subject line stand out. However, don't go overboard. A couple of emojis are enough to draw attention; anything more than that is just tacky and takes the focus away from the message.
You can also choose from a bunch of school-related emojis for your template like these, 🎒 🏫 ✏️ 🍎 💻 📚 🧑‍🏫 📋 📓.
Remember, you shouldn't replace words with emojis. Emojis can break in some email clients and make your message confusing for your subscribers.
---
Send Your Back-to-School Campaign with Loopify
Increase engagement and conversions with your back-to-school campaigns. Use Loopify's design templates to create your newsletter—no need to worry about the design.
Use optimized back-to-school templates that look good everywhere.
Be consistent by using back-to-school emails with landing pages with the same design.
Schedule and automate your back-to-school campaigns to reach the right person at the right time.
Use our email templates and add your content. That's it. You can create and send your campaign in 2 minutes!