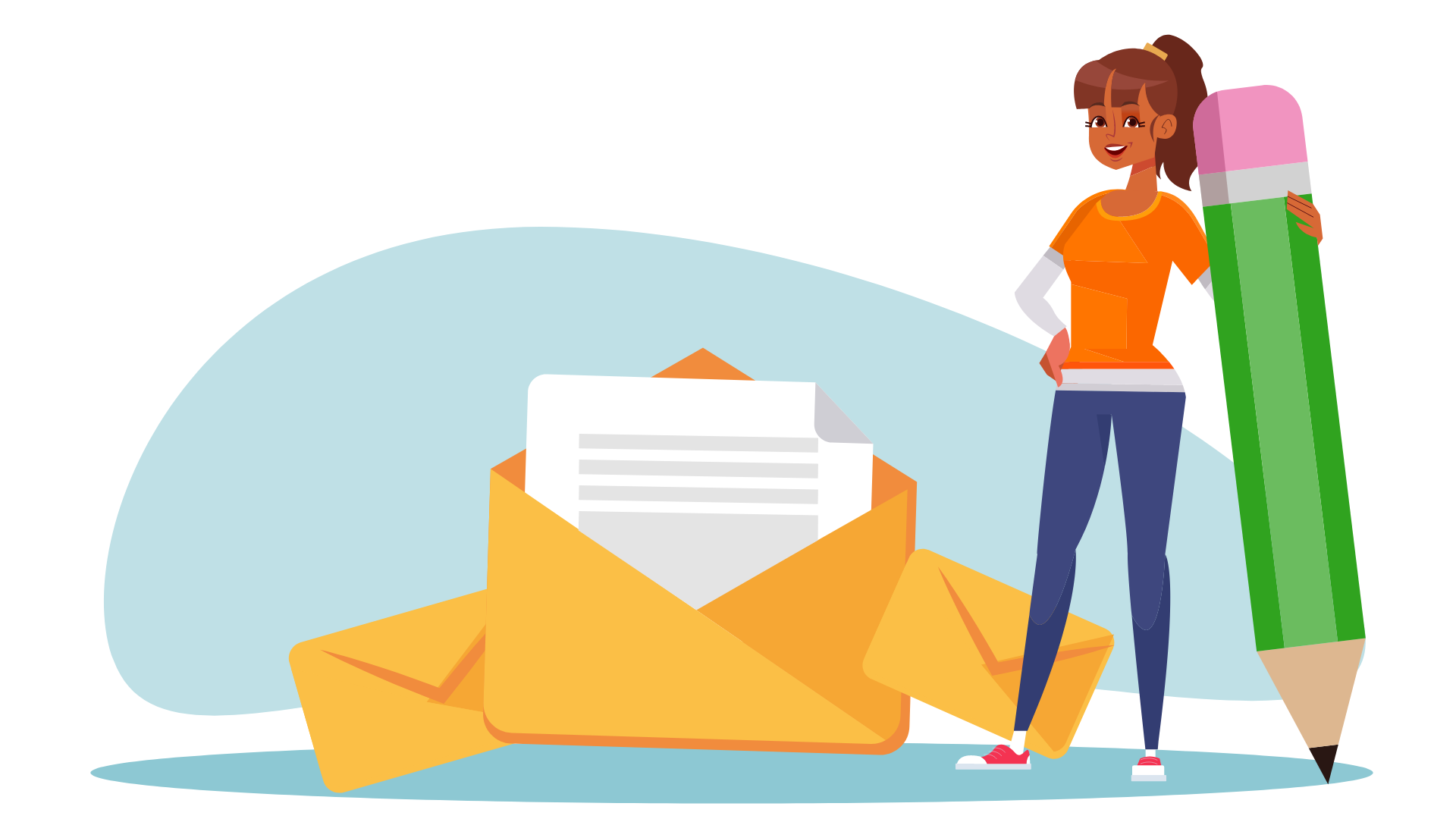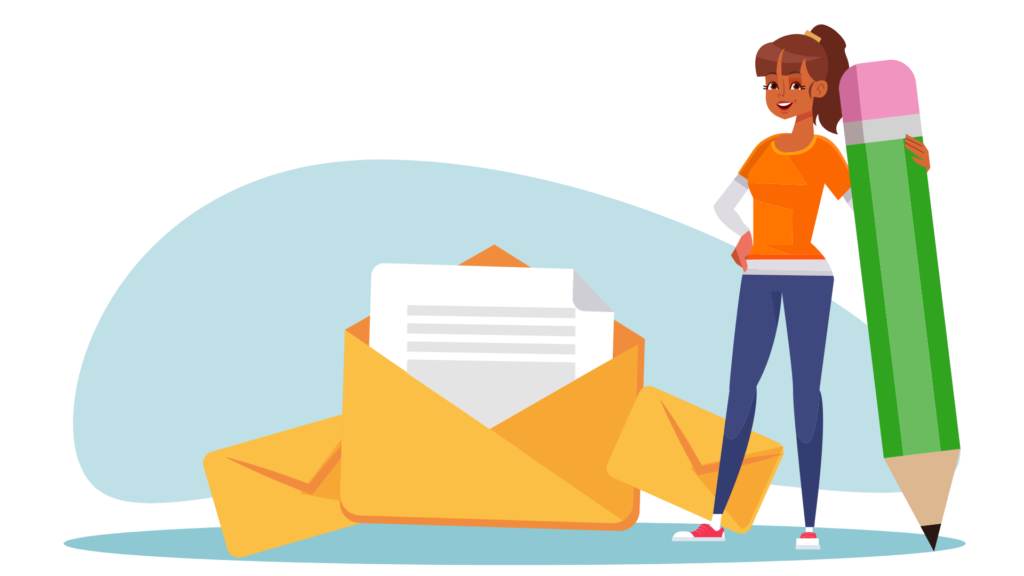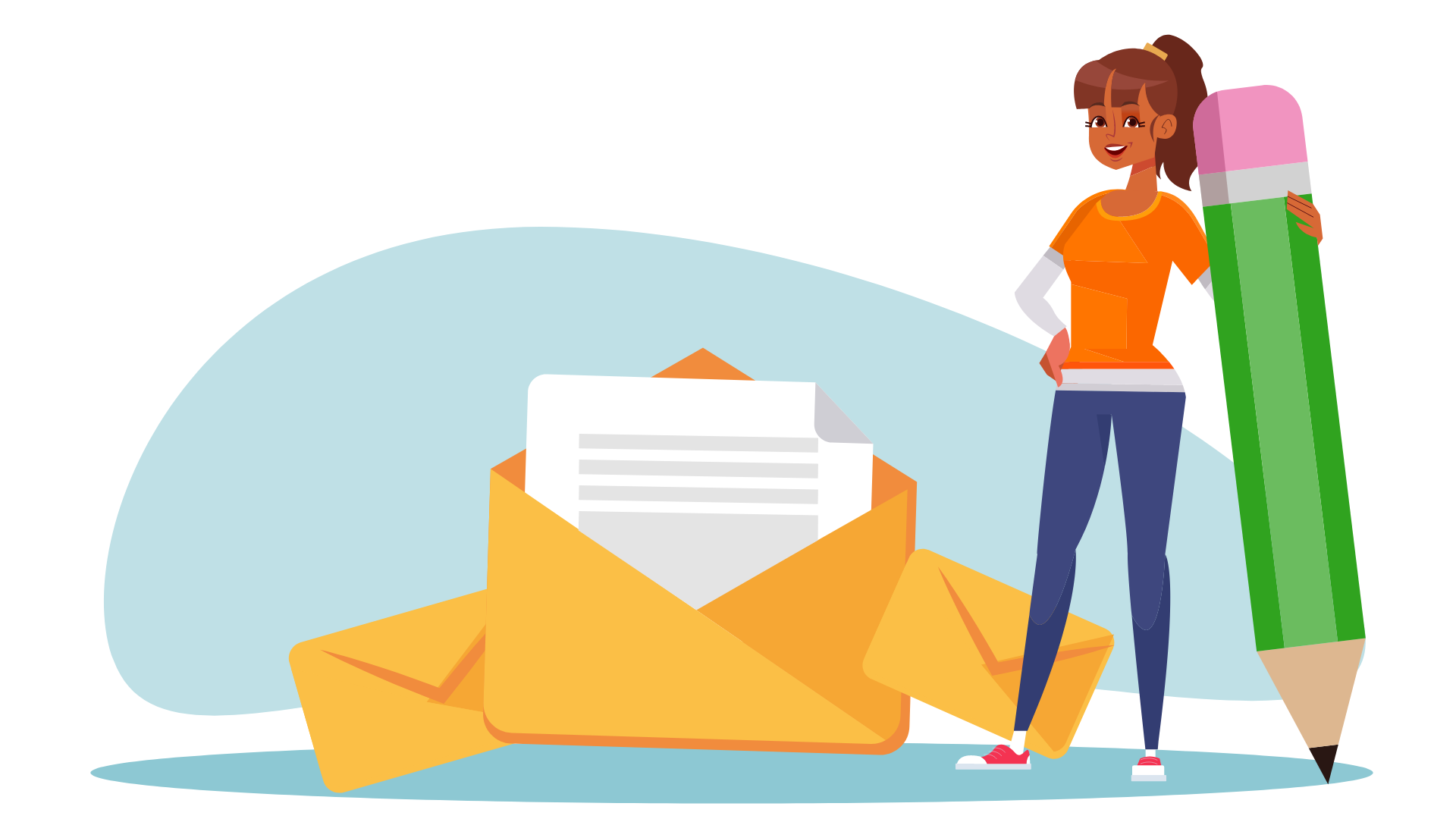 A beginner or not, here's your guide to email marketing. Learn the basics, best practices, why and how you should use email to your advantage, and the type of email campaigns you can create.
What Is Email Marketing?
Email marketing is a digital way of communicating with your audience via email. These emails can range from newsletters and announcements to promotional campaigns and event invitations.
Is email marketing a thing of the past?
We do live in an era when social media is exploding. So many get the impression that email is dead.
It's not. In fact, email marketing is usually one of the first channels businesses start with.
Don't get me wrong. I am not saying abandon social media for the sake of email. No way. Use email in addition to your social media presence. You will be missing out if you skip email as a communication channel.
So why is email still going strong?
Simple. If people subscribed to your email list, they expect to hear from you. People want to receive marketing messages via email. Good ones, that is.
Also, this is a chance to communicate with your subscribers directly. With social media, you are casting a wide net. That's why email conversion rate and ROI are much, much higher than social media. Not bad, huh?
Pro's and Con's of Email Marketing
Email, obviously, isn't perfect. As with every channel out there, email can have its drawbacks. However, it's important to note that its benefits outweigh the disadvantages.
Benefits of using email
It's cost-effective. Sure, you pay for the software you are using to send emails. But you get more benefits with it as well, so you are not only paying for the emails. Compared to traditional forms of advertising and paid ads on social and search, email is much cheaper.
It has a high ROI. Email is still the top channel with an amazing return on investment. This is backed by research, for every $1 you spend on email marketing, you can expect an average return of $42.
It's targeted. Firstly, because you send only to those who willingly signed up, you know you target an audience interested in you. Secondly, you can further divide and target subscribers based on their interests and preferences. Which makes your emails relevant to those receiving them.
It generates traffic. Email is a great way to drive traffic to your website, blog, or product pages. Depending on your email campaign, you simply include a CTA that lets subscribers learn about a new feature, buy a product that is back-in-stock, or catch up with your weekly newsletter.
It's global. Email lets you reach people worldwide. Traditional media are more locally oriented, with high costs for billboards, TV, or newspaper ads. Sure, social media lets you reach a global audience, but you don't know who's reading your content.
It's easy to measure. The email marketing solution that you use will give you data about your campaigns. You can track clicks, opens, deliverability issues, unsubscribes. You can easily see what works and improve on the spot.
It's easy to get started. If you already have great content, the rest is a piece of cake and handled by the automation software. You can use some of the stunning templates or simple text-based emails to get your message across. There is no need to worry about technicalities like optimization for mobile and desktop, email clients, or scheduling issues.
It's environmentally-friendly. Email is in a digital form, so no paper is wasted, nor do you harm the environment in any other way.
It's less intrusive. You are not bothering people as cold calling them does. People will check their email at their convenience. So you are not barging in their lives at inappropriate times.
Drawbacks of using email
Nothing is perfect. So email can have a few drawbacks. But, there are ways you can minimize the impact of these.
It's too competitive. With most likely every competitor you have fighting for attention in the inbox, it can get crowded, and your email lost among a heap of others.
Fix: Let your subscribers know when you are going to send emails and how often. They'll know when to expect your email. Moreover, make sure your email content is something that your customers are eager to consume. If someone looks forward to your blog content or useful tips you share, they'll keep an eye on your email.
You can end up in the spam folder. Email firewalls and spam filters keep an eye on spammy emails. If your reputation, domain, or content gives off such signals, you'll be marked as a spammer.
Fix: No need to panic, though. There are quite a few things you can do to make sure you are a reputable sender. We have a list of 24 tips you can go through to help you stay away from the spam radar.
Your emails are not delivered. The cause of this can be multifold. The email address or domain is invalid, the address is no longer in use, the emails either hard bounced or soft bounced, or people unsubscribed from receiving your emails.
Fix: To make sure you don't face huge deliverability problems, you need to regularly clean your email list and take care of these contacts. Delete or remove any contacts that no longer open your emails (even after re-engagement campaigns), have unsubscribed, or whose emails had hard bounced. To keep your spam complaints low, always include a visible unsubscribe link. It's better to have people unsubscribe than mark you as a spammer.
Your email looks bad and is too heavy. Design and size issues can drag your email marketing to the bottom and make your emails less accessible. Avoid heavy images and attachments. The email code should not be heavy and make the email load too slow or look bad across devices.
Fix: Make sure the software you use, like Loopify, has templates optimized for best results, different devices, various email clients, or optimally inserts images without affecting the image's quality. Don't add attachments to your emails (it's a spam trigger as well). Instead, store them online, link, and let people download them.
6 Reasons to Use Email Marketing
If you need more convincing as to why you should use email to communicate with your audience, here are some goals email marketing can help you achieve.
1. Build brand credibility and recognition
Sending professional and branded communication will help people recognize your brand whenever they come across it. It's a great way to stay top-of-mind when they consider different choices.
Also, by sending useful content, you'll install trust as a business that takes communicating and building relationships seriously. And you show that your intention is not to spam.
2. Generate leads
Give people the option to subscribe to your newsletter or leave their email in exchange for valuable assets like downloads, webinars, demos, or any other lead magnet.
People interested in your content are potential qualified leads for your products or service. Continue nurturing the relationship and get them to grow into potential customers.
3. Promote your service or products
Email is a great channel to market your product. Just don't push towards the obvious sale with every email. Instead, show how it solves your audience's problems, how it compares to the competitors, or talk about successful customer stories.
4. Promote your content
Share your blog posts, data from surveys, webinars, benchmark reports and more, with your email subscribers. These are the people that are already interested in seeing what you have to share. So don't miss out on the opportunity. You'll increase your blog and website traffic, views, and engagement by sharing useful content with your email list.
5. Share knowledge
You can use email to educate your customers or leads about your niche or product. This is especially useful for technical products, niche services, or products that require an additional explanation for optimal performance.
It makes it easier for beginners to understand your product and know how to use it properly. You can also share tips or maintenance advice once the purchase has been made.
6. Nurture relationships and build loyalty
Email marketing should not be used only to generate leads and nurture them. Your existing customers need to be engaged to be able to create a long-lasting relationship.
Your goal shouldn't be to get a one-time-purchase customer. In that case, you are doing marketing wrong. You want them to return and continue to choose you over your competitors. Customer retention is vital. You don't want to waste all that effort and resources that went into getting that person to convert, right?
How to Do Email Marketing
There is a right way to do email marketing. Let's see how to get started.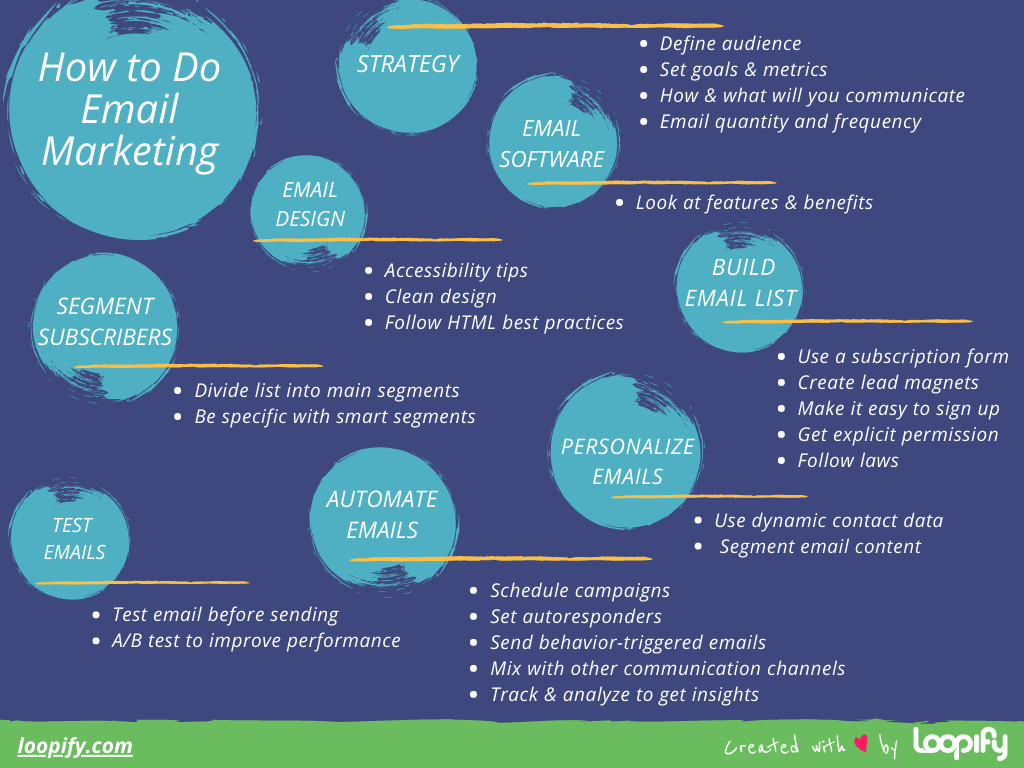 Want to keep this mindmap on email marketing? Download it.
1. Map out your email marketing strategy
First of all, you shouldn't be sending emails aimlessly, with no previous planning or strategy. Develop a strategy to define several key points that will help you nail your email marketing and actually see beneficial results.
Define your audience
Know who you are sending to. Create your buyer persona(s). List their preferences, interests, the problems they face, and how you can solve them. This helps you serve tailored and personalized content to your audience based on their needs.
Set goals and metrics
What do you want to achieve with your email marketing efforts? How are you going to measure to see if you are on track or not? Decide your main goals and note down how you plan to achieve them.
Set the key metrics for email to see how effective are your email campaigns. You should track and measure:
Open rate – the percentage of people that open your emails once they are delivered to their inbox.
Click-through rate (CTR) – the percentage of people that click in your emails.
List growth rate – the rate at which you get new subscribers.
Unsubscribe rate – the percentage of people that unsubscribe from receiving email communication.
Bounce rate – the percentage of email addresses that didn't receive your email.
Conversion rate – the percentage of people that clicked on a link and completed a specific action.
Return on Investment (ROI) – the profitability of your email campaigns.
Decide how and what you will communicate via email
Map out your customer journey. Write down what type of content you need for each stage of the customers journey, from lead to customer to loyal ambassador.
This will make targeting and content creation easier. Do your research to see what type of content does your audience consume at each stage.
Email quantity and frequency
Know how often you are going to send your emails. Weekly? Twice a month? Make sure you can keep up with it. It's a good practice to let your subscribers know how often they can expect your emails.
Set a schedule and decide on the time. This will require doing a bit of research as to what are the best sending times for your industry.
However, testing it yourself is the best thing you can do and see what works for your business.
2. Choose an email marketing solution
What works for you will depend on what you need. Luckily, there are different features and benefits that various solutions offer. Choose based on your list size, goals, and features you need.
The benefit of choosing a marketing automation solution is that email marketing is just one of the many tools you get. Personalization, segmentation, tracking, cross-channel opportunities, and synchronization are just some of the advantages of marketing automation.
3. Build an email list
You need people to read your emails. So you should constantly work to find ways to build your list of subscribers. (No, you shouldn't buy email lists!) Instead, you need to motivate people to sign-up themselves. Here's how you can get subscribers:
Use a subscription form
Have a form where people can directly subscribe to your newsletter. You can use a separate landing page with a form, a pop-up, or a form placed both on your blog and website.
Create lead magnets
This way, you offer several different sign-up sources for your email list.
What is a lead magnet?
A valuable offer that attracts people to become leads, like signing up for your newsletter or giving you their personal info in exchange for that offer. Lead magnets come in many formats and can offer different incentives for people to leave their email:
Templates
Ebooks
Reports
Surveys
Infographics
Swipe files
Checklists
Tools
Webinars
Make it easy to sign up
Make the sign-up process easy and intuitive. Request only the information you need, make it simple and clear as to what's the next step, and let people know what to expect. Send a confirmation email once they sign up and let them know how often you'll send your emails and when they can expect the next one.
Get explicit permission to communicate via email
This is required by law. Plus, people are super protective of their personal info, so be transparent about how you'll use it. Always include an option for them to revoke their subscription via an unsubscribe link in your emails. Make it easy to unsubscribe. The bright side is since people willingly sign-up, they want to hear from you. You get leads interested in what you have to offer.
Follow laws
There are more laws out there protecting privacy, it's not just GDPR. Make sure you find and follow any country-specific laws, especially if you send outside the EU.
4. Segment your email list
As you build your list, remember to segment it.
Divide your audience into main groups (segments) based on either buyer personas or something they have in common on a general level.
Then create smaller bundles (smart segments) that filter out people based on several criteria. For example, leads+have clicked in Welcome email. This way, you can target leads based on how they interacted with your content. Neat, right? If you add more filters, these segments will be even more specific.
5. Design your emails
If you are using HTML emails, a.k.a. email templates, it's easy to get carried with the design. Yes, the email should look nice and presentable but not overpower the content. Your content should be front and center, and a simple, clean design should help make it feel well-put-together.
The email should not be too heavy.
Your email should be optimized for different devices.
Your email should be optimized for different email clients.
You should have a good contrast of colors.
You should have an eligible and a good-sized font.
Email templates offered by automation solutions, like Loopify, got this technical part covered. You only need to add the content, and that's it.
6. Personalize your emails
One way to personalize the email message is to use dynamic contact data (a.k.a. variables). The text changes based on the person receiving the email, hence dynamic. You can use anything as a variable as long as you have that information for that person. For example, name, city, company, job, interests, service date, and more. This info will change for each individual and make the text fit for them.
The other way is to create dynamic emails by segmenting parts of the email content to show people different content based on their preferences. We'll talk about this a bit later.
7. Automate your email processes
Here's where marketing automation shines. You can optimize and streamline all of your email processes. From sign-up and scheduling different email campaigns to mixing email with other channels for the best experience. You can create entire automations depending on your needs.
Schedule campaigns
Prepare your campaigns ahead of time, and just set the time and date when they need to go out. You can do this with complex flow campaigns or one-time emails.
The perk is that you send timely content without forgetting occasions, important holidays, or time-sensitive campaigns.
Set autoresponders
Autoresponders are series of emails triggered by a specific action people make. You schedule them in advance and decide on the frequency and quantity of emails in said email series. These are easy to set up because every person follows the same path and will get the same emails. For example, the welcome emails that introduce people to your service.
Send behavior-triggered emails
You can set up your automations to send different emails based on the different actions your subscribers take. These actions can be anything like whether a person opened a certain email, clicked a link or not, filled out a form, visited a page, and more. Subscribers will follow a different path in your automation and receive different emails based on their choices or behavior. That's why they are called behavior-triggered emails.
The fact that people follow different paths is what makes a behavior-triggered email different from an autoresponder. Think of behavior-triggered automations as a branching tree and autoresponder as a more linear.
Combine emails with other communication channels
Email works best when combined with other channels. You can provide the ultimate cross-channel experience, and your subscriber will feel like the transition from one channel to another is smooth. That's because you'll share data between channels.
You should definitely use landing pages to guide people to campaign-specific content, like pre-order your new book. And linking to your website or blog will increase your traffic and engagement.
You can also consider using social media, SMS, or direct mail in a combo with emails.
8. Track and analyze to get insights
Use both the analytics and reports from your marketing software and Google Analytics to measure your results, performance, and gather insights about your customers.
Here's what you should pay attention to in your email reports:
Sent emails
Delivered emails
Number of opens
Links clicked
Unsubscribes
Bounces
Use Google Analytics to monitor traffic from specific email campaigns to your website, product pages, blog posts, landing pages, social media, and more. You can do this if you use UTM tracking codes.
9. Test your emails
Testing should be a part of your email marketing strategy. It's important to test your emails before you send them. You can do this by sending a test email to your team members and colleagues. You'll make sure that everything works fine. Check your links and look for typos.
You should also A/B test basically every part of your email (CTA, subject lines, text, image, etc.), as well as sending time and frequency. By split testing different versions of your email, the best performing email will be sent from thereon. So you know that you send an email that actually brings in results. This helps optimize your email performance.
Best Practices for Sending Successful Emails
Here are some tips that can help you create fun and attention-worthy emails:
Offer value for your subscribers.
Be relevant and personal.
Keep it short.
Check for any grammatical and spelling mistakes. Grammarly is a great free tool you can use to check your text.
Watch for the text-to-image ratio.
Add alt text to your images to improve accessibility for people using screen readers.
Avoid marketing language and jargon. Write like you talk to a friend.
Use attractive subject lines and preheader text.
Include a single call-to-action.
Stay true to your brand guidelines.
As mentioned above, use good fonts and have good color contrast.
Work on improving open rates.
Take steps to improve your deliverability and avoid being marked as spam.
Different Types of Email Campaigns
There are different types of email campaigns, each with a different purpose. Here are 8 types of email campaigns you can send to your audience.
Newsletter
Newsletters work for every business. A newsletter should be one of the first types of emails you start with. It's a way to promote the content you publish on your blog. Send out a roundup of stories or articles to your subscribers. You can decide whether you will send weekly, bi-weekly or monthly newsletters.
A good newsletter includes a nice image, title, short description of what the story is about, and a link to the story on your blog.
Promotion or offer
Use your emails to promote new products, marketing offers, discounts, sales, and more. Be brief and descriptive and always, always include a clear CTA button.
Update emails
These can be product update emails for your customers or internal update emails for your employees. Be clear, concise, and highlight the most important information.
Invitation
Event invitation emails are a great way to get more people to sign-up for your event. You can invite people to conferences, webinars, training, virtual events. Be visual and include details about the event. Don't forget to highlight why they should register and what they will get out of it.
Confirmation
These can be confirmation emails regarding a purchase or a sign-up. Keep these emails simple, concise with a brief summary.
Drip emails
Drip campaigns are easy to set up and quite a life-saver. Set up a series of emails that every person who triggers that action should receive them. These are the autoresponders we mentioned above. There are different types of drip campaigns; it all depends on why do you need them.
Nurture emails
Unlike time-based drip emails, nurture emails are based on behavior. They are highly personalized and are targeted towards the individual based on their actions. You should set up emails to nurture both your leads and your existing customers.
TIP: However you decide to use emails to communicate with customers, make sure you don't annoy your subscribers to the point they either start neglecting your emails or unsubscribe.
Advanced Email Marketing Automation
If you feel like you have the basics of email marketing nailed down, you may want to tackle the more advanced stuff.
Content segmentation
Remember when we talked about personalizing your emails? Content segmentation is a more advanced way of doing so. You basically create dynamic emails by segmenting parts of your email content to show people different content based on their preferences.
Let say you run a gym.
You have two groups: a Zumba class and a Yoga class, and you need to let them know of the new class times and who'll be their trainer. This means that people who go to these classes are separated into two segments because of their obviously different interests.
Instead of sending two separate emails, you can use one email to send out different information to both groups of people. Your customers will see the content that refers to them (Zumba or Yoga).
You basically say, if you are in the Zumba segment, you'll see this text, and if you do yoga, you'll see this one. The content changes based on the segment people are in.
Personalized emails based on collections
This is meant for businesses that have several branches, retailers, locations. Or employees from the same department like Sales or Success that deal with different clients.
Collections are a set of information related to a retailer, branch, or department. So each email is pre-filled with information based on the retailer your customers are connected to.
This makes sending extra-personalized emails super easy. You can use one email (yes, one!) and send from the name of dozens of retailers to thousands of customers. You save yourself from creating dozens of different emails (phew!).
Use a flexible timeline when sending emails
This is a great option when you have a time-sensitive campaign. Different people may join in at different times and dates, so you need flexible time when sending out the emails. The elastic timeline automatically adjusts the period between emails depending on when people should receive the email and how long they should wait.
This works great for events. Let's say you start an event campaign 30 days before the event and set an email reminder 7 days before the event. You promote it, and people save a seat at their own leisure. However, some may see the event and sign-up 5, 3, or 2 days before the event starts. So if you use a fixed time like sending a reminder email 7-days before the event, these people won't receive the reminder.
With a flexible time frame, you can set people to receive emails depending on how much time is left before the event starts.
---
At first, email marketing can seem like a lot to take on. The thing is that you start with the basics and improve as you go. Most importantly, put your subscribers in the center, keep in mind their journey, and you'll do just fine.