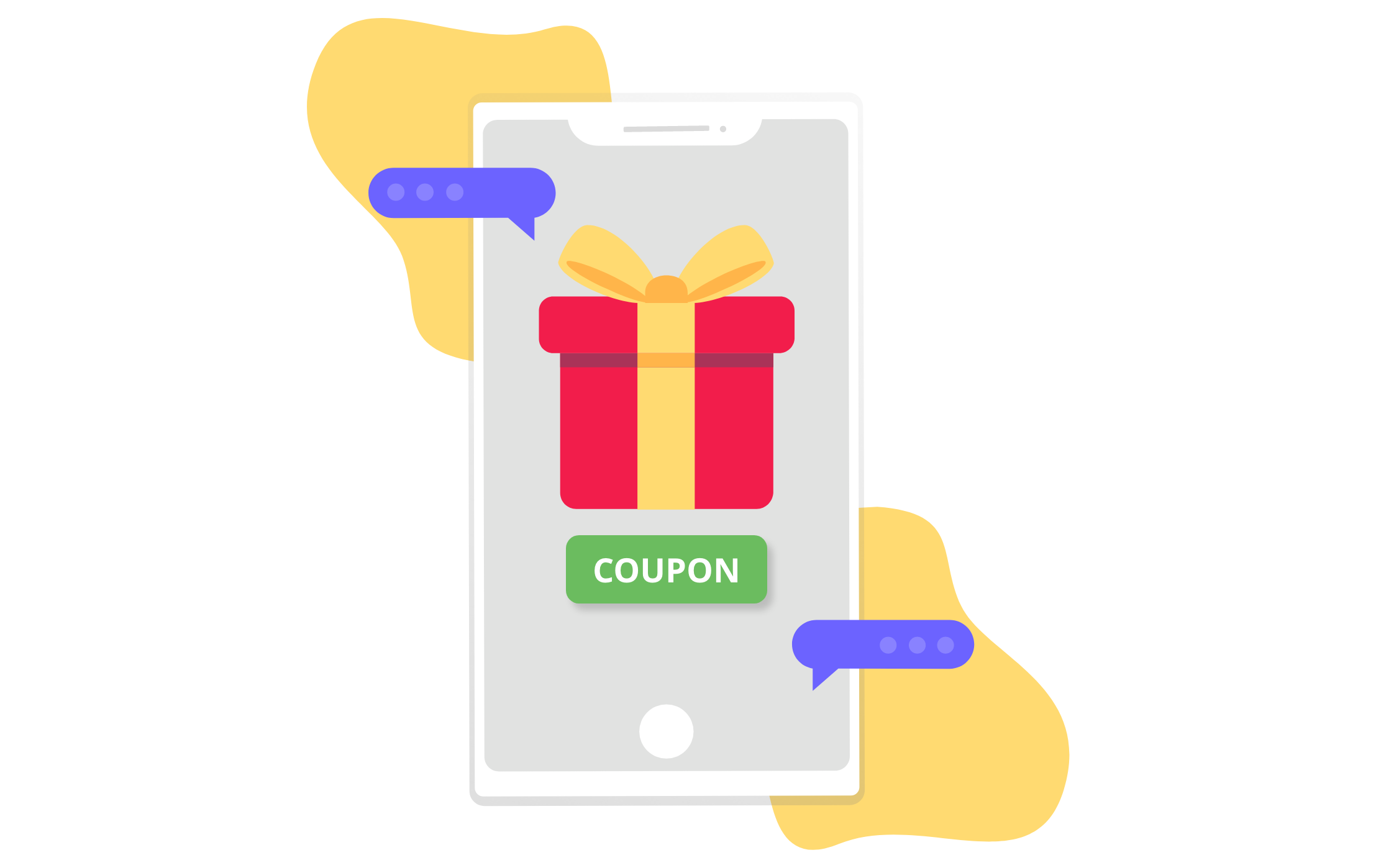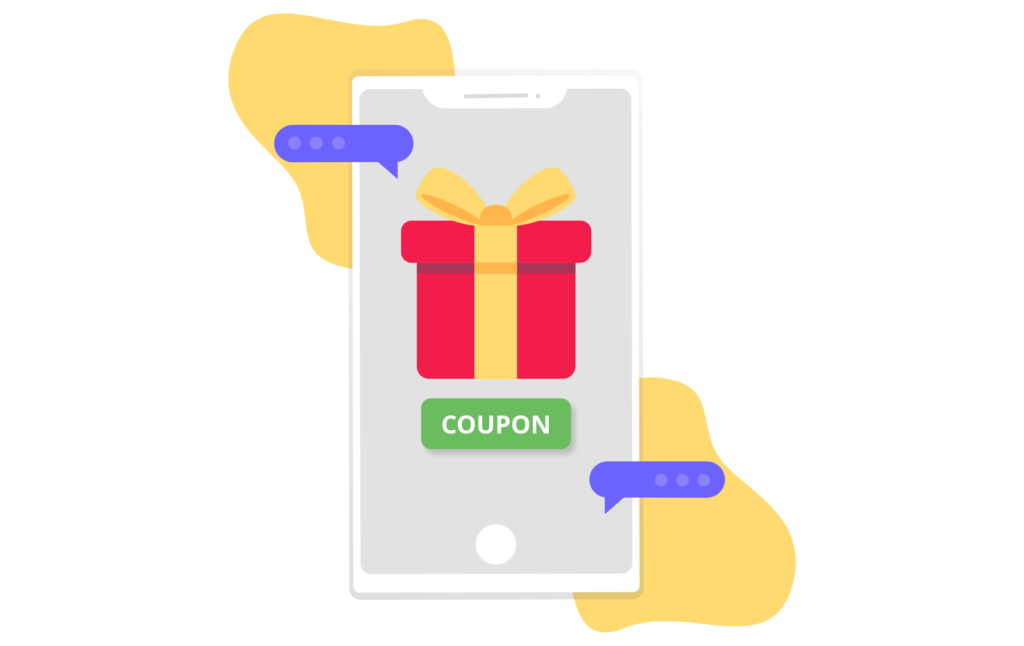 Coupon marketing is nothing new. Today, coupons come in a digital form as well, plus they are eco-friendly since you don't waste any paper 😌. And with the increased use of mobile devices and text message marketing, it makes sense that mobile coupon marketing is on the rise.
Research shows that mobile will account for nearly 80% of all coupon redemptions by 2022. Which means this could be the right time to start incorporating mobile coupon marketing into your mix.
What Is Mobile Coupon Marketing?
Mobile coupon marketing refers to the use of digital coupon codes, vouchers, and discounts delivered to a mobile phone. Mobile coupons are offered by businesses to entice the existing or potential customers to purchase by using the coupon discount.
And the best thing is that mobile coupons are not industry or business-specific. They are versatile and can be used by almost every business type. You just need to make sure they fit in your SMS marketing strategy.
"SMS remains a vital channel in reaching consumers, whereby a phone number acts as a unique ID in delivering one-time offers. Consumers are more receptive to personalized offers delivered via this channel, being protected by stringent regulation in Western markets which prevents high volumes of spam, compared to arguably less customer-minded channels such as email."

Research author Lauren Foye
9 Benefits of Implementing a Mobile Coupon Strategy
1. Stay ahead of your competitors
Coupons let you be creative and exploit another channel you can use to beat your competition. Making your offers and promotions more attractive increases the likelihood of people choosing your business instead of your competitor's.
2. Grow your customer base
Coupons can also help you bring in new customers. Tell people via social media that for a limited time, they can use a coupon and snatch a great deal. Moreover, you can incentivize visitors browsing through your online store with free shipping or special offer coupons which can result in people buying right away.
3. Reactivate old customers
You can fortify your re-engagement campaigns by nudging inactive customers to try something new or get a special discount. For example, you can drive customers that have been inactive for 60 days back to your store by sending them a personalized coupon.
4. Drive the sales of related products
Coupons can really up your cross-sale and up-sale game. Got someone interested in puppy food? You can offer them a coupon if they bundle it up with puppy toys or accessories and therefore increase sales of related products.
5. Clear out poor selling and slow-moving items
Some products (or services) you offer are not highly requested, but you still have them in your inventory. To increase visibility and to be able to sell these products, try offering redeemable mobile coupons on such products.
6. Build your subscriber list
You don't need to isolate your coupon campaigns. Combine them with other campaigns and drive customers through different channels. Tell visitors they'll get a discount coupon if they subscribe to your newsletter. This is a valuable incentive to grow your email list, which opens up another communication channel that you can use to nurture newly acquired subscribers.
7. Get feedback
A cool way to benefit from using coupons is to offer them in return for feedback, surveys, questionaries. Incentives like Take our 5-minute survey and get 15% off can be super beneficial for your business. The information you gather can help you improve your customer experience, help you get more information on your buyer personas, or get constructive feedback on what people like and what you need to work on.
8. Boost your referral program
You can use coupons together with your referral programs to strengthen your customers loyalty. Offer coupons as a reward to your brand ambassadors and their referred friends who accepted their invite. It's a great way to incentivize people to share your brand and get new customers to join in.
9. Drive traffic to your store
Customers interested in using your coupon or seeing what the offer is about will visit your online store, which will increase your traffic. However, this doesn't apply only to e-stores. If you offer a good coupon that can be claimed in-store only, people will visit your brick-and-mortar store to get a good deal. It's best to wait for the Covid situation to clear out for this one, and for now, focus on your online store instead.
How to Create Mobile Coupons?
When creating a mobile coupon campaign, you need to keep in mind a couple of things. Loopify lets you design and use a coupon campaign in a matter of minutes. Here's what you need to create a mobile coupon.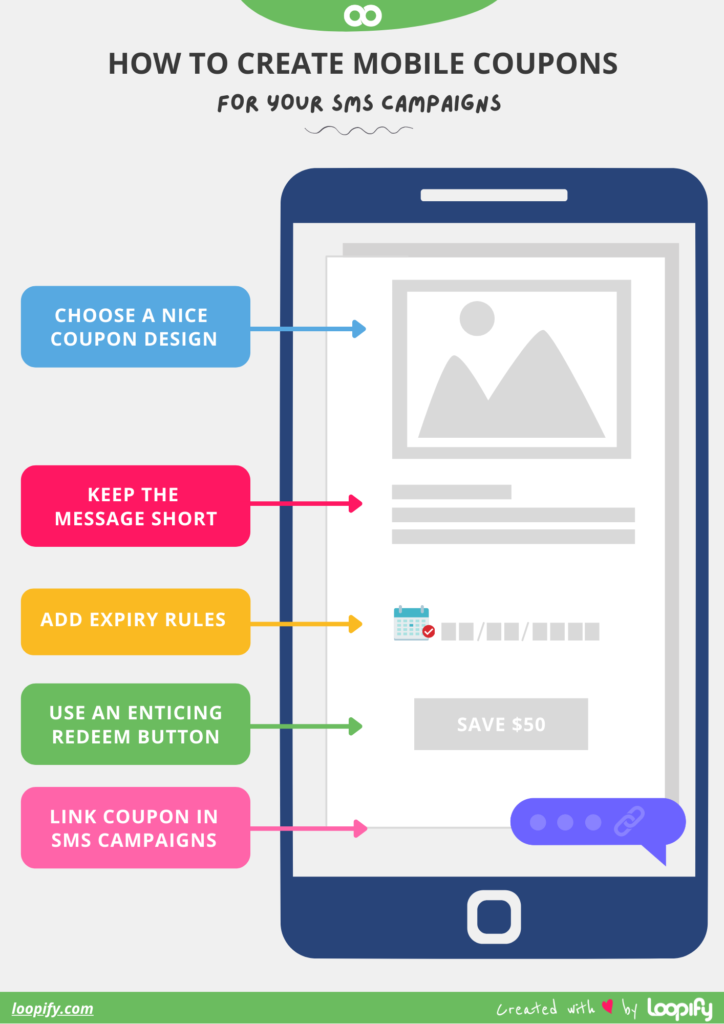 1. Choose a nice design
Your coupon should be visually appealing. Use your brand or product images, colors, and logo, and your customers will recognize your brand immediately. Many automation solutions offer ready-made templates you can tweak and use right away.
2. Keep it short
Write a simple and short message. The coupon message should summarize all the important info in a few lines. Huge chunks of text will make it heavy and force customers to scroll to read everything.
Here's an example. A short and to-the-point message. That's all you need to do.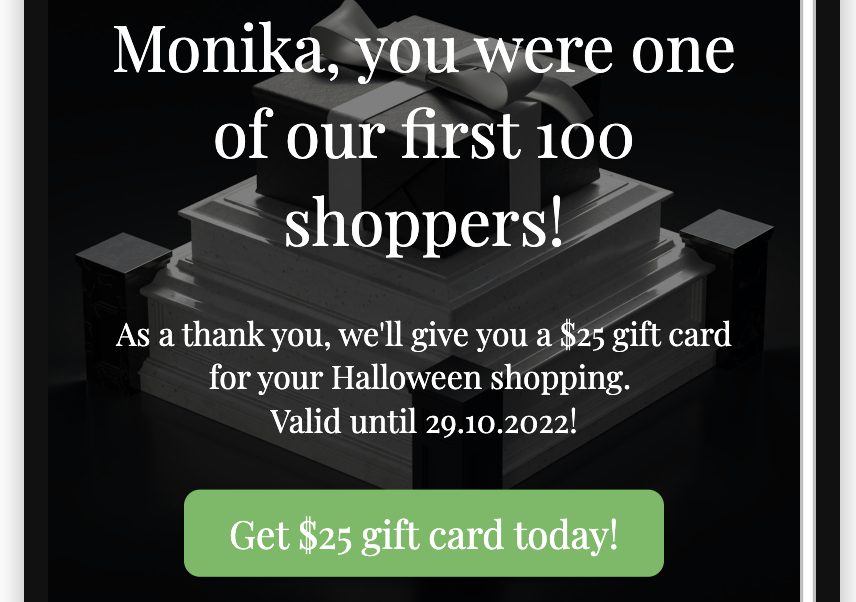 3. Use an enticing CTA
Make your call-to-action, a.k.a, redeem button fun. You can play around with words and phrases. Be more creative than 'Get coupon'. Why not try something like 'Save $50 today', 'Grab your gift', etc.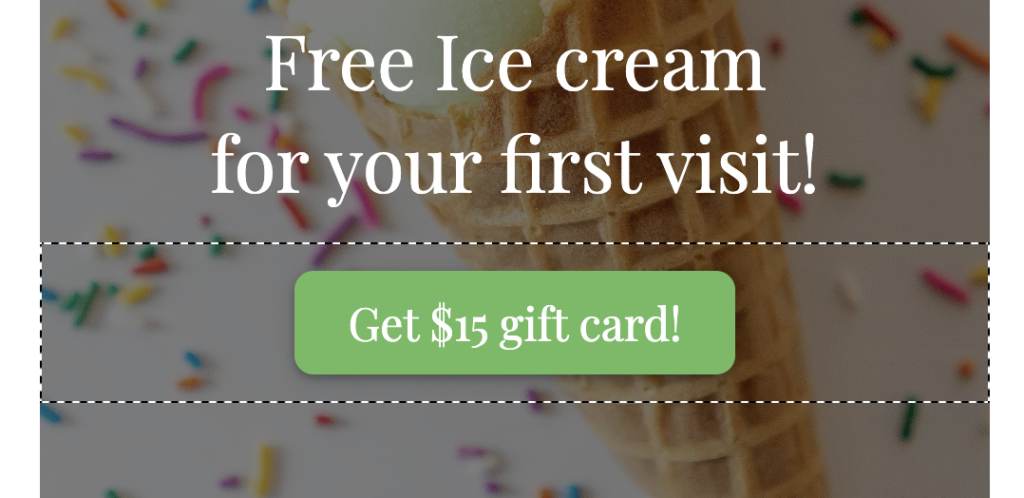 4. Add coupon expiry rules
Add at least one rule per coupon. You can choose and combine different rules like a start and end date for your coupon campaign, the number of redemptions per person, and the total number of available coupons. All of this will depend on your campaign goal.

5. Create a coupon link
To link to a coupon in an SMS campaign, first, you must have the coupon in an active flow (a.k.a. automated) campaign. This will create a live link you can use in your texts. All you need to do is choose to link to the mobile coupon in your SMS, and Loopify will automatically insert a short coupon link.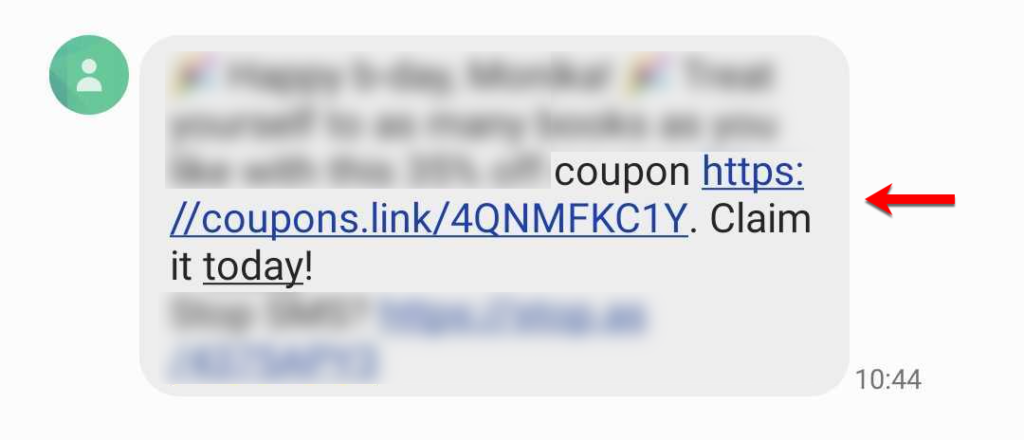 6. Use the coupon in SMS campaigns
Use the coupon in any SMS campaign that you send out, whether the SMS is a part of an automation or not. The best part is you can combine coupons with other tools and channels for the ultimate experience.
Let's take a look at the campaign below, for example. You can send your leads a Halloween offer via email stating that they'll get a free $25 gift card if they create an account for your e-shop. Once they sign up, you can send them the coupon via a text message.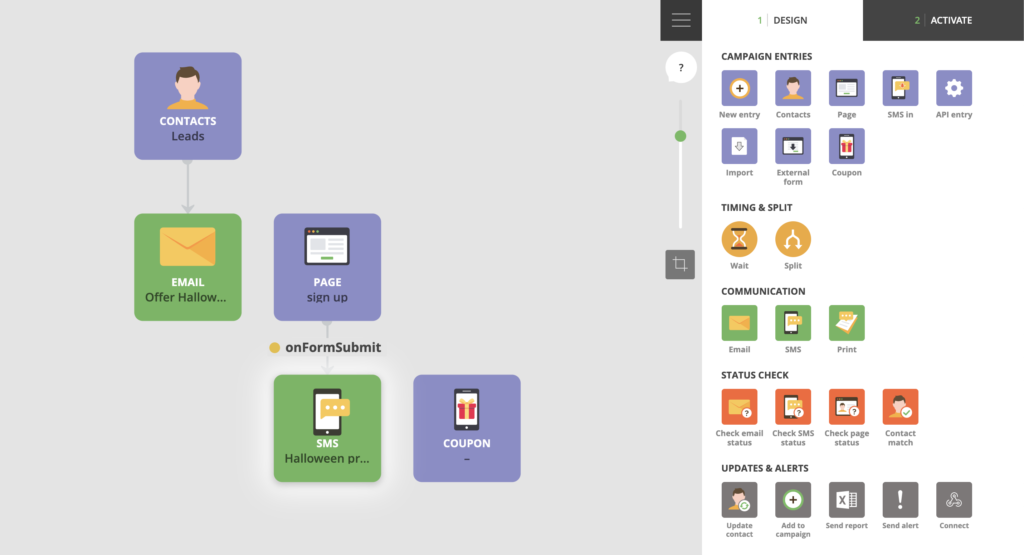 You can re-create this campaign in Loopify and reward your subscribers. Here's how mobile coupons work in Loopify.
8 Tips for a Successful Mobile Coupon Marketing Strategy
Before you start giving out coupon discounts, you need to have a plan and strategy to help you ensure that your coupon campaigns are actually going to boost your business.
The value of digital coupon redemptions will surge to $91 billion by 2022—great news for anyone planning to use coupons to drive sales. If done right, that is.
1. Have permission to send SMS
Sending mobile coupons via text messages requires your customers or leads' permission to communicate via that channel. So when you ask people for their number, make sure they give your their explicit consent. Loopify stores your contact's consent so you'll know which ones you can send to.

2. Format the coupons for mobile
Since mobile coupons will be opened on mobile devices, you need a responsive HTML design that doesn't force people to zoom or scroll. The text should be readable, images should fit mobile screens, and the CTA's size and placement should be considered.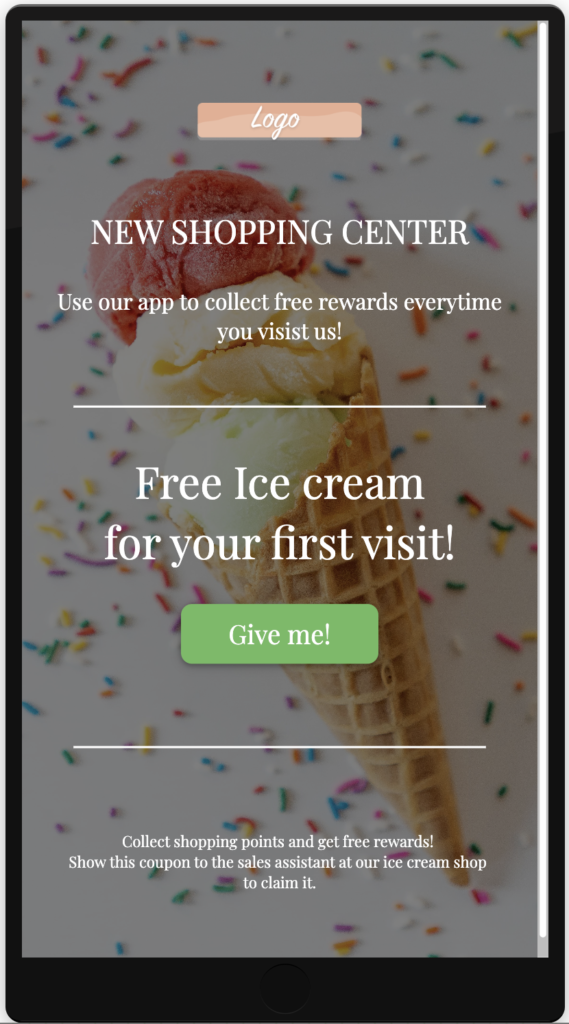 If this is butchered and not responsive, it can be the reason why your mobile coupon campaign is a failure. If you use Loopify, the templates are already optimized for mobile, so there's one less thing to worry about.
3. Send single-use coupons
To make sure your coupons or promo codes don't leak to coupon sites, use a single-use code or a link based code, like the mobile coupons in Loopify.

Research shows that 77% of consumers spend $10-$50 more than anticipated when redeeming mobile coupons, compared to 17% who spend over $50.
4. Personalize your coupons
Same as any other communication, coupons can and should be personalized. Let's say you have a puppy and get a coupon from a pet shop for 20% off puppy food and another one for a pet food sale. It's clear which one you are more likely to use.
Let's say a shopping center app is tracking my spending at their mall. Once I reach a certain amount, I receive a gift card to motivate me to come back and spend even more (which I do).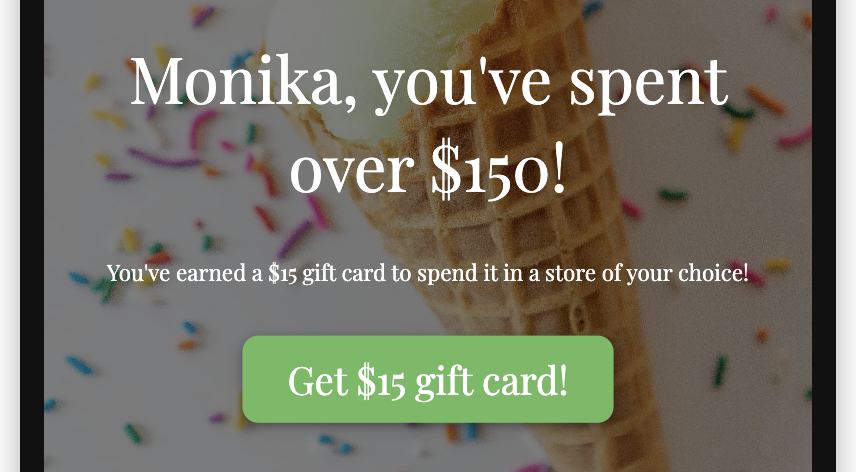 The lack of personalization can be a deal-breaker. With personalized coupons, customers get an exclusive offer tailored to their needs and interests, which increases the likelihood of your coupons being used.
5. Use urgency and limitation
To keep offers attractive, create a sense of urgency or add a limitation on the number of redemptions. For example, your coupon can only be valid for 24 hours, or only the first 100 customers can redeem the discount coupon.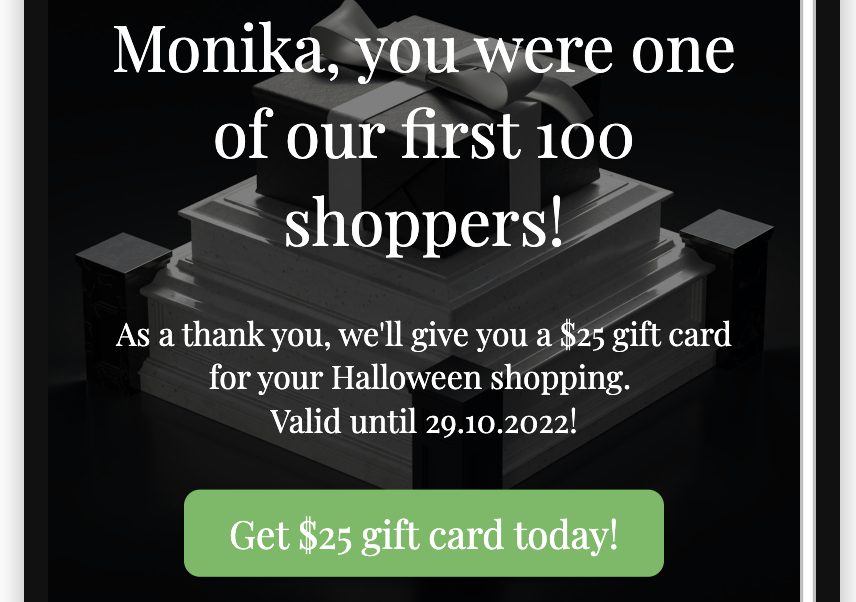 You can see here that the gift card is valid only for the Halloween shopping season. After October 29th, it's no longer in use, so it nudges the customer to use it asap.
6. Use different discount options
Offering a percentage discount that knocks out a few bucks from the price is not the only way you can use a coupon. You can also use coupons to offer:
Free shipping on orders over a certain amount
Abandoned cart savings
Referral discounts for both the customer and the friend
Gifts with purchases
Buy one, get one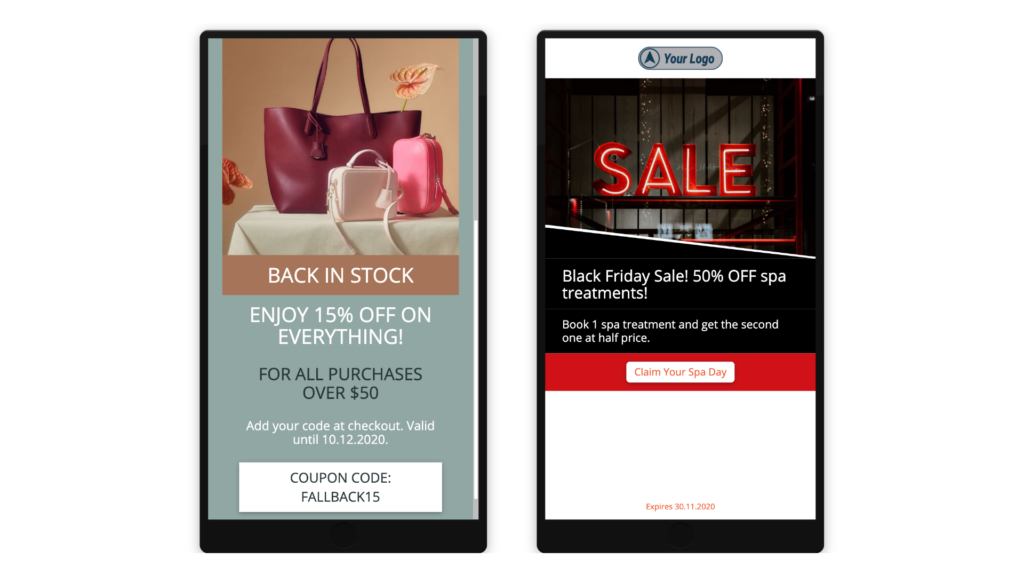 7. Avoid offering coupons at every opportunity
If you give the impression that discounts are always available, you'll do more harm than good. And this can have a negative effect on your business. If people get used to the fact that you offer discounts on almost every occasion, they will start postponing their purchase until they receive a coupon from you.
Use coupons when it makes sense, and you will drive more sales and not contribute to losses. Extreme couponing is a dangerous road to tread on.
8. Notify your employees of coupon campaigns
If you are going to use mobile coupons that can be redeemed in the brick-and-mortar store, make sure all your employees know about the coupon campaign. Notify your managers or send a company-wide email.
When does the campaign start, and when does it end?
Who's eligible for the discount? Students, loyalty club members?
Which products are subject to the coupon discount?
How many coupons can a person use?
Is there a price limit?
Are there any other conditions that need to be met before the coupon can be used?
This type of information and other important details should be stated in your announcement. The first time your employees see the coupon should not be when the customer shows it to them.
---
The bottom line is that mobile coupons are a great tool to add to your marketing bag. Tailor the coupon offer and make them appealing, and your customers will be eager to use them.