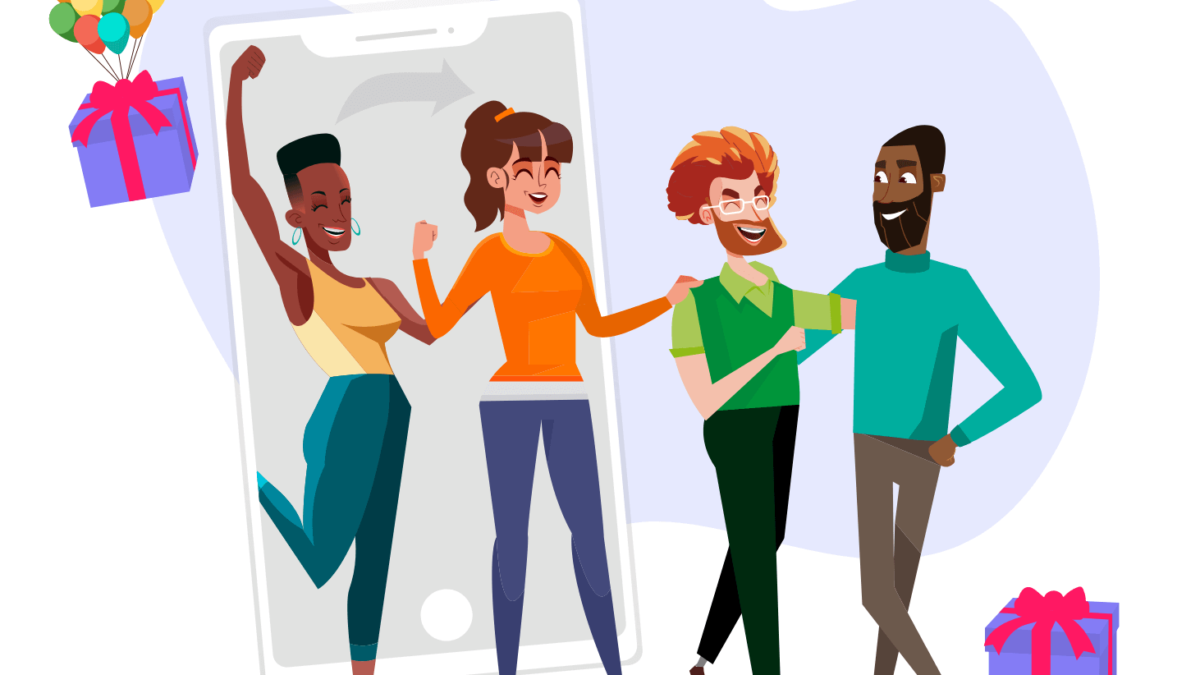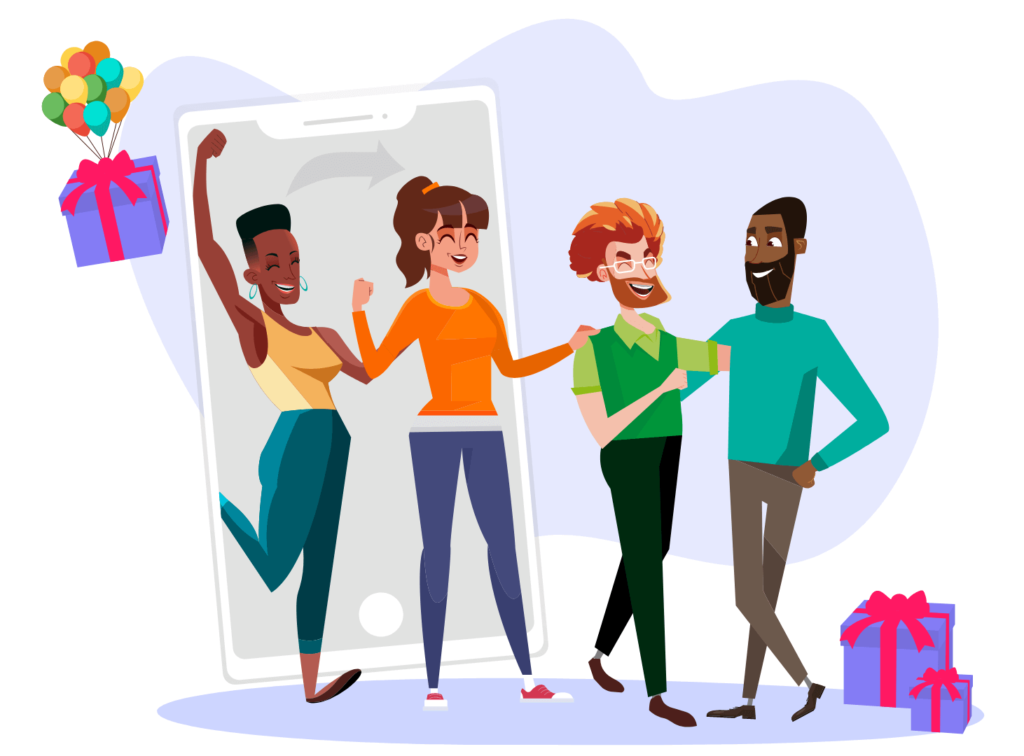 The General Data Protection Regulation (GDPR) is nothing new, nor is referral marketing. So how do these two pair up together?
GDPR has been going strong for five years since it was enforced in 2018. If you deal with customers in Europe, you already know how GDPR works.
So, it's important to note that GDPR also impacts your referral marketing endeavors.
No need to panic. You can still use referral marketing and be compliant with privacy laws.
How Does GDPR Impact Referral Marketing Programs?
People advocate for brands they love and trust the judgment of people they know, like friends, family, partners, and colleagues.
People influence people. Nothing influences people more than a recommendation from a trusted friend. A trusted referral influences people more than the best broadcast message. A trusted referral is the Holy Grail of advertising.

Mark Zuckerberg
Getting customers to refer your products and services to people they know is a fantastic opportunity to spread the word about your brand.
Referral programs in the pre-GDPR era
Remember when your inbox was full of emails from strangers and companies?
Referral marketing before the EU privacy laws was an invasion of private and personal data.
Customers could add a list of their friends' emails, and businesses could target and send communication to them and treat them as leads. This was a typical, non-compliant, refer-a-friend program that companies used.
Referral programs in the post-GDPR era
Since the privacy laws came into place, businesses can no longer ask customers to share their friends' emails.
Why?
Because the person who owns the email address hasn't given explicit consent to use their email address. Every person has the right to know who processes their data and how they do it.
But there is a way to follow privacy laws and have a great refer-a-friend campaign.
Here's how you can make it work.
Referral Marketing and GDPR-Compliance: Referring a Friend with Their Consent
To make referral marketing campaigns GDPR compliant, you shouldn't store data about anyone your customers refer. Not until they sign up for themselves.
Let's work through an example of a GDPR-friendly referral campaign.
Step 1: Ask customers to invite friends
Suppose you run a tennis club and want to launch a referral campaign. Your goal is to get new leads that could eventually become prospective club members.
One effective strategy to raise awareness about your club is to launch an Invite a Friend campaign.
You need to ask your current regular tennis club members to invite their friends or family to one free tennis session on one of your courts.
Firstly, you create an email campaign that you would send to your members telling them about your Invite a friend referral program.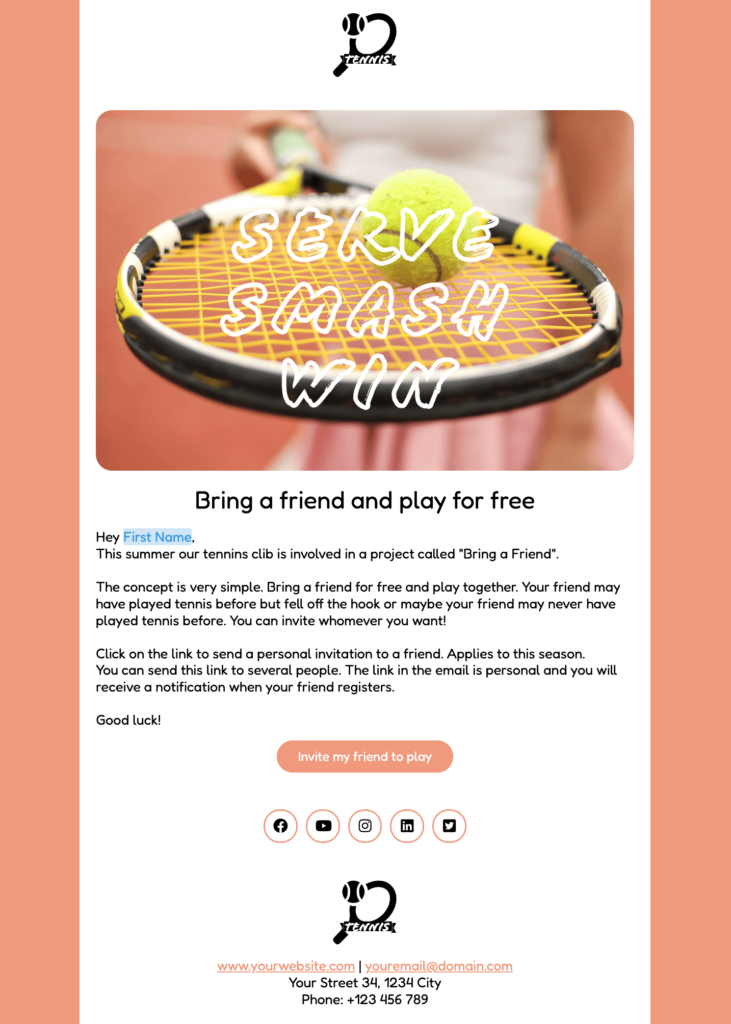 Explain what they need to do and what's in it for them
Ask members to send an email to their friends
Include a link to a pre-filled email that invites their friends to play tennis
This right here is the crucial part! You ask your members to use their personal email to communicate with their friends.
They must manually enter the friend's email address or use their contact list. You don't have any access to their friend's data unless they want to sign up for the free tennis session.
You can make things super easy for your customers and pre-fill the email they need to send. All they'll have to do is enter their friend's email address.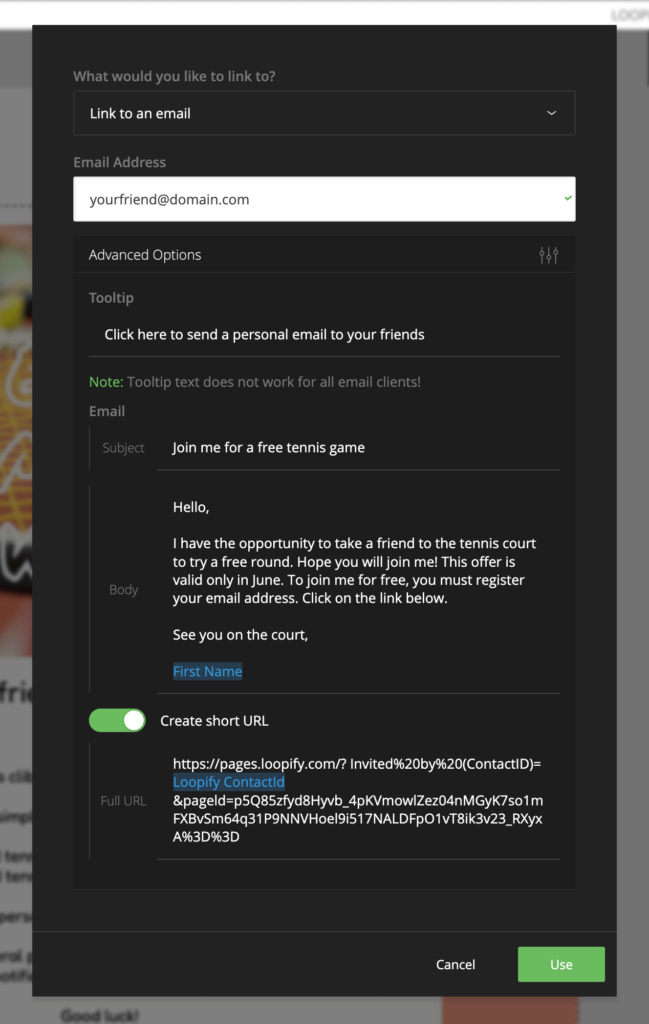 The pre-filled email will link to a page where their friends can sign up for the free tennis game.
Since your members use their personal email clients to reach out to their friends, you are following GDPR.
Step 2: Nudge the referred friend to accept the invitation
It's up to your customer's friend whether they'll want to come to the free tennis game.
This is the pre-filled email they'll receive inviting them for a fun and free day of playing tennis.
They must submit their information via the linked landing page if they decide to join in. This information will let you know who is coming and which one of your customers referred them.
Here's the form: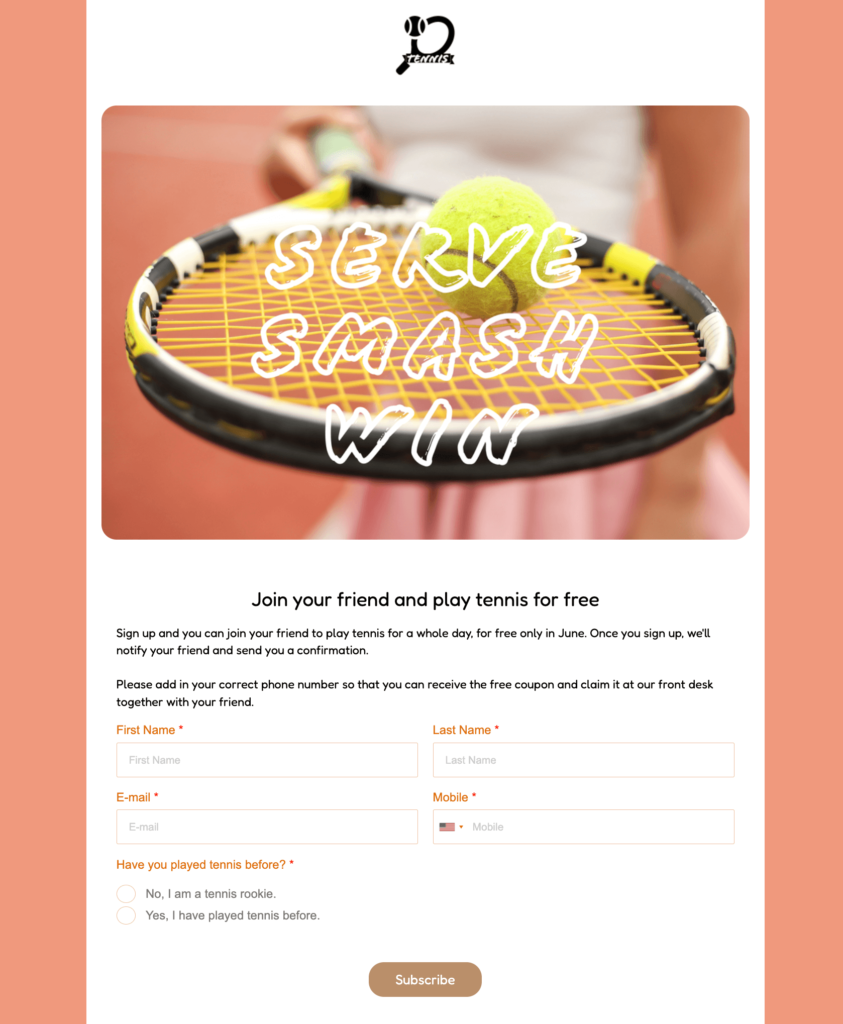 Once they sign up, you have your new lead.
Now you can send them the coupon for the free tennis session, which they will claim at your tennis club.
Step 3: Inform customers which of their friends signed up
The next step is to let your existing members know every time a friend accepts their invitation and signs up. This lets them know how many people they referred.
Use a text message to inform them who signed up and link the discount coupon.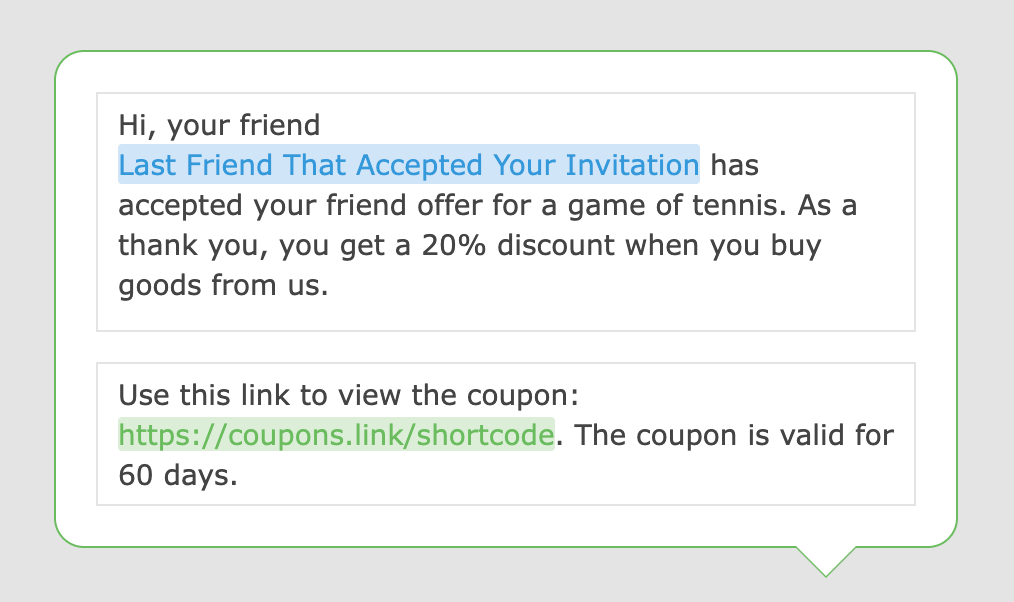 The more people accept, the more people will learn about you and your brand.
Note: The Switch block is a cool Loopify tool that lets you inform your customers which one of their friends signed up. Read up to learn the technicalities of using it for a referral campaign.
Tip: You can throw in a reward for your existing members to say thank you. They can use a discount coupon in the gift shop, cart refreshments, or even a tennis equipment discount.
Step 4: Give rewards
To incentivize your members and their friends to participate, you can offer them gift coupons for free cart drinks, member perks, training lessons, etc.
Following the example above, you need to send two coupons.
One for the friend that signed up so that they can claim their free game.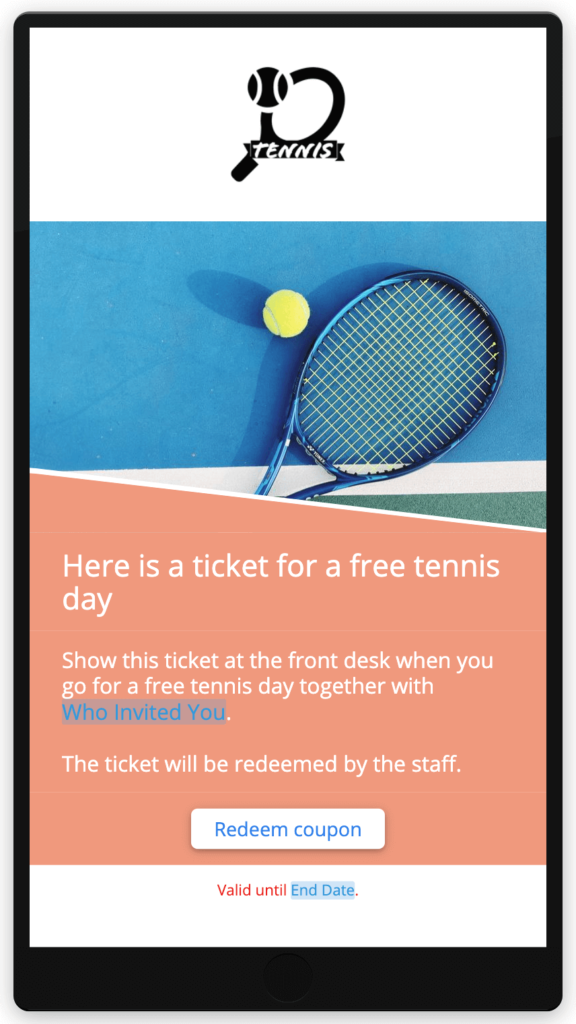 The other is a discount coupon for your loyal member who referred their friend and helped you gain a lead. It's important to celebrate and praise the efforts of your brand ambassadors.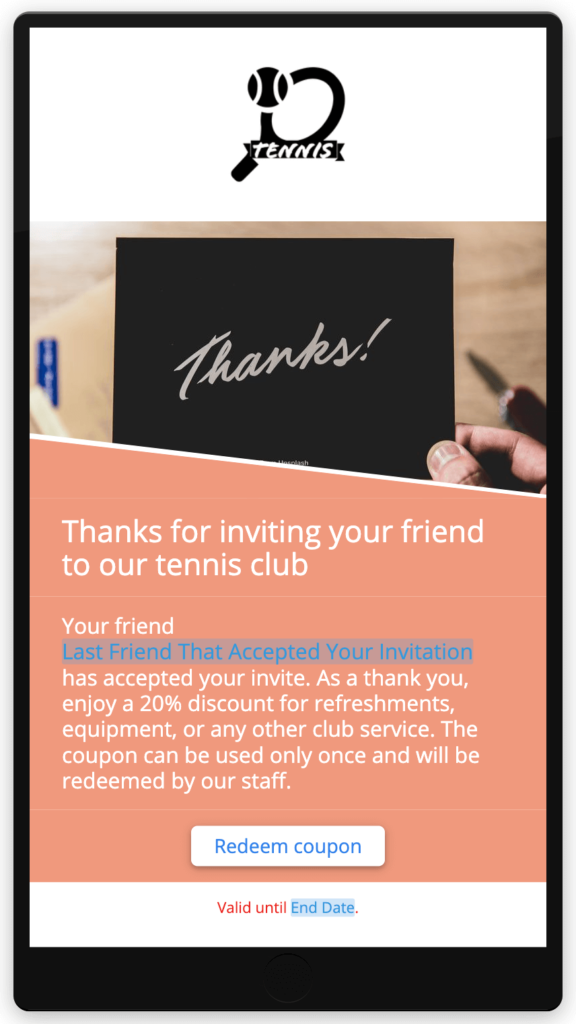 Step 5: Add invited friends to a nurture campaign
Don't forget to nurture your newly gained leads to make sure they return; otherwise, you'll miss out on the full potential of referral marketing.
Use this opportunity to educate your new leads about your tennis club. You can add them to a drip campaign to encourage them to become members.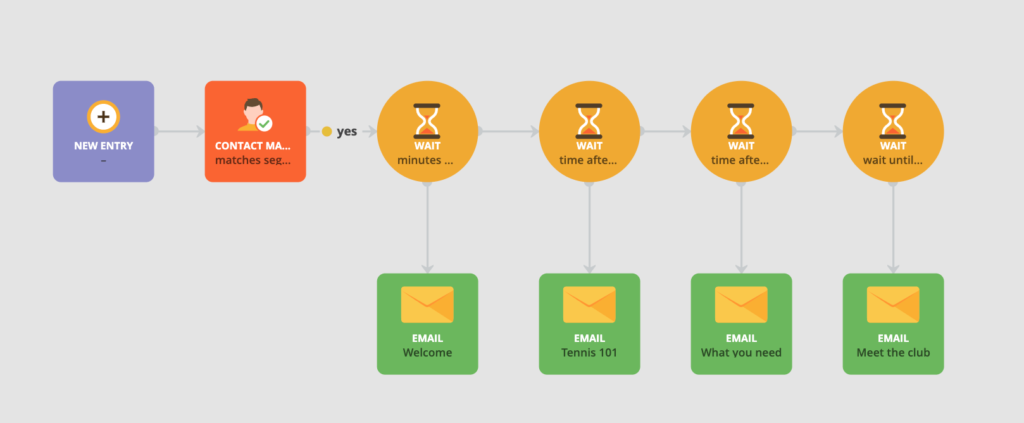 You can share tips about tennis depending on whether they are beginners or not, point out perks they'll get in your club, introduce the staff, etc.
Why Using Referral Marketing Is an Epic Move?
1. It helps you pinpoint your target audience
This is an effective approach to connect with hard-to-reach customers.
People talk with their friends, peers, or colleagues and brands are often mentioned in those conversations. Your customers will share a recommendation, service, or product with a person if they think they may like it.
This means your customers will bring in someone who wants what you offer. Someone that fits your target audience. Jackpot!
2. It increases brand awareness, reach & engagement
Using your customers as advocates will increase your reach, and more people will learn about your story and brand.
Customers often share and engage on social media, return and visit pages to claim rewards, use discounts to buy products, or do more referrals. Thus increasing your engagement rate.
3. It brings more value
One advantage of having customers referred to your business is that they already have a positive impression of you. That's because they were recommended by someone who had a good experience with your services.
Because this relationship is built on trust, referral customers are highly likely to stay with you longer than other customers. They may even become brand ambassadors themselves.
4. It's cost-effective
Rewards and discounts will indeed be a small cost for your business. Compared to other advertising expenses, referral marketing is a cost-effective way to get new customers.
You can save even more by implementing a point system. Rather than giving a reward per referral, do it after customers accumulate a certain number of points.
5. It lets you explore creative opportunities
Referral programs don't have to be 'share this product with your friends and get 20% off'.
Depending on your business, you can invite friends to try out a product, bring a plus one to events, or get free stuff.
---
Will you give it a try?
Creating brand ambassadors is the best investment because word-of-mouth marketing is priceless.
Customers that have recently had a pleasant experience with your business are more inclined to recommend you. It's smart to ask them politely to recommend you to others.
Start with referral marketing today. Ensure that both your customers and their friends feel valued by keeping them informed and involved.