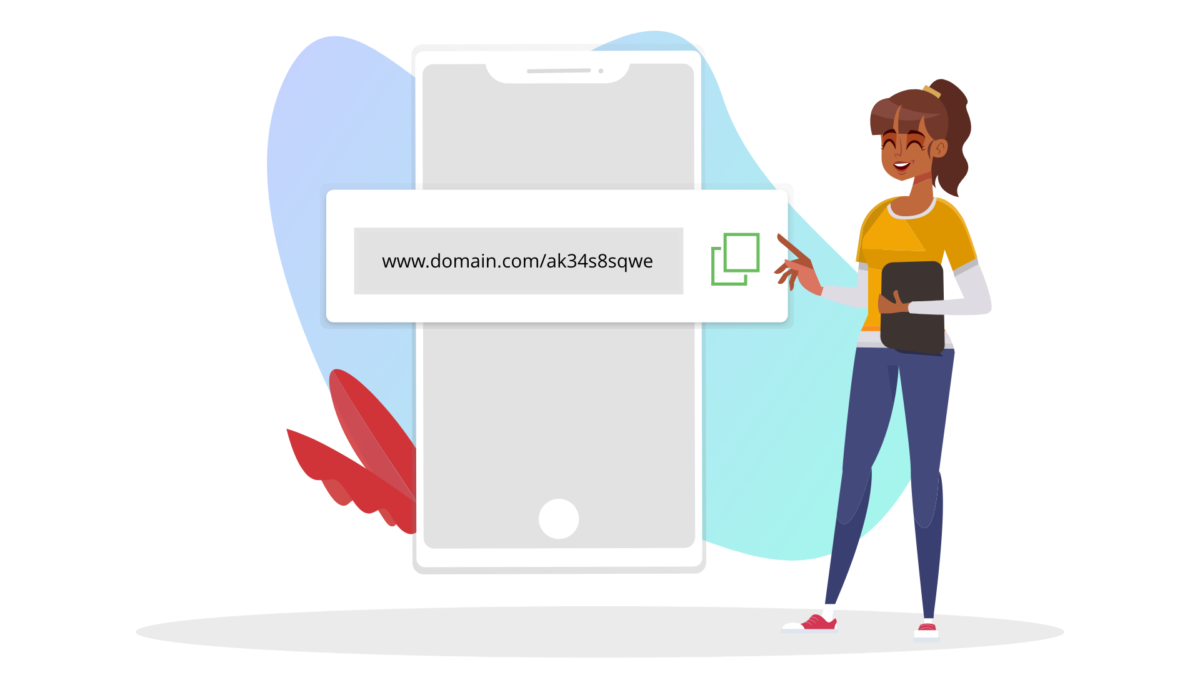 You are a loyal customer of a brand that you love using. You've signed up for their referral program because you want to spread the word and make some money while you're at it. If you are new to the referral marketing world, you need to know several things before you start.
More than 50% of people say they're likely to give a referral if offered a direct incentive, social recognition, or access to an exclusive loyalty program.

Invesp
What is a referral link?
A referral link is a unique URL used in referral marketing programs companies provide to their existing customers to promote their brand and products. Customers that enroll in a referral program get a referral link.
The link contains a unique ID that allows the company to track how visitors arrive at a website and the account that provided the link to attribute a sale to the correct referrer and provide a reward.

Referral links help the company to track the success of the referrer. It gives insights into their performance.
Since referral links contain an ID unique to each customer that is a part of the program, it's easy to identify when traffic arrives from a specific referral source.
How does a referral program work?
Let's look at a simple example of how a referral program works.
Anne is a regular customer of a company that sells handmade jewelry. She's also a part of the referral program because she wants to share it with her friends. For every person Anne refers, she gets a discount for future purchases.
All Anne has to do is copy the referral link from the dashboard and send it to her friends that would be interested.
One of her friends, Kate, loves unique jewelry, so she decides to check it out and clicks the link.
Kate lands on the website and sees that she gets a 20% discount on her first jewelry purchase because she is referred.
Nearly 85% of referral programs reward the referred friend immediately after receiving an invite. However, 15% of referral programs only reward the referred friend once they purchase or once the conversion is considered a success.

Finance online
This way, Anne gets discounts for referring Kate, and Kate receives an incentive to buy from the website. And because a friend recommends it, she is four times more likely to make a purchase.
Why should you participate in a referral program?
Referral programs help companies create avid brand ambassadors. You should join referral programs for brands you genuinely believe in and love their products and how they treat customers.
Referral programs allow you to share how you used the product and share that with your friends, family, and colleagues. Plus, you get rewarded for your efforts.
Getting onboard every referral program just to make money will cost you your audience in the long run. It will become obvious that you don't actually believe in every brand you represent, or they have no connection to your core business and what you represent.
Tip: If you are looking to recommend marketing solutions, feel free to check outLoopify and our Referral program.
Three channels to share referral links
You've decided to be a part of a referral program. It's never a good idea to spam sites by sharing links everywhere and anywhere. If you wonder where and how to share the link, here are a few ideas.
1. Social media
You can use social media channels to add your link in posts, ads, and videos. Make sure you include some things you genuinely love and not just paste the link.
Here are some commonly used channels to share referral links:
YouTube – share your links in a description of a review video.
Facebook – create posts or ads or share in groups.
Instagram – use your stories, bio, or ads to share referral links.
Linkedin – create posts or ads or share in groups.
Pinterest – add a pin with the referral link to your board.
33% of Facebook users have been convinced to purchase a product posted by a friend.

Finance online
You can also share the referral link in online forums and groups with similar interests like Facebook or LinkedIn groups.
Check the group guidelines before you do because some have rules against sharing referral links. There is a good way to share links in groups, though. Make sure you are an active participant and contribute to the topic with the link, don't spam the group or join groups just to post your links. It's even better if a member asks for a recommendation where you can share the product or service and your experience with it.
2. Blog 
If you run a blog, you can write a product review post or a list post where you can include your link. Include details about the product or service you are reviewing like description, pricing, images of the product, and your honest review.
3. Email or newsletters
You can send emails to your friends and family sharing your links and thoughts. If you have built an audience and send regular newsletters, you can include your referral link here for your subscribers as well. Or link to the blog post that reviews the product.
---
Choosing the right referral program is crucial before you start promoting your links. The most important thing is to choose a brand and company you've had a positive experience with and share it with your friends or audience.