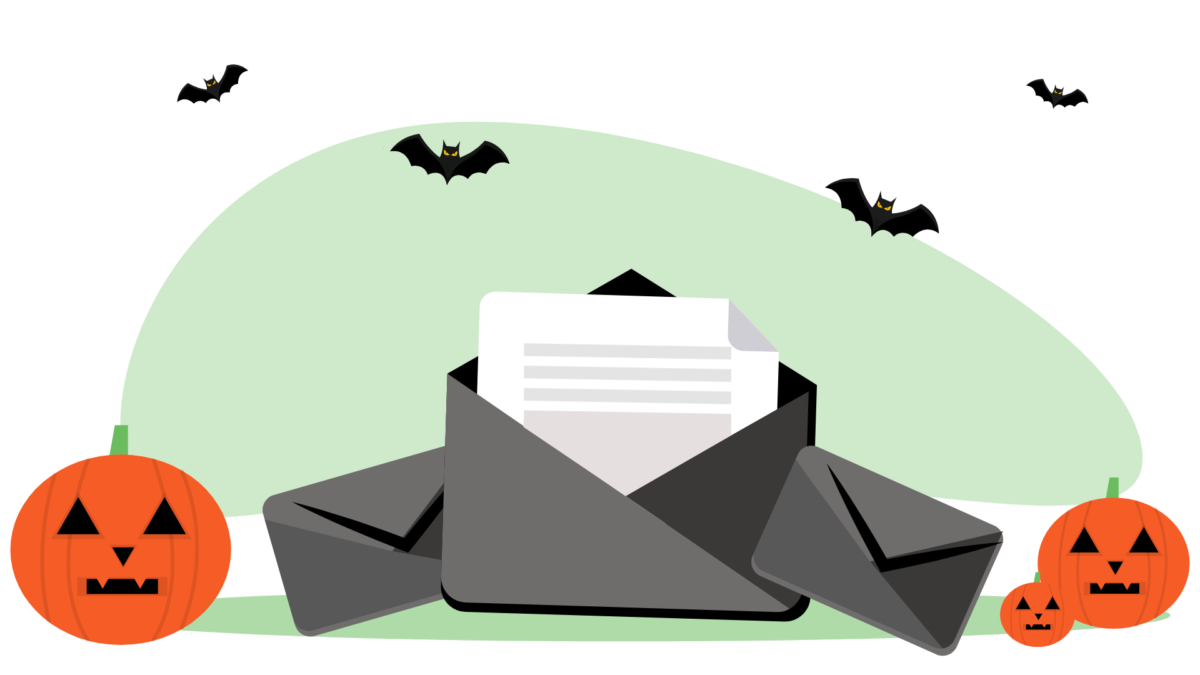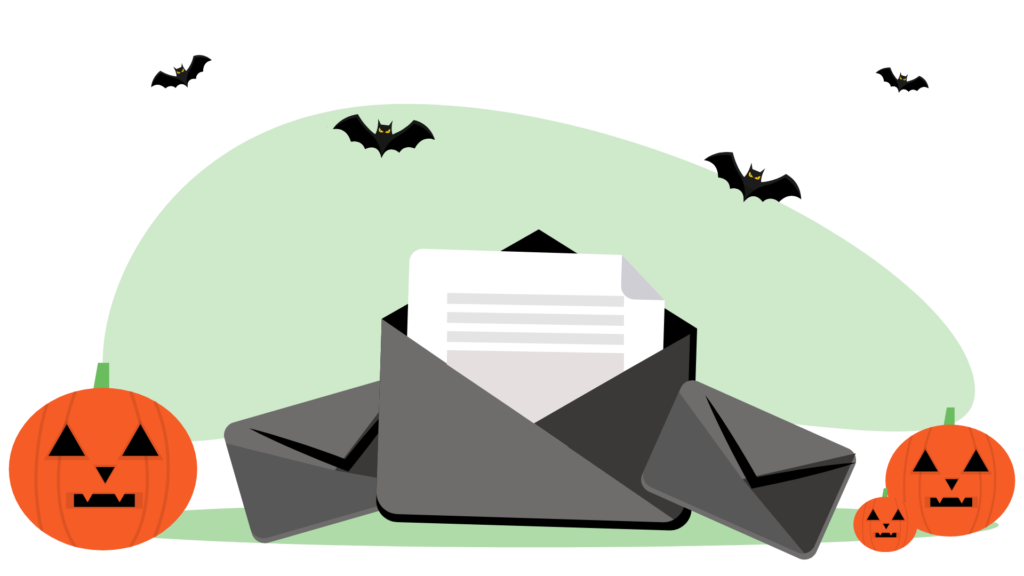 Halloween is just around the corner, and it is the perfect holiday to get spookily creative with your email campaigns. Why send special Halloween email marketing promotions with a regular email when you can spice things up.
Planning and creating a Halloween email marketing campaign doesn't have to be gory. Here are our tips on creating a haunting email campaign that will get you more opens and engagement during this busy season.
How to Give Your Emails a Halloween Makeover?
You need to work on two things: the email design and content.
Halloween email design
You can be creative here and use the greatness of the Halloween designs, colors, and concepts but also keep your brand personality fun and spooky.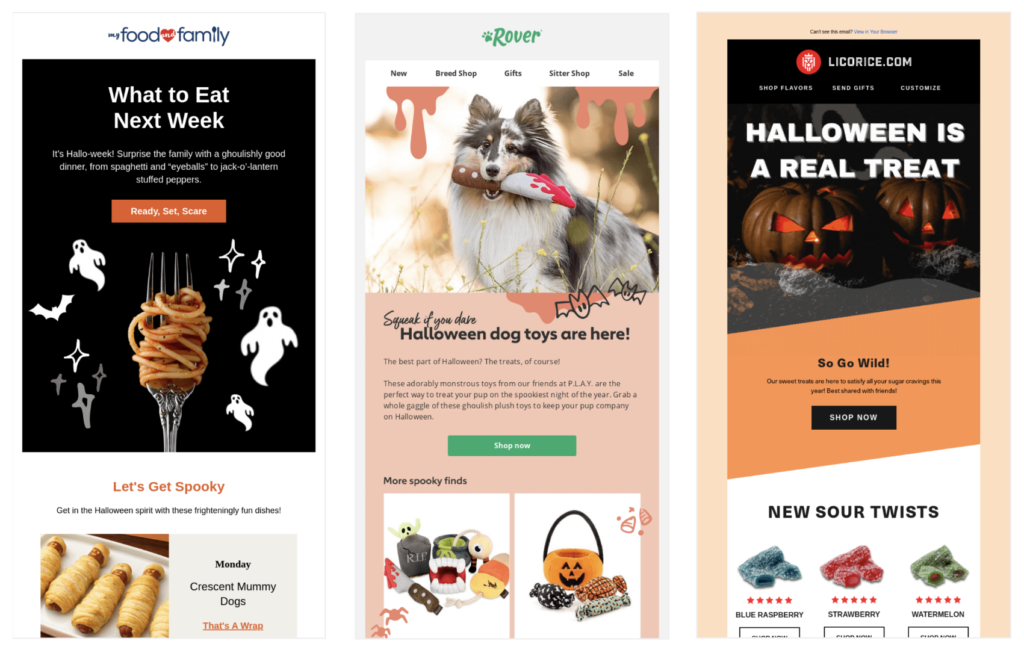 Images via Really Good Emails
1. Colors
Black, orange, red, and white can make powerful combinations. Just make sure you don't create a headache of colors that overpower your message.
Use coolors.co to generate beautiful color palettes that you can copy and translate into your design. Search by tag like Halloween, and you'll see palettes like the ones below.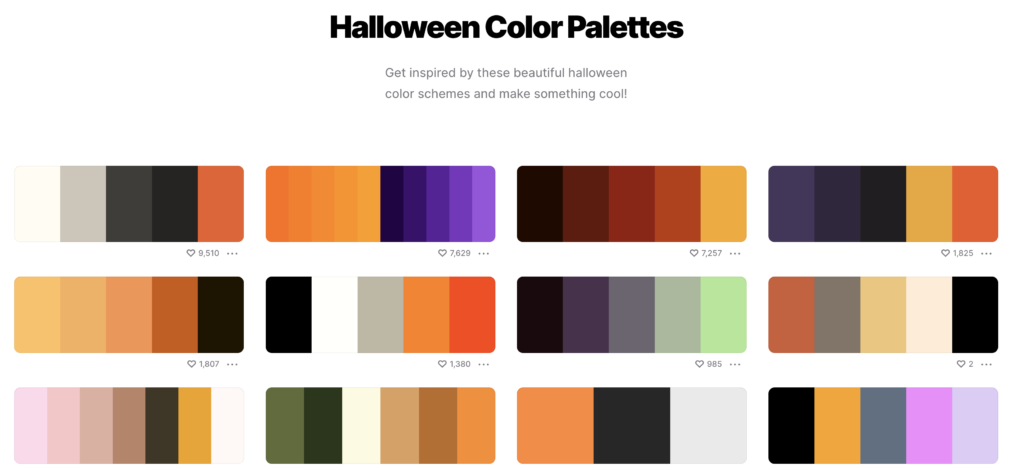 Image via Coolors
Tip: You can also choose a Halloween image whose style and colors you like, upload it to Coolors, and generate the image color palette.
2. Images and Videos
People expect to see spooky designs, witches, ghosts, spiders, zombies, and anything that screams Halloween, so don't disappoint them.
Remember that the Halloween-themed designs you use in your emails should also show up on your landing pages. You want the consistency of design to ensure people that they've landed on the correct site.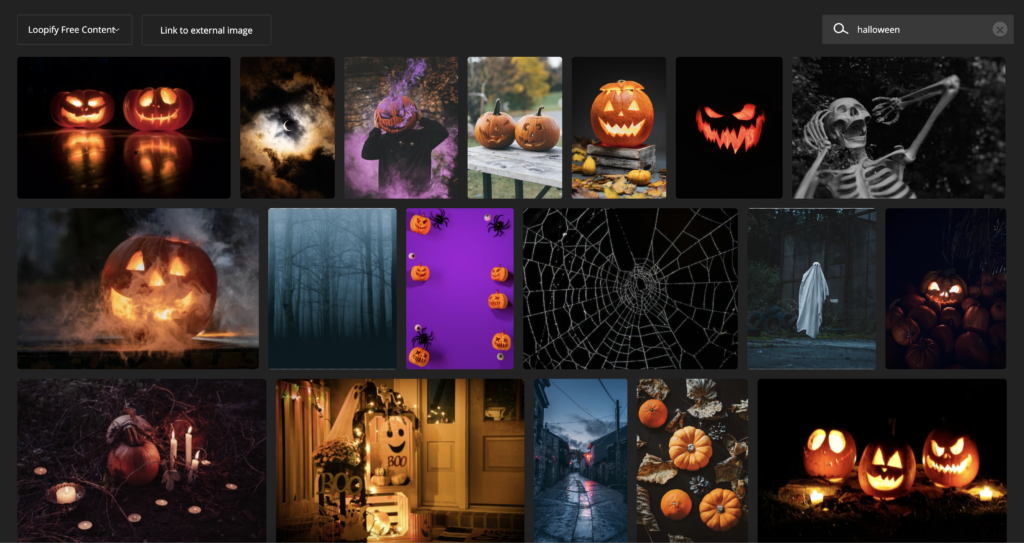 Here are a few different ways you can create Halloween-themed visuals for your campaigns:
Edit your product images or videos to give them a scary feel. Change the background, find specific products for this period, or capture the Halloween spirit.
Use free tools like Canva to create or edit your visuals. They have a plethora of Halloween templates for your social media post that will give you an edge. Find the design style you want, and make sure you stick to it across all channels.
If you are tight on budget, you can use free stock images from Unsplash (or any similar stock image site). Just type in the topic you are interested in and get the image you need.
Use Halloween-themed icons. If you use icons regularly, this is your chance to switch them up for a holiday-themed version. You can find amazing Halloween icons on iconfinder, freepik, or flaticon.
Show off user-generated content. Use the images your customers have shared using your products on social via a hashtag or showcase the results of a contest. People love to see others using your product or being involved in any other way.
3. Fonts
You can spice up your email with cool fonts as well. Create a custom horror-ific font or just download one that is free for commercial use. You can even preview how your text will look in certain fonts and whether it is readable or not.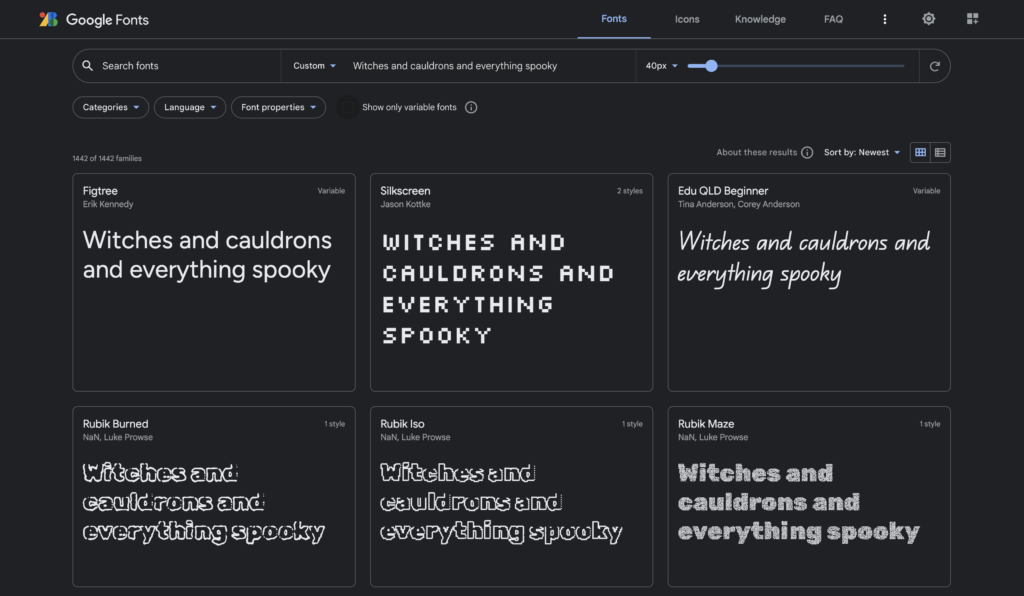 Tip: You can use or adjust a Halloween-themed template if you want to save time and avoid creating the design from scratch. Just add your text, choose images, and you're done.
Halloween email content
People get more emails than usual during the holiday season, and Halloween is no different.
You need to stand out in the inbox, and your email should be engaging enough to get subscribers to actually click or buy. Entertaining email design can't bring results by itself. You need to work on your content and offer.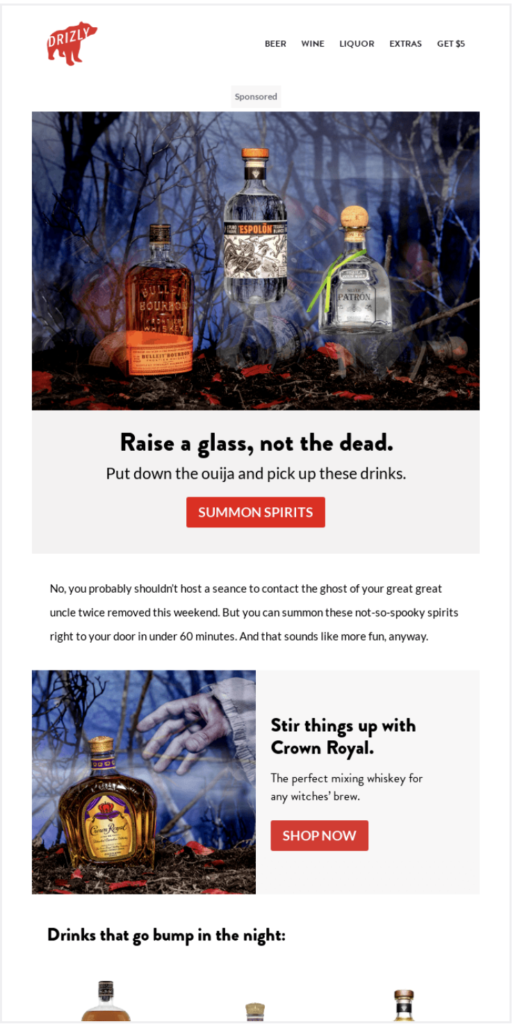 Image via Really Good Emails
1. Segmented subscriber list
First things first, to get the most out of your campaign, it's best to tailor your Halloween offer to your subscribers based on their interests, purchase behavior, engagement, etc.
Since the inbox can be oversaturated with boring one-size-fits-all emails, an email tailored to subscribers' interests can get you better results.

Not everyone needs a scary costume, some customers may simply need spooky decorations.
That's why grouping people is important. Create separate emails based on different offers or create dynamic emails whose content will change based on what each person needs to see.
2. Copywriting
How you present your offer or promotion is where copywriting comes in. As always, keeping it short and simple works best. You can make your writing more appealing with some fun wordplay to reflect the season.
Email subject lines
This is the first thing that needs to grab attention. It doesn't matter how great your Halloween email, offer, or design is if no one opens the email.

If you are doing a time-sensitive promotion, highlight the urgency in the subject line, but be aware of spam words.
The best thing you can do here is to spark your subscribers' curiosity. People will want to know more and will open your email to read it.
Make it personal by adding variables in your subject lines that will change with information relevant to each subscriber.
Halloween words, phrases, & puns
Use adjectives, phrases, or puns to get your message across in a fun way. You can coin new words by blending commonly used words with a Halloween-related word.
HOWEVER, don't overdo it.
Using a couple of phrases here and there is fine. But adding an unnecessary frightening, gut-wrenching, spooktacular 😒 adjective after every other word will make the text hard to read and not entertaining at all. Here's a list of words you can choose from if you need a bit of inspiration.
Call to action
Your call to action should be front and center, as in any other campaign. You don't want people to be looking for it. Let's take the email above, it has a clear CTA bright and center.

Make it clear what you expect from your subscribers.
Make the button easy to find.
Using a good contrast of colors and straightforward text can get you more clicks.
Link to your website or Halloween campaign-specific landing pages. Don't forget to keep the same design and content to make sure your message matches the email.
Tip: Use writing tools like Grammarly or Hemingway to ensure your writing is mistake-free. These tools help you with grammar and spelling and even give suggestions to make your text easier to read.
Halloween Email Marketing and Automation
The holidays are busy enough. As you plan your campaigns, you can automate the process, saving time and energy while giving you an overview of your campaigns.
1. Create automated campaigns & autoresponders
Creating flow campaigns and automating the entire process will help you set everything up in advance and ensure your emails go out when you intend to.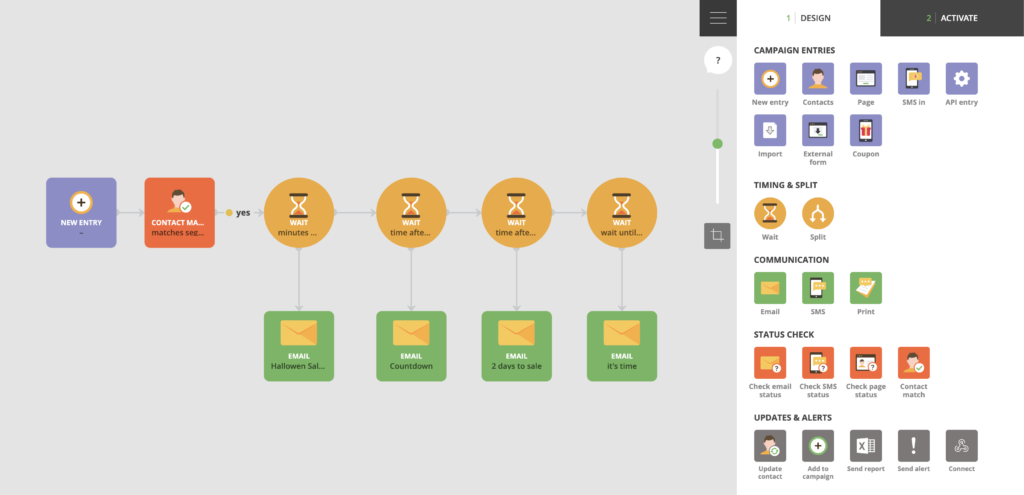 You can schedule promotions, set up autoresponders after a person has signed up for a Halloween event, and send reminders for time-sensitive deals.
2. Tie in with other channels
The best thing about automation is that it allows you to mix and match your email campaigns with other channels and tie in the data.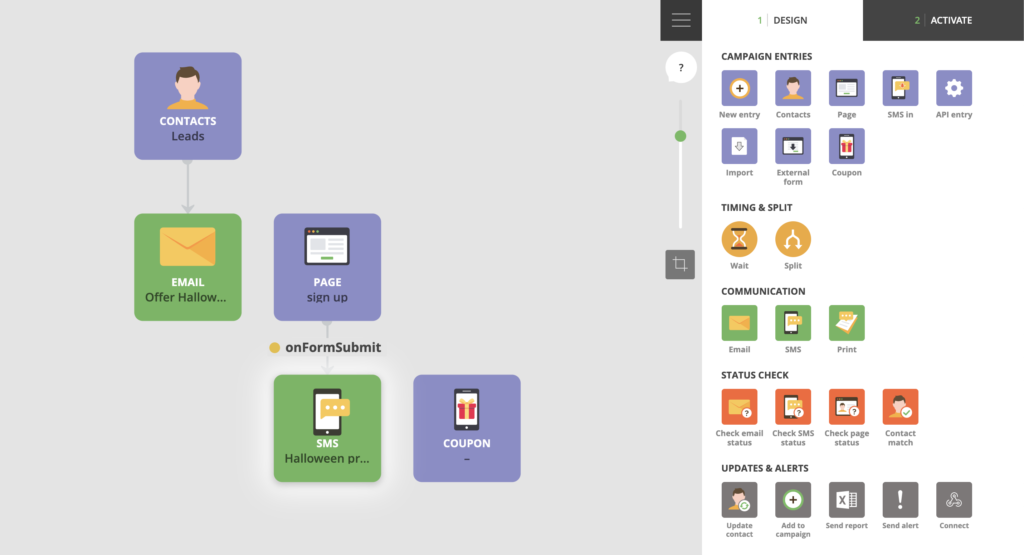 Send coupons to customers who've signed up, text SMS reminders for deals and events, promote your landing pages on social media, and handle subscribers all from one place. You map out the customer journey in advance and set it. The rest is automated, and you can focus on other campaigns. Or what your costume is going to be like.
3. A/B test Halloween campaigns
Test to see what works for your audience during the Halloween season. Use split testing and see which email version performs the best.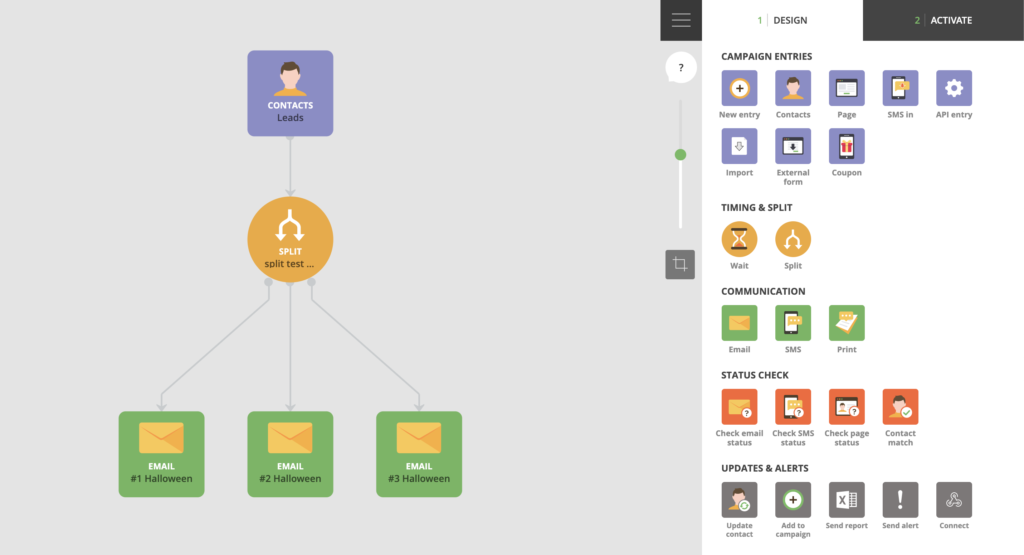 Try out different email changes to get the best response from your subscribers. But don't change everything at once. Test one thing at a time, like different subject lines, images, or CTAs. Otherwise, you won't know which one brought on better results.
---
These are just a few tips to get your holidays started on the right foot with a great email. Create a memorable campaign to leave an impression on your subscribers and build the foundation for the rest of the holiday season.
Launch your Halloween email campaign with Loopify